A pregnant woman was forced to sit on the floor of a busy train for almost two hours, as she wasn't offered a seat on a busy, delayed service.
Liz Jaques, 33, from Tunbridge Wells, tweeted a photo to Southeastern railway on Wednesday 31 August addressing the issue.
"Is it ok to sit on the floor when you're six months' pregnant and it's standing room only on a delayed commute from TW to London?" she wrote.
Although Southeastern apologised for Jaques' "discomfort", they simply advised her to wear a baby on board badge.
Jaques argued that it was pretty clear she was pregnant due to the size of her bump, without the need to wear a badge.
Speaking to The Huffington Post UK about the incident, Jaques explained the train was unusually busy because Cannon Street station had been closed.
When she got on the train in Tunbridge Wells, the few free seats in the carriage were snapped up quickly.
"I did try and walk through the carriages, thinking I'd see if there were any seats further up the train (or in first class if I needed to) but it wasn't easy to squeeze through so I gave up after walking through one carriage," she told HuffPost UK.
"I looked around and everyone did that thing where they avoid looking at you, which is understandable in some ways - it's a 50-minute journey and everyone pays a lot of money for their ticket. But still, it's pretty poor form."
Jaques said she didn't ask anyone for a seat, but her very visible bump made it plain to see she was pregnant.
"I sat on the floor by the door," she continued. "We were delayed by 56 minutes going into London Bridge so it took almost two hours.
"Even the men around me who were standing sat down towards the end.
"A woman put something in the bin next to me just as we were coming in to London Bridge and said: 'Oh, there's a seat available now' - which is pretty annoying.
"It was really uncomfortable - for anyone, let alone a pregnant person."
Jaques said she has seen tweets and comments claiming she didn't need a seat because she is not "ill or disabled".
"I wasn't claiming to be 'ill or disabled' at all," she explained. "It's just that people used to offer seats to people who were more in need then them.
"You're carrying around a lot of extra weight and sometimes you feel pretty shitty [when you're pregnant].
"But lots of my friends have had the same experience - one almost fainted on a train when she was getting crushed and no-one tried to help.
"It's surprising that people aren't sympathetic."
Southeastern Railway told The Huffington Post UK:"A reduced timetable is in place while Network Rail undertake essential engineering work as part of the Thameslink Programme. We're really sorry for crowding this has caused to some of our services. We are running longer trains and as frequently as possible, but with Cannon Street closed, services are busier than normal.
"We offer Baby on Board badges to make travelling by train easier for our pregnant passengers. These badges help other passengers spot mums-to-be more easily, helping to prevent women feeling awkward about asking other passengers for a seat. For pregnant women in their second trimester we also provide a free first class upgrade. We've contacted Ms Jaques to offer her a badge and the free upgrade. We encourage any pregnant passengers or those who require priority seating to get in touch with our customer services team who are on call 24 hours a day."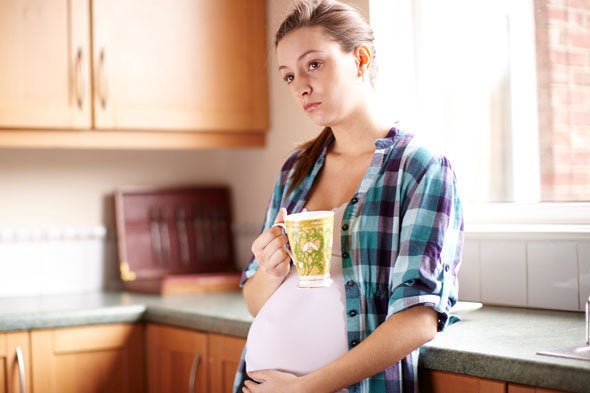 Pregnancy worries and words of comfort