Primark isn't known for being the most relaxing environment. A trip usually involves rummaging around endlessly for clothes, working up a sweat in the poky changing room and queueing for half an hour, all before traipsing home armed with paper bags that are always in tatters by the time you get through the front door.
But today I find myself sitting in a salon in Primark's Oxford Street store about to get my hair blow-dried. Pampering in Primark? You'd think it unlikely, but Duck & Dry, a luxury blow dry bar and beauty salon, has launched the first of many beauty studios in the cheap high street giant's stores.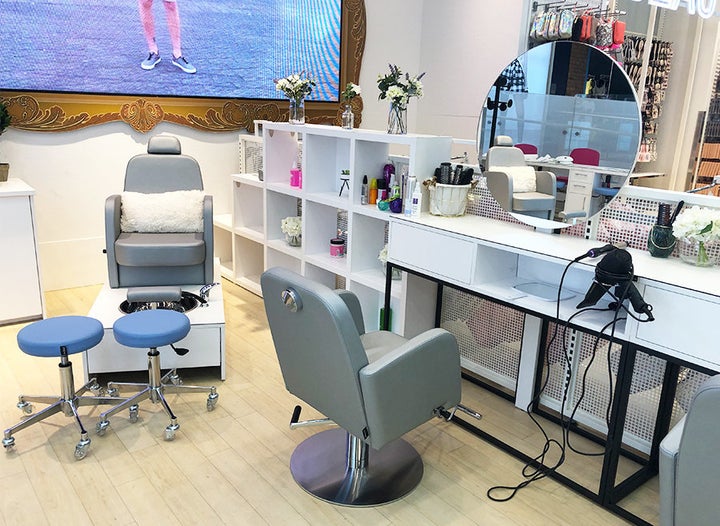 The salons will offer express treatments at Primark prices. An Express Dry Style hair treatment (which I choose as it doesn't involve washing) costs £17 and takes 30 minutes, while at the salon the equivalent treatment would cost more than double at £40 and take 45 minutes.
Disclaimer: I'm not blow drying type. I only ever get a professional one at the hairdressers, usually an annual trip, and I always begrudgingly part with £36 for a wash, cut and blow dry and hate the results every time (don't tell my hairdresser).
My hair is fine but there's lots of it, so my go-to style is worn in its natural poker-straight. That is when I'm not blasting it with heat using a curling tong. More of that here.
I choose the Bouncy Beaut style, which judging by the picture, is big, bouncy and effortless. As a dry styling treatment, it saves you the faff of fitting time in to wash you hair before an appointment and means you won't be sitting in a chair for hours while each strand is blowdried and styled.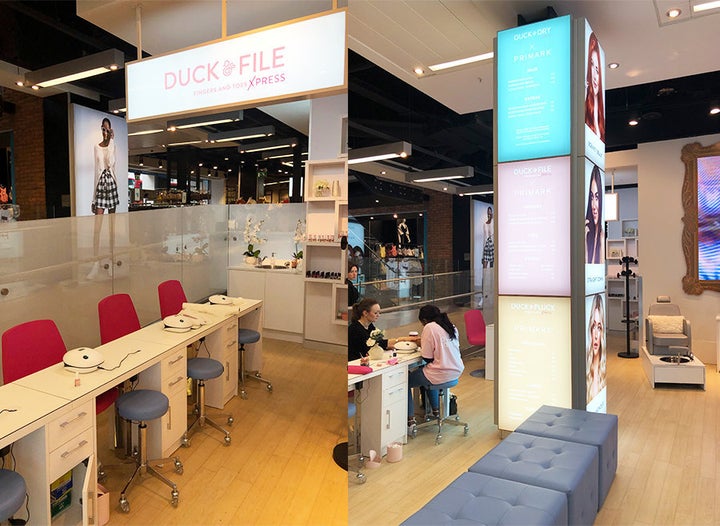 The therapist preps my hair with a TIGI Texturising Salt Spray (which FYI is the best smelling spray I have ever used and annoyingly unavailable to buy) and gets to work. Using tongs she sections off strands curling my hair as she chats away. Once done, she finishes it off using Duck & Dry's Fix Your Quiff hairspray, which to buy online costs £16 – a quid less than the entire treatment. In the corner of my eye, I spot a shelf full of TIGI Bed Head styling products, which do not come cheap, some costing more than the treatment I'm currently getting.
From start to finish, the whole treatment takes just half an hour and I walk to the office with voluminous, glossy, curled locks that looked certainly more polished than my usual rushed attempt before I run for the bus. The staff are friendly and helpful in recommending the best treatments according to my hair type, too.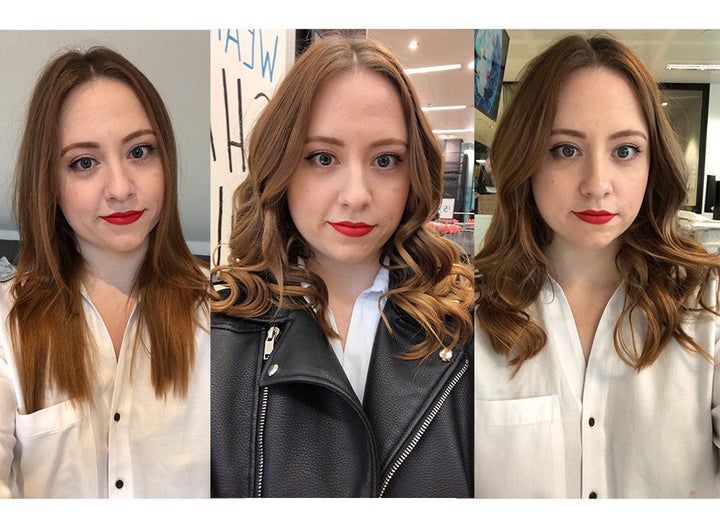 The appointment itself doesn't differ hugely from being at my local salon, and the minimal decor kept a luxury feel. But this is 9am and so it's relatively quiet, I wonder how it will feel to get your hair done in the middle of the shop floor at its busiest.
I keep an eye on my hair as I go about my day, the curls drop but it's nothing new due to my fine hair. At the end of the day, it still smells amazing and feels silky smooth.
Considering the same service would be double the price at a central London salon, I'm very impressed. It feels just as luxurious but you can walk out with change from a £20 note. I will definitely be going back, especially for a payday treat or before a big night.
On the treatment menu you can choose from a selection of dry styling options, as well as hair braiding, nail treatments, and brow and eyelash services – all at competitively cheap prices.
The salons are set to be a permanent fixture across 40 stores across the UK, the first being in the flagship Oxford Street store and, according to my stylist, Birmingham will be the next location.
We all work hard to earn our money – so it shouldn't feel like hard work to spend it well. At HuffPost Finds we'll help you find the best stuff that deserves your cash, from the ultimate lipstick to a durable iron to replace the one that broke (RIP). All our choices are completely independent but we may earn a small commission if you click a link and make a purchase.