The wind seemed to take its toll on Friday morning as Charlotte, George, and the other bridesmaids and page boys, including Robbie Williams' daughter Theodora, walked up the steps of St George's Chapel, Windsor and one of the page boys even tripped on his way in.
They all wore green floral detailing around their waists – a bow for the girls and cummerbunds for the boys – while the bridesmaids had flowers in their hair.
Charlotte walked up the stairs alongside her older brother, then turned around to give the crowds one of her trademark confident waves before she walked inside.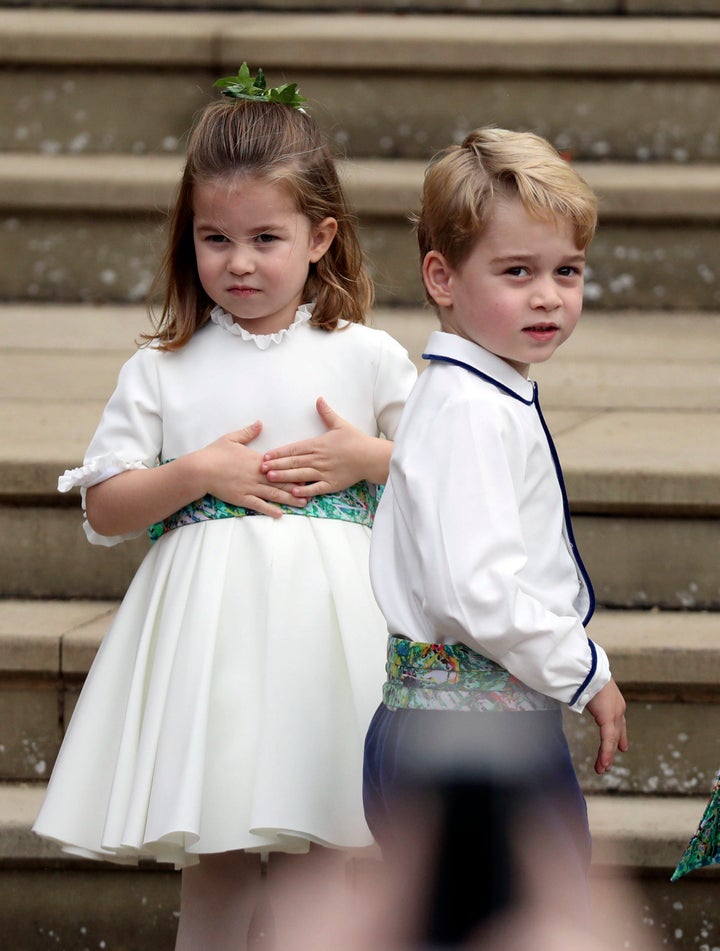 As George and Charlotte arrived at the church, they were also seen eagerly waving to the crowds through the window of the car.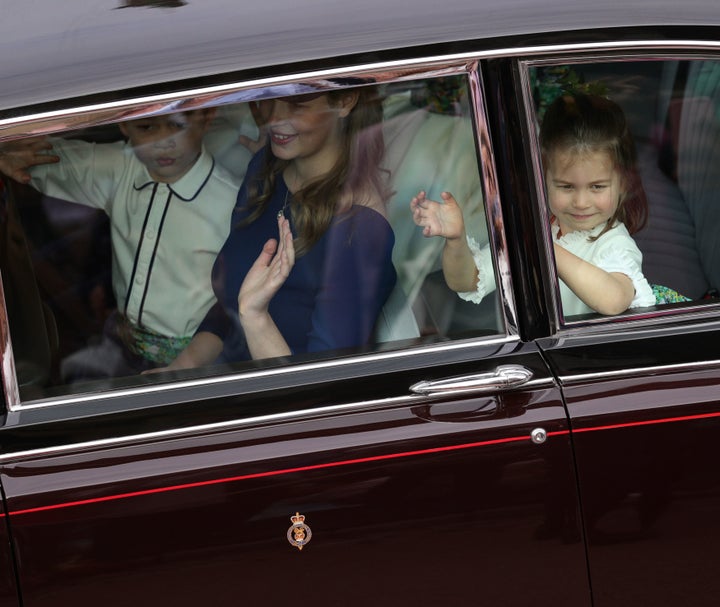 The bridesmaids' dresses and page boy uniforms were designed by Amaia Arrieta of Amaia Kids. The design incorporates the Mark Bradford artwork included in the Order of Service. The bridesmaids each had posies of Lily of the Valley and spray roses.
George and Charlotte are among Princess Eugenie's page boy and bridesmaids, along with Robbie Williams' daughter Theodora. Other bridesmaids include Savannah and Isla Philips, Mia Tindall and Maud Windsor. Louis de Givenchy will also be a page boy alongside George.
Prince Louis, who has only been seen in public twice at his birth and his christening, has not yet been seen at the wedding.
The wedding is taking place at St George's Chapel in Windsor, where the Duke and Duchess of Sussex wed in May. The couple will be married by Dean of Windsor David Conner, who also conducted Meghan and Harry's wedding.
Princess Beatrice, Eugenie's older sister, is maid of honour, while the groom's brother, Thomas Brooksbank, is the best man.
The Queen is hosting an afternoon reception in St George's Hall, within the castle, followed by an all-nighter at the Royal Lodge in Windsor Great Park.