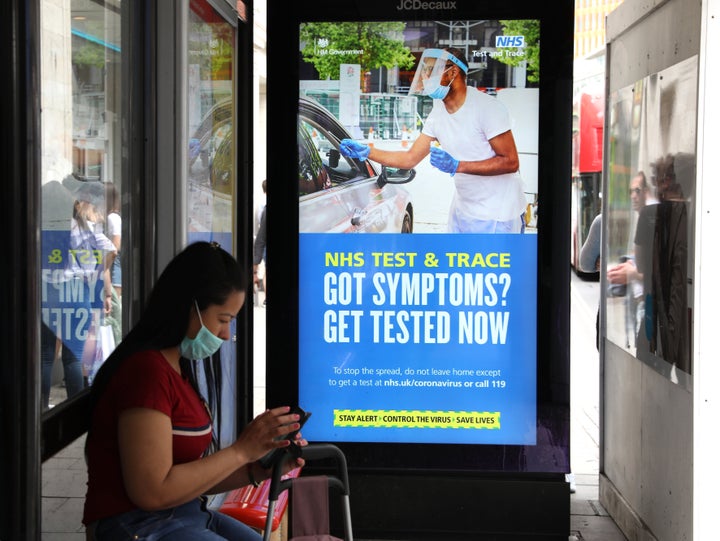 Coronavirus has changed everything. Make sense of it all with the Waugh Zone, our evening politics briefing. Sign up now.
Ministers face fresh calls to tear up a £45m contract with Serco to provide elements of its Covid-19 Test and Trace programme after it emerged the firm is outsourcing the majority of the work.
The government awarded the lucrative contract to the firm last month to help trace close contacts of coronavirus patients as the UK tries to avoid a second wave of the disease this winter.
But it has emerged the multi-billion-pound firm is subcontracting operations to 29 other companies, and that 85% (9,000 of a total of 10,500) of staff are not employed directly by Serco.
Ministers now stand accused of failing to learn the lessons of the collapse of construction giant Carillion, the so-called "mega-contractor" that folded with huge debts and left taxpayers footing a £148m bill.
The NHS Test and Trace service, which was set up in May and includes a number of public health bodies as well as Serco, last week revealed it was still failing to reach nearly a quarter of people who test positive for the virus.
Serco has been tasked with providing "tier three" contact tracing – where non-clinical call centre staff phone or email the "close contacts" of positive cases, and update public records.
Shadow Cabinet Office minister Helen Hayes said the amount of work being subcontracted out by Serco meant accountability for operations was being eroded.
She told HuffPost UK: "This is astonishing. [Test and Trace] is an essential public service, which should be at the heart of the national effort to prevent a second wave of the coronavirus and to build confidence to restart the economy. It is impossible to see how there can be any meaningful control or accountability under these arrangements.
"The government does not appear to have learned any lessons from Carillion's collapse and other privatisation failures, where outsourcing companies subcontracted the majority of work.
"Labour has been raising concerns about contracts with Serco for weeks. The [Test and Trace] system relies on public trust and the government's approach to procurement is placing this in jeopardy."
Cat Hobbes, founder of the anti-privatisation campaign We Own It, is calling for the government to scrap Serco's tracing contract.
She said: "This is utterly outrageous – we call on the government to immediately scrap Serco's contract. Invest these millions in our NHS, local authorities and local public health experts so we can get out of lockdown safely."
Referring to the 29 subcontractors Serco was using, she added: "We don't even know who's actually in charge right now. This would be a joke if it weren't so deadly serious.
"Local health teams are already successfully tracing seven times more contacts than Serco – give them the resources they so urgently need."
A government source defended the use of private sector contractors to help speed up the NHS Test and Trace response.
They said: "This is all part of a wider attack on us for using the private sector to help deliver projects.
"The private sector have helped us deliver almost everything we've done – whether than be scaling up testing, delivering PPE, or building a mass contact tracing system at scale and at speed.
"We'll make no apologies for harnessing the best people and the best organisations to help us fight Covid, whether they are from the public sector or the private sector."
HuffPost UK has contacted Serco for comment.
NHS Test and Trace figures released last week showed that 78.7% were reached and asked to provide details of recent close contacts, up slightly week on week.
In the week to July 8, some 13,807 people were identified as close contacts. Of these, 9,811 people (71.1%) were reached and asked to self-isolate, again a slight improvement on the previous week – but still short of the 80% figure recommended by government scientists needed to make the system effective.
Since the system started, 155,000 people who may have been at risk of unknowingly spreading the virus have been reached by the service and asked to self-isolate.