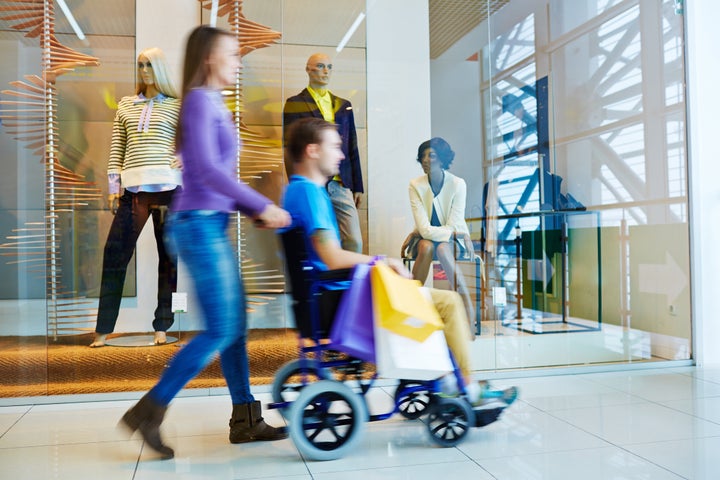 Shopping is an unavoidable part of everyday life – whether it's grabbing a sandwich at lunch, trawling comparison sites for the cheapest car insurance or splashing out on a designer handbag.
Now imagine that shops were only open one day a year. Or not at all.
That's effectively the situation facing many of the UK's 14 million disabled people, who are shut out of shopping by poor accessibility, poor disability awareness among businesses and a lack of choice.
Purple Tuesday - the UK's first accessible shopping day – was announced yesterday, with some of the UK's best-known retailers getting behind the event.
Due to take place on November 13, it will see businesses across the country introduce new measures to make shopping both online and in the high street more inclusive for disabled customers.
It's a fantastic initiative – set up by the disability organisation Purple – and we hope it will encourage businesses to better cater for disabled people.
But retailers need to be doing this every day of the year – not just as a one-off.
It's impossible to live without shopping. Yet time and time again, disabled shoppers face unnecessary difficulties.
Scope's research found three in five disabled people had experienced problems with physical access while visiting the high street. These can include issues such as no step-free access, lack of accessible toilets or lack of accessible changing rooms.
But being inclusive is not just about the physical design of shops.
The checkout desks and card machine in the returns section were too high for her to reach from her wheelchair, and when Sam asked a staff member to help, she says she was told "no".
Online shopping can also present problems. Our research shows that more than half (55%) of disabled adults have been unable to make a purchase because of an inaccessible website.
However there's still a really long way to go, so the more businesses who get on board with inclusive shopping, the better. The bottom line is that disabled people and their families should have an equal chance to shop, whether that's on the high street or online.
And if businesses are thinking about their bottom lines, they really should be working hard to improve things for disabled consumers. The annual spending power of disabled people and their families – dubbed the Purple Pound – is worth an enormous £250billion a year. That's a quarter of a trillion pounds.
Investing in the necessary improvements doesn't have to be expensive. A lot of the problems disabled shoppers face can be tackled with better disability awareness training for staff, and businesses actually talking to disabled consumers and considering their needs.
We hope Purple Tuesday will be the catalyst which encourages retailers to cater for disabled customers all year round, so that every day is purple.