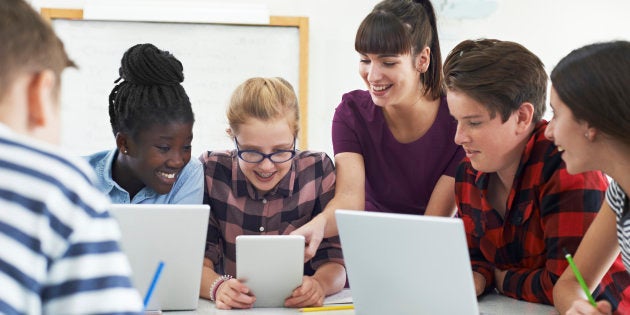 The way we communicate, search for information, bank and shop has been transformed dramatically by digital technology. However, its potential has not yet been effectively realised in classroom settings.
Today's youth are born to mobile; constantly exposed to dynamic, multifaceted media such as video, infographics and podcasts. It makes sense that learning modes need to adapt using the technology available. It needs to be effective and beneficial to both learner and teacher.
Bubbles technology is a new way to incorporate the best of digital multimedia content into traditional learning modes. Through QR codes, interspersed throughout textbooks, learners and educators get access to short, interactive modules that help the learner get a deeper understanding of the material through rich audio and visual snippets that complement the curriculum.
Through simply scanning the codes via a smartphone using a free QR reader, or clicking on the active links in the eBook versions, learners can unlock rich 60- to 90-second interactive lessons as well as additional concept examples.
The technology creates what we call "talking textbooks", as Bubbles are located throughout the learning materials, and are intended to be especially useful when revising or catching up on concepts. Through a deeper, multifaceted learning experience, learners will be able to comprehend and retain the information more successfully.
As an example, a maths textbook will explain the meaning of "3 to the power of 2". The textbook can only do so much in trying to explain this concept. The associated Bubble would then open an interactive lesson that explains it in detail, using animation, audio and graphics.
South Africa currently has 21 million internet users -- the majority of whom are accessing the web via mobile.
Flipping the classroom for deeper learning
We believe that the future of education lies in what is called the "flipped classroom".
The flipped classroom is a concept in which learners study the content at home using books and interactive technology, and then complete the practice exercises in the classroom, where learning happens through the application of the concepts and the ability to discuss with peers and teachers.
Bubbles can help galvanise this type of learning, by ensuring that concepts are readily available online for the learners at home to engage with and learn from. Learners, especially those who have not understood a concept in the classroom, can then access the learning material at their leisure, wherever they are, helping to bridge their knowledge gaps.
Bubbles technology is truly breaking new ground for high-school learning in South Africa.
QR tech fits SA's fast-growing mobile landscape
The humble QR code, which was first invented back in 1994, has become synonymous with marketing, downloading new apps, or even claiming discounts from retailers. However, with the exploding use and adoption of mobile phone technology and smartphones in South Africa, the country is an ideal environment for using QR codes as an innovative e-learning tool.
According to research from global phone body the GSMA, South Africa currently has a mobile penetration rate of almost 70 percent, with approximately 37.5-million unique mobile subscribers in the country.
Bubbles, through QR codes, are paving the way for learners to make the most of mobile technology.
The boom in mobile phone access has, in turn, spurred on internet growth in the country. South Africa currently has 21-million internet users -- the majority of whom access the web via mobile, according to research from World Wide Worx.
World Wide Worx research further shows that 40 percent of South Africa's population will be connected to the internet this year. This means that with an estimated population size of 55.9-million people, 22.5-million are projected to have internet access by year-end.
Meanwhile, data from StatsSA confirms that South Africa has a young population, as 36.2 percent (just over 20-million people) fall into the 15-34 age bracket. This youth segment has helped make the likes of Instagram and SnapChat the fastest-growing social networks in the country.
South Africa is ripe for using mobile technology to deliver improved learning experiences. Instead of being a distraction, mobile phones can be leveraged to help create an improved education system in which quality learning can happen anywhere, anytime. Bubbles, through QR codes, are paving the way for learners to make the most of mobile technology.
Related