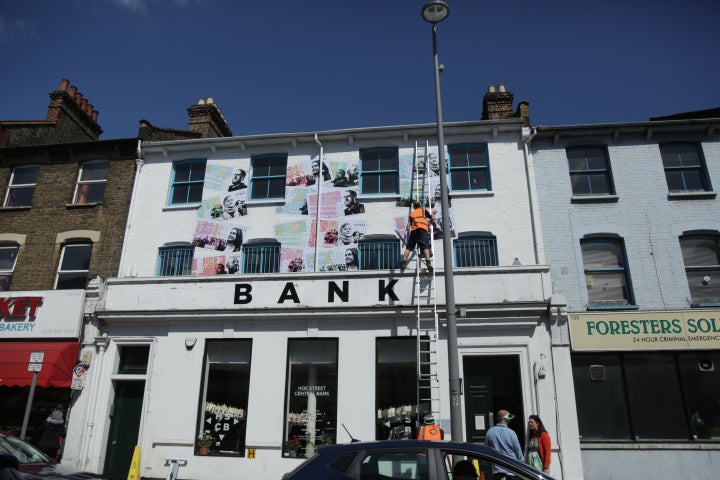 WALTHAMSTOW, London ― It's Friday night, and Hoe Street Central Bank is hosting a party to sell a new kind of bond. Piles of banknotes are on display in the opened vault and cocktails flow. But it is not a real bank. Nor is it real money. HSCB – as the bank's also known in a nod to the global banking corporation HSBC – is a project founded by local artists Hilary Powell and Dan Edelstyn.
With so many misconceptions about the way money and debt are created, the couple wants to shine a light on how the financial system traps people within a cycle of debt, driving inequality.
The bank has been printing and selling its own money since December 2016 and it will use the proceeds to buy $1.3 million of local debt. The new bonds produced and sold this month aim to raise money to fund the bank's next big event: putting paperwork related to that debt into a cash-in-transit van (used to move money about) and exploding it.
Edelstyn says the stunt, which is inspired by the film "The Italian Job," is symbolic and intended to attract attention to an issue that is often perceived as dry and complex. "Debt is so elastic and abstract. To get it into people's imagination you have to do something fun and exciting," he said.
The couple – who together are making a feature documentary about the project – started printing fake banknotes to sell as artwork in their garden shed almost two years ago. They saw it as a way of illustrating how banks create money out of thin air – or in the artists' case, some pulp and ink.
It is a common misconception that commercial banks lend money deposited by savers, when in fact the banks create money to make loans. This means that whenever money is created, so is debt. Because the majority of lending goes toward property or financial markets, this drives up property prices and makes a crash more likely, explains Fran Boait, executive director of campaigning group Positive Money.
With stagnant wages failing to keep up with the rising cost of living in the United Kingdom over the past decade and cuts to public services as a result of austerity, people are often forced to take out loans to pay for bills and basic subsistence. They then have to take out additional loans to pay back the interest on their existing loans, and a cycle begins.
Of course, it's not just the U.K. which has high levels of personal debt. American households have $13.3 trillion of debt, a figure which has been rising consecutively for four years. Although the economy is booming, wages are not keeping up, and 44 percent of Americans say an unexpected expense, such as a medical bill of a few hundred dollars, would be a struggle to cover. Around 2.5 million households turn to payday loans, often with massive interest rates, every year.
"Money should be a tool to make our lives easier, but the way it is designed is trapping people in debt and not resulting in good outcomes," said Boait.
In March, the artists found the perfect space to expand their operation – a former bank branch that has been turned into a co-working space. They have decorated it to look like an old-fashioned bank interior, with green bankers' lamps and wooden desks with drawers stuffed full of printing and paper-making paraphernalia. Framed prints of their work adorn the walls, while freshly printed notes are pegged to a line dry. When we first meet, Powell, who wears an apron with a "governor" name badge pinned to it, stains copies of the HSCB banknotes in hot tea.
The notes feature the faces of the heads of four local services that have been hit by austerity cuts – a food bank, a homeless kitchen, a primary school and a youth program.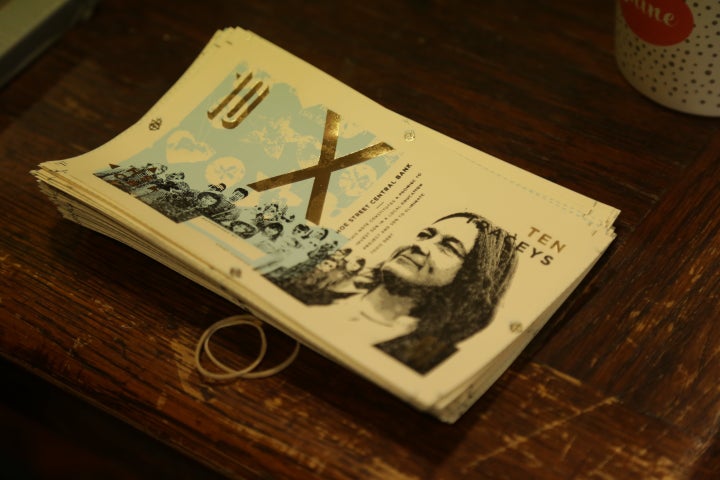 The couple has raised $52,000 from the sale of the notes so far, with purchasers including overseas collectors in Texas and Germany and the Museum of London. Half of the money raised goes to the causes run by the people featured on the banknotes, while the other half has been used to buy up and abolish $1.3 million payday loan debt owed by local people.
The artists have been able to do this via the secondary debt market. When individuals are no longer able to pay their credit card bills or loans, banks cut their losses and sell the debt on to third parties for pennies on the dollar. These third parties are then able to pursue the bad debt for the full amount. Or they sell on to other debt collectors, who then get the right to collect in full.
Powell and Edelstyn were inspired by a similar scheme in the United States called Rolling Jubilee. Born out of the Occupy Wall Street movement, the fund has raised more than $700,000 that has been used to cancel more than $31 million of student loans and medical debt. In a similar stunt, John Oliver, host of HBO's "Last Week Tonight," eradicated nearly $15 million worth of debt owed to hospitals in Texas, calling it the biggest TV giveaway in history.
Other than an area postcode, Powell and Edelstyn do not know the circumstances behind the debt they are cancelling. And that is irrelevant to them anyway, since the point of the project is draw attention to the ubiquity of debt, rather than "moralizing" on how people spend their money – or lack of it, said Powell.
"There's a narrative around that it's just silly, poor people getting into debt, when it's actually affecting wider swaths of society and everyone is only one step away from it," she said.
"The problem is it's the people at the bottom with all the debt and people at the top with the money," said Edelstyn. He hopes the project will highlight the "hypocrisy" of bankers and politicians telling people they should manage their money better. "People at the top don't need to manage their money better because they'll get bailed out by the people at the bottom anyway," he said, referring to the taxpayer-funded bank bailouts following the financial crash.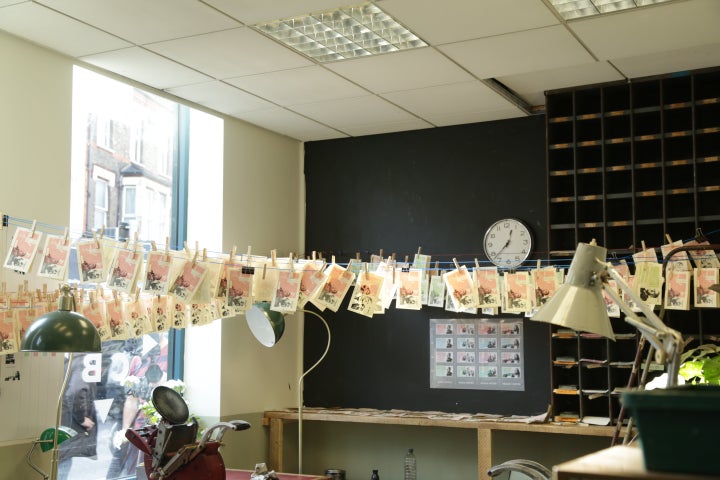 The artists are reaching the dénouement of their project – blowing up a van overlooking London's financial district in December this year. They are calling the stunt Big Bang 2, in reference to the 1986 deregulation of the financial market in the U.K. known as the Big Bang. Proceeds from the sales of the bonds will cover the production costs of the stunt and they hope to display the blown-up vehicle somewhere in the financial district.
Donating money and buying back debt helps individuals, but it does not, of course, stop people going into debt in the first place.
Education is key here, said Boait. "Public education has been underplayed as a really important part of how social change happens," she added. "If we understand things it's a lot more difficult for the politicians or bankers to pull the wool over our eyes."
Writing to political representatives or organizing local campaigning groups on the issue are "small steps" that can help lead to positive social change, she added.
Powell and Edelstyn are seeing this momentum. They have had economists and academics visit and they have been invited to do talks at universities. People across the country have been in touch about setting up their own versions. The couple has ambitions to turn the space into an activism and cultural hub looking at other social, economic and environmental issues, such as energy. Having received a few small grants at the start of the project, the couple has applied for more to help them expand it.
Given the amount of interest their project has received, they are confident the model can affect change. "When we first started this, no one was really talking about [how money debt is created] on the airwaves. People don't dare talk about these issues in political circles unless there's an appetite for them in culture," said Powell.
For more content and to be part of the 'This New World' community, follow our Facebook page.

HuffPost's 'This New World' series is funded by Partners for a New Economy and the Kendeda Fund. All content is editorially independent, with no influence or input from the foundations. If you have an idea or tip for the editorial series, send an email to thisnewworld@huffpost.com
Related