Britons fork out up to five times as much of their salaries on rail fares than other Europeans, new research has shown, as inflation-busting increases come into effect today.
Analysis of railway data across the UK and elsewhere in Europe has found those commuting to London from Chelmsford, Essex, pay as much as 13% of their monthly wage on travel, compared with as little as 2% in France.
The research by the TUC found comparable commutes would cost 3% of the average monthly salary in Italy, 4% in Germany, and 5% in Spain and Belgium.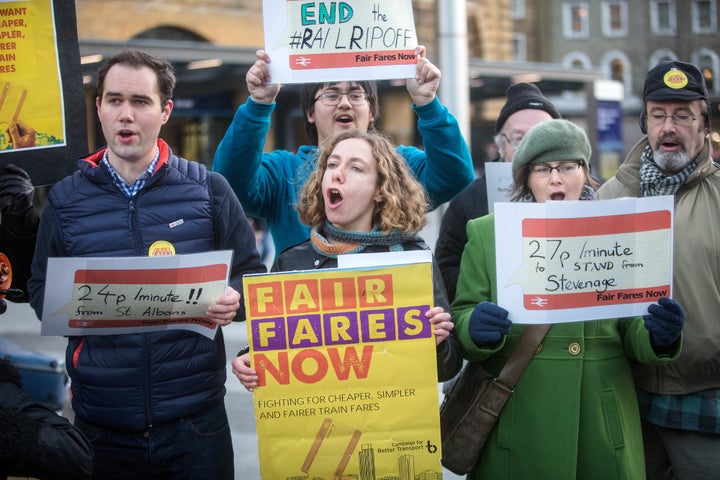 In Europe, many railways are state-owned and HuffPost UK has reported previously how some routes in Britain are owned by European states.
Rail passengers will see fares rise by an average of 3.4% on Tuesday.
It's the biggest rise since 2013. Inflation rose to 3.1% in November.
The TUC, which represents trade unions, said that UK commuters will "envy" those paying less in Europe.
General Secretary Frances O'Grady said: "Another year, another price increase. Many commuters will look with envy to their continental cousins, who enjoy reasonably-priced journeys to work.
"Employers can help out by offering zero-interest season ticket loans, or offering more flexible work hours and locations.
"But ultimately the government need to take our railways back into public hands. That will stop hundreds of millions being siphoned off by private rail firms, and allow us to put passengers first."
'All talk no trousers'
The TSSA trade union's General Secretary, Manuel Cortes, said: "Every year UK passengers are forced to pay more to Holland, Germany, France and Italy all of whom currently own our train operating companies.
"Yet, it's all talk and no trousers when it comes to taking back control from the foreign companies who own large swathes of our infrastructure including our railways. Money made out of passengers here is invested in fare subsidies there."
The Department for Transport told HuffPost in a statement: "We are investing in the biggest modernisation of our railways since the Victorian times to improve services for passengers - providing faster and better, more comfortable trains with extra seats.
"This includes the first trains running though London on the Crossrail project, an entirely new Thameslink rail service and continuing work on the transformative Great North Rail Project.
"We keep fare prices under constant review and the price rises for this year are capped in line with inflation, with 97p out of every £1 paid going back into the railway."