You can now access a rapid Covid-19 test that'll give you results before your flight at Heathrow airport – but you'll still have to abide by the quarantine rules.
The tests, available from Tuesday, aim to deliver results within an hour and will be available at two new pre-departure testing facilities in Terminals 2 and 5.
Thinking of booking a holiday after hearing the news? Here's what you need to know first.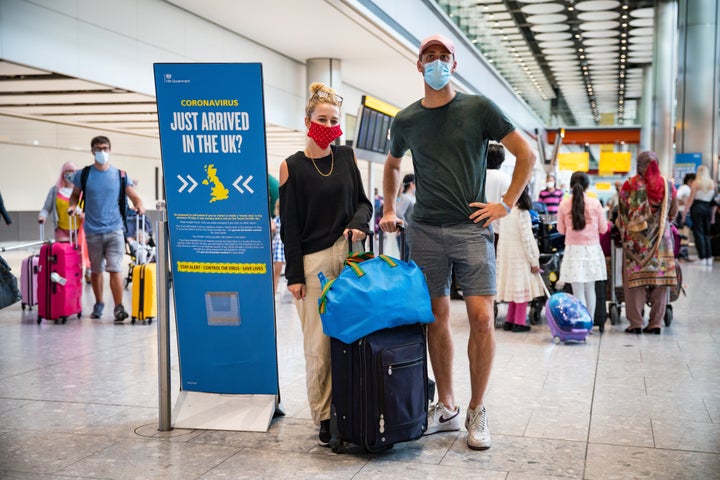 The tests won't be widely available
The tests will initially only be offered to passengers travelling to Hong Kong and Italy – two countries that require UK travellers to show evidence of a negative test result taken within 72 hours of travel.
Cathay Pacific, British Airways and Virgin Atlantic Airlines all fly routes that now require pre-departure tests.
The test at Heathrow costs £80, and passengers interested in using the facility are required to book a test online before making their way to the airport. The testing facilities will initially be open for four weeks.
Some countries that require a negative result upon arrival – for example, Italy – allow passengers to take a free test at the airport when they arrive as an alternative. However, if this comes back positive, beware you'll be stuck quarantining in a hotel room or quarantine facility.
The tests are not the same as the NHS covid tests
Unlike the PCR tests, LAMP tests can be processed without being sent to a laboratory. The use of rapid testing for Covid-19 is currently being evaluated, Professor Lawrence S. Young, from Warwick Medical School, tells HuffPost UK.
"These tests need to be validated against the gold standard laboratory tests used in hospital and PHE laboratories," he says. "Rapid tests tend to be less sensitive than the standard test, but could be useful in some settings where infected individuals need to be rapidly isolated (e.g. care homes, hospitals)."
The lower sensitivity of LAMP tests compared to PCR tests "means that the rate of false negatives will be higher", explains Dr Joshua Moon, research fellow in the Science Policy Research Unit (SPRU) at the University of Sussex Business School.
A pilot for LAMP tests within some NHS hospitals has also been announced. The airport facilities are expected to expand to also use antigen testing in the next few weeks. Again, these tests are thought to be less sensitive than the PCR tests.
You'll still have to quarantine
The tests may help you to enter another country, but you'll still need to self-isolate when you return to the UK if that country is not listed as a travel corridor.
For example, Italy was recently removed from the exemptions list. If you return from Italy, you'll still need to self-isolate for 14 days.
It begs the question: why do we still need quarantine rules if the technology is there to test at all airports? "We need to be sure that rapid testing is reliable before it can be used to make decisions about travel," says Professor Young.
Dr Moon adds: "Importantly, neither this nor PCR would be all that effective if individuals had gotten infected on the plane so the quarantine is still necessary."
Unless accuracy is guaranteed, both Professor Young and Dr Moon say we'd need more than one test.
"What would be more effective in this case is multiple tests during the quarantine to ensure that negative results are true," says Dr Moon. "Three negative results over, say, six days, would provide a reasonable justification for somebody leaving quarantine."
It might not make much of a difference
Collinson and Swissport, the companies behind the new facilities, described the pre-departure testing regime as the "crucial next step toward keeping the travel industry moving while limiting the spread of the virus" – but not everyone is convinced.
Virgin Atlantic's chief executive Shai Weiss believes: "As long as the 14-day quarantine remains in place, demand for travel will not return."
Earlier this month, the government unveiled a task force to develop a universal coronavirus testing system as a potential way of easing quarantine restrictions for arriving passengers.
Weiss added: "Half a million UK jobs depend on open skies and a fully functioning UK aviation industry. The government's global travel task force must act swiftly to replace quarantine with passenger testing in November."
Does Professor Young think the new system will open up travel? Not particularly – "only when the tests are reliable and we are confident that they are robust and accurate," he says.