Jeremy Corbyn has led calls for the voter registration deadline to be extended after a technical malfunction saw potentially thousands of Brits miss out on being able to have a say in the EU referendum.
The official voter sign-up website crashed at around 10:15 pm on Tuesday night, just less than two hours before the deadline. 50,000 people were using the service at the time it crashed.

The BBC's Nicholas Watts warned that because the timings concerning elections are governed strictly by law that it would be "very very difficult for [the government] to have any discretion" in extending the deadline.
But Corbyn has persisted in leading calls for non-voters to be given the chance to sign up past midnight on Wednesday.
Liberal Democrat leader Tim Farron suggested that an extra day be granted for those who tried to register to vote but couldn't last night.
He branded the website crash a "shambles" and said people should be granted an additional 24 hours to "exercise their democratic right".
Sky News anchor Kay Burley also weighed in, commenting on the high number registration numbers among those under 40. "Bad for [the] remain [campaign]," she tweeted.
A Cabinet Office spokesperson said they had become aware of the "technical issues" which they put down to "unprecedented demand".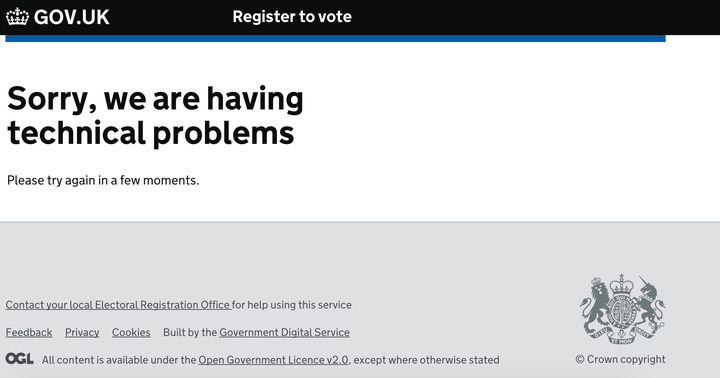 "Some people did manage to get through and their applications were processed," they said. "We tried to resolve the situation as quickly as was possible and to resolve cases where people tried to register but were not able to."
Comedian Robert Webb took a slightly lighter approach to the website crash, suggesting that people who were trying and failing to register should give up and go to the pub.
While commentator Julia Hartley-Brewer claimed that people who had waited for the last two hours to register cared little about their vote, and added it was "tough" if they missed out due to the government website glitch.
Britain's elections regulator, the Electoral Commission, has not yet commented on the legal possibility of the registration deadline being extended.
They said in a statement issued late on Tuesday night: "We are aware of issues with the government registration website and know that they are seeking to resolve these as soon as possible."
Of the 525,000 people who applied on the day registration closed, young people comprised a significant percentage.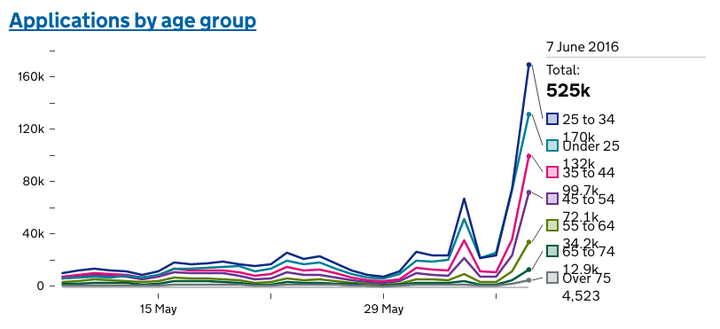 Over 130,000 new voters under the age of 25 used the government's website on Tuesday.
Before the deadline, 1.65 million people applied for a vote since the EU campaigns were launched last month.
Popular in the Community