In Spenny vs Penny we compare the products we love, with those following in their (sometimes pricey) footsteps. Here I compare a Chilly's bottle to a cheaper version from Wilko. Which one is better?
We all know how important it is to carry a reusable water bottle nowadays, but I really learnt to appreciate the benefit (beyond the environment, obvs) when I travelled around India.
As you can't drink tap water, you have to buy bottled water. And in 40-odd degree heat, that water doesn't stay cold for very long – honestly, for a grand total of about seven minutes. Hardly refreshing.
My travelling pal, however, had a better idea – buying bottles of water and pouring them into her fancy, £20 bottle that she'd remembered to bring along (unlike me) – giving her ice cold water for hours. Don't worry, she did share some of it with her parched companion.
If the recent heatwaves have taught me anything it's that a) we really need to cut down our plastic consumption and b) an insulated reusable bottle is the only way forward. But do you really need to spend £20 on a higher end bottle or will a cheaper one do the trick? I put Chilly's and Wilko's bottles to the test.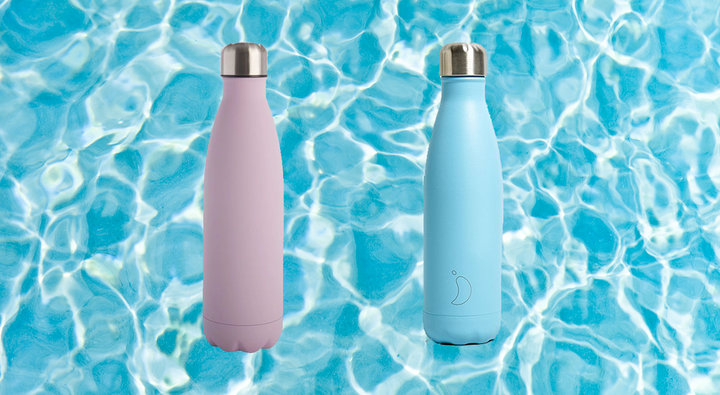 This flask is smart, and you wouldn't know by looking at it that it's only a fiver. The shape and size are exactly like other bottles that are four (or even five) times the price.
I really like the smooth, matte-style outer layer to the flask. I fill the bottle with ice cold water ahead of my morning commute on the sweaty Northern line – and am thankful I have it by my side during the humid heatwave that hits London.
My first impressions are that the water doesn't taste metallic-y. I don't know if it's just me, but I often find with reusable water bottles that they somehow change the taste of the water. This one doesn't. Tick, tick.
I tend to drink a lot, refilling the 500ml bottle every few hours, and the water remains cold – even when I take myself to the common near my house to sit in the sun. The specs say it keeps liquid hot for eight hours and cold for 12 hours. So I try leaving the water for longer and after six hours in the hot weather, it's still cool – not as ice cold as it once was, but I'll take it.
The downside for me is how grubby the bottle gets, probably due to the material. When I'm in the gym my hands get grubby from gym floor and equipment – so when I reach for my bottle, it makes greyish black marks on it. I can wipe it off, sure, but it's far from ideal.
The Chilly's bottle looks exactly the same as Wilko's in size and shape – but the outer material of the bottle is rougher and less likely to attract stains.
I fill the bottle before my morning commute with ice cold water and it's still ice cold a couple of hours later. I work in an air-conditioned office and the water is so cold I need to pour the water in a glass to take the edge off.
Later on, when I head out in the evening sun, I'm grateful for the refreshing drink on one of the hottest days of the year. In fact, when using the bottle, I never got to the stage where my water wasn't cold. I left it overnight, and the water was still cool-ish by the morning.
So yeah, I did notice this one was better – but I wouldn't say quadruple-the-price better. If I was living in India, perhaps the money would be worth it, but I'd prefer to splash out just a fiver on the cheaper, unbranded version.
We all work hard to earn our money – so it shouldn't feel like hard work to spend it well. At HuffPost Finds we'll help you find the best stuff that deserves your cash, from the ultimate lipstick to a durable iron to replace the one that broke (RIP). All our choices are completely independent but we may earn a small commission if you click a link and make a purchase.