The death of a RideLondon cyclist who took part in the race to fundraise for Cancer Research UK, has led to a flood of donations being made to his fundraising page.
Cancer survivor Robin Chard passed away on Sunday, according to a Facebook post from his niece Sophie Jenkins, who said her uncle, "did not manage to finish the race as he sadly passed away during the event".
The 48-year-old reportedly suffered a cardiac arrest on the Kingston Bridge, 25 miles from the start. He was helped by fellow riders and event medics but later died in Kingston Hospital.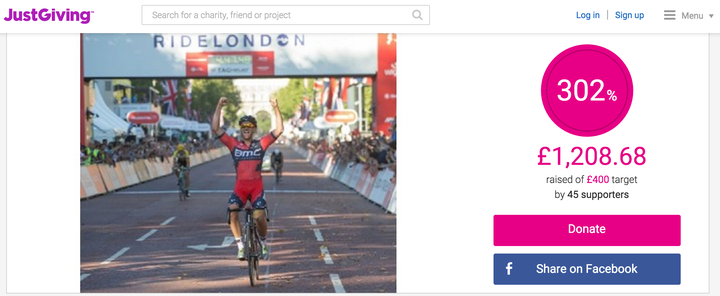 MailOnline quoted his wife Vickie as saying: "Robin was doing something he loved to raise money for Cancer Research UK, a cause that was very important to him after losing his father, his mother's partner and my mother to cancer. I'd like to thank everyone who has helped and supported."
Sophie Jenkins wrote on Monday: "My beautiful Uncle Robin Chard.. He died doing something so close to his heart. We are so so proud of you and the amount of money raised, and still raising is incredible."
On Monday a string of donations were made to Chard's fundraising page where he was remembered as a "dear friend" who died "doing something beautifully selfless and kind". By 11am, £1,208.68 had been raised, but by this afternoon over £20,000 had been donated. Chard's initial goal was to raise £400.
Both Chard's father and stepfather had died from lung cancer, and he had suffered from Hodgkin Lymphoma as a child.
Chard wrote on his JustGiving page: "My wife Vickie unfortunately lost her mother Sheila to non-Hodgkin lymphoma.
"I have had personal experience with cancer. My dad, Edwin, had lung cancer which he died of. My mother's long-term partner of 25 years, Bert, also died of lung cancer last year."
On Saturday Chard, from Bicester in Oxfordshire, wrote on Facebook: "I am riding the Prudential 100 for Cancer Research UK tomorrow and I would like to say a huge thank you to all my family, friends and regulars at my local The Nightingale."
While donating £20 on his JustGiving page, Emma Norton-Smith wrote: "RIP Robin, I can't quite believe the news. Many childhood memories with your family. Much love to you all."
Another message read: "Hi daddy, I'm so proud of you. Well done for getting as far as you did. I love you so so so much, I know you'll be proud of all the money you raised. You did such an amazing thing. I love you xxxxxxxx"
The ride set off from the Olympic Park in east London Sunday morning and followed a route into Surrey before looping back to finish on the Mall, central London.
Related