Former football player Rio Ferdinand has opened up about the death of his wife, Rebecca, in an emotional documentary.
Ferdinand became a single parent to three young children when Rebecca passed away from breast cancer in May 2015. She was just 34 years old.
In a new BBC One documentary, called 'Rio Ferdinand: Being Mum And Dad', the footballer opens up about his wife's death and how he struggled to navigate the grieving process.
"I don't think I've grieved properly," he said. "I've not given myself that time to sit down and flush everything out and go through it."
The sad news is that Ferdinand's story is far from being unique - in fact, numerous widowers are left struggling to cope with grief, while bringing up children on their own.
Here are five other men who have opened up about losing the women they love to cancer and how they rebuilt their lives once more.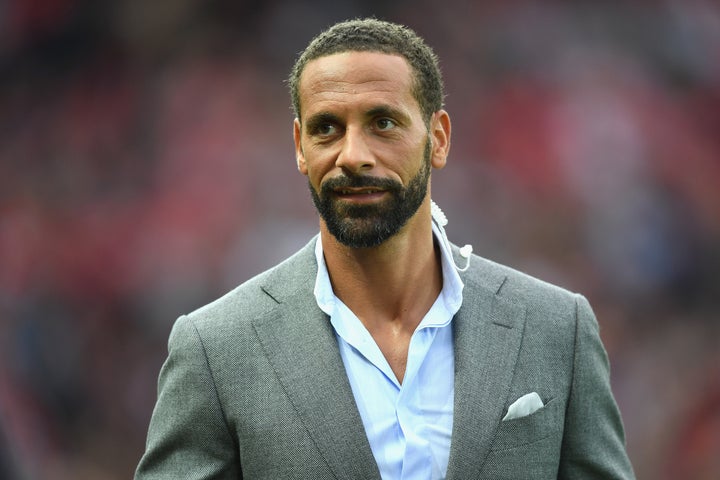 Ben Westwood lost his wife Carolina, 37, to advanced breast cancer in 2013.
"Losing my wife of 14 years was devastating enough, but our two children Jake and Isabella were only seven and five when she died, so it was an unbearable situation," the musician wrote in a blog post on The Huffington Post UK.
"Yet bear it we did. I had no choice; I needed to keep going as a single father, running a household and working, rather than curling up into a ball."
Ben said cognitive behavioural therapy (CBT) helped him to process his feelings and better deal with stress in the wake of his wife's death.
Then a few months later, as a freelance journalist, he began to write articles about the hardships of being a widowed single parent.
"I was encouraged by the feedback I received from people in a similar situation," he explained. "I realised help was out there too."
"I try hard to be positive - I may have lost my wife, but I have two wonderful children," he said.
Pete Wallroth lost his wife Mair, 41, to breast cancer in 2012.
"When Mair died following a secondary cancer to her brain, the ultimate tragedy hit our family," he wrote in a blog post.
"I don't know why but I never got angry about what happened. Perhaps I did in my own way, but if so then the anger was certainly ploughed constructively into making a difference to others in a similar position to my wife when I set up a charity called Mummy's Star."
The charity helps provide support for pregnant women and their families, following a cancer diagnosis. Setting up the charity gave Pete something to focus on, something to drive him forward.
"A cancer diagnosis, going through treatment, or going through a loss changes your perspective on absolutely everything," he wrote. "Recently, I commented on my vehement dislike of the phrase: 'Oh, you will get back to normal. It'll just be a new type of normal.'
"I dislike this phrase so much because I find it limits people either when they are diagnosed with cancer or in my case when they are widowed.
"I haven't got used to a new type of 'normal'; I have had to learn a completely different life to the one I had before."
Elliot Choueka lost his wife Rosie, 38, to secondary breast cancer in 2015.
When Rosie had discovered her cancer was terminal, she asked Elliot to set up a charity in her name, to fund research into secondary breast cancer.
When she passed away, Elliot began work on setting up the charity, while juggling copious amounts of life admin, managing two young children - Natalie and Joseph - and working full-time.
"You are swept up in a whirlwind of organisation that is oddly comforting," he told HuffPost UK.
He said that his family and friends were unbelievably supportive during this time, but it was the need to take responsibility and look after his children that helped see him through.
"How did I get through those times? Well the truth is I put that down to my children," he explained. "Knowing that my children depend entirely on me now is enough to make me pull myself together and carry on.
"In my life, just as with anyone else's, there continue to be challenges which frankly make me want to curl up in a ball and tell the world to go away... But when you're a single dad you just can't do that.
"The children and I have also had professional support through two amazing charities, Chai Cancer Care and Grief Encounters. Their counsellors have helped, and continue to help, us to deal with and readjust to Rosie's death."
Richard Kitley lost his wife Charlotte, 36, to bowel cancer in 2014.
"Charley died of bowel cancer and that's only supposed to take much older people. Or so we thought. So I am now a widower at the young age of 38. I never expected this. And it hurts so much.
"But my wife has taught me a great deal about courage and 'framing rainbows' that I want to be brave and useful and do something to help others - as Charley did. I would love to transform some of our devastation into something positive to help others who are suffering from bowel cancer."
In light of Charlotte's death, Richard joined forces with Bowel Cancer UK and set up a donation page in his wife's memory called Charlotte's Star Of Hope Fund.
"Throughout the whole battle against the devastating disease of cancer, she was always strong and determined," he recalled. "My best friend and my confidant. It seems bizarre to say it, but I could not have done this journey with anyone other than Charley.
He added: "It's too late for Charley and our little family. But others don't need to die. Other families can remain together. Other children don't need to lose their mummies as Daniel and Lucy have done. Early diagnosis saves lives."
Singe Greene lost his wife Kate, 38, to incurable breast cancer.
Singe said that before she died, she wrote a list of instructions on how to bring up their two sons Reef and Finn.
"In her final weeks she had started jotting down notes on Post-its and in text messages, and in her last few hours Kate kept scribbling away, even though she could barely lift the pencil," he wrote in a blog post on HuffPost UK.
"Kate was a brilliant mum, and she wanted me to do the things she would have done herself, had she lived. She also knew I was really scared of how I would cope on my own, and she wanted to give me as much guidance as she possibly could."
Singe said it was these lists that helped give him purpose and drive him forward in the aftermath of Kate's death.
"Crucially, the list contained items from Kate's own bucket list. Her thinking was that if she couldn't do the things we had planned to do together, such as dive the Blue Hole in Belize, then at least I could do it with 'bits of her', meaning our boys," he wrote.
"Spurred on by the list I took the boys snorkelling in the Red Sea after Kate died. I bought a new boat. We grew sunflowers every now and again, and found four leaf clovers. I picked up Kate's favourite orange Club biscuits whenever I wanted to give the boys a treat and a smile, and I still do, six years on.
"I believe everyone should write a list, for themselves and for their loved ones, whether they are in good health or not. It encourages you to do more with your life and inspires your loved ones to do the same, with or without you."