Sign up now to get The Waugh Zone, our weekday evening politics briefing, by email.
Rishi's rushin' roulette
On the eve of his 1997 election landslide, Tony Blair famously warned Britons that they had "24 hours to save the NHS". Right now, it feels like we have just a few weeks to save the NHS from being overwhelmed by the sheer number of severe coronavirus cases in the UK. That's not political sloganeering, it's a hard fact on the mind of every single member of the government.
That's why everything the government does is targeted at one overriding aim: buying time for the NHS to build up its capacity to deal with the onslaught. Neil Ferguson, the Imperial College epidemiologist whose work prompted the acceleration in counter-measures, underlined the rationale, warning that "we're about three weeks or so behind Italy, two weeks behind France and Spain".
And in another crucial bit of candour from the key figures advising No.10, chief scientist Sir Patrick Vallance told MPs today that if the UK can get the number of coronavirus deaths to "20,000 and below" that would be a "good outcome" in relative terms, though it would be "still horrible".
Meanwhile, the NHS is on course to get the number of life-saving ventilators to around 12,000, but there's a desperate drive to get even more. NHS boss Simon Stevens admitted there was a move to 'ramp up' distribution of protective equipment to ensure it goes to every front line worker who needs it (I'm told that in London some ambulance crews don't have any at all).
But while the sense of urgency on the health front is real and growing, is there a similar move towards swift action on the economic front? Well, chancellor Rishi Sunak (again prompted by that Imperial College research) today certainly had to go much further than even the £12bn injection of funds for Covid-19 in his Budget just a few days ago.
Overall, the new £350bn package of emergency loans and grants will reassure many, as will the mantra repeated by both Sunak and Boris Johnson (at least six times) that the UK will do and spend 'whatever it takes" to combat the disease.
The scramble to devise a new economic plan wasn't without glaring omissions, not least the lack of any reference to people who rent, as opposed to those who will get mortgage holidays. Sunak said afterwards that communities secretary Robert Jenrick will announce help for renters 'in coming days', but many will be worried in the meantime.
Millions of people will also wonder why there was no worked-up policy to help individual employees and not just companies. Sunak did talk in vague terms about a 'new form of employment support', but that lack of clarity led the TUC's Frances O'Grady to say "this can't be just a bailout for boardrooms" and it has to put money in workers' pockets too.
When even the Donald Trump White House (hardly a home of democratic socialism) is "sending cheques (worth around $1,000) to Americans immediately", the pressure is on the British government to take real action to reassure everyone worried about being laid off. Sunak did however signal he wanted firms not to act hastily in shedding staff, saying "they don't need to rush these decisions".
The Treasury does need to rush though, and has to work fast to get the right support package in place in the next few days. Government sources tell me that the wish to keep people in work will drive policy, with changes to National Insurance paid by employers and to Universal Credit the twin ways of effectively giving each worker a wage subsidy to tide them over. Insiders think Labour is missing a trick by talking about rises to statutory sick pay, which covers just a couple of weeks, rather than the longer-term support needed to avoid lay-offs.
The need for speed, however, also means that school closures is a very pressing issue. A detailed look at that Imperial College graph suggests all-out closures from April 1 onwards. When I asked the PM how he would stop children on free meals from going hungry, his reply felt like that of someone who has decided closures are inevitable and closer than ever. 'Skeleton schools', staffed to provide childcare for NHS and food retailer workers, seem highly likely at Easter and beyond. As for exams, I wouldn't be surprised if they are delayed to the autumn.
Amid all of these drastic measures, it's important to remember again that they are directed at that sole aim of saving lives. But it still felt today that Johnson himself saw his role as the nation's cheerer-upper and in a way that seems to jar with the public mood. And at times, it seemed that Sunak (who had an impressive grasp of the figures and issues) was the grown up politician in the room, despite his youth.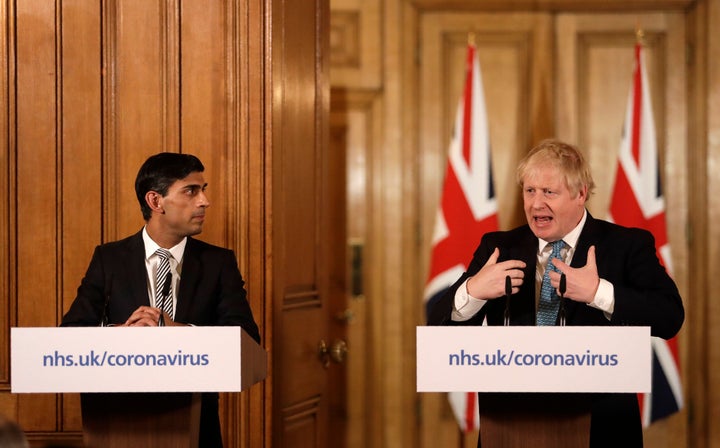 As the chancellor explained the shock the economy would be "significant", Johnson had said "be in no doubt, those companies will bounce back". Workers for firms who don't 'bounce back' won't thank him for such boosterism. Similarly, the PM declared of coronavirus itself "we know that we will beat it". If a vaccine is somehow delayed, if there's a second spike globally, if it becomes an annual event, such blithe predictions may look trite indeed.
Of course, Johnson won a large majority on the back of his mission to confound 'the doomsters and the gloomsters'. Yet he is clearly still finding difficult the switch from campaign mode to governing mode, especially as he now has to govern like never before.
Which brings us to the final big problem he will face in coming months: Brexit. With every country in the EU, and the European Commission, focusing on the need to combat coronavirus, how on earth will London and Brussels find the bandwidth to hammer out a detailed trade deal by this summer? That's the deadline for the UK to request any extension of its transition status beyond the end of 2020.
No.10 right now is determined to stress governments can do more than one thing at once and there is no way it will be changing course. Yet given the sheer scale of this international health threat, and the highly detailed nature of the Brexit trade talks, the public may well understand if there is a fresh delay. After all, as the PM keeps reminding us, he got Brexit 'done'. Won't the really pressing deadline - of countering coronavirus in coming weeks - be the one that matters above all else?
Quote Of The Day
"In some ways it is like a wartime situation. We ran during the second world war budget deficits in excess of 20 per cent of GDP five years on the trot and that was the right thing to do at the time."
Robert Chote, of the independent Office for Budget Responsibility
Tuesday Cheat Sheet
Emergency powers which include giving police and immigration officers the right to detain and quarantine people who may be infected with coronavirus will be introduced by the government this week.
Dominic Raab said the government is advising against all non-urgent travel abroad for the next 30 days.
All face-to-face Brexit talks have been cancelled this week as coronavirus tightens its grip across Europe.
Rebecca Long-Bailey cancelled her leadership phone bank to redirect volunteers towards helping with community efforts to cope with coronavirus.
At his trial into allegations of sexual assault, Alex Salmond said the claims were 'deliberate fabrications for a political purpose' or 'exaggerations'.
What I'm Reading
Got A Tip?
Send tips, stories, quotes, pics, plugs or gossip to waugh.zone@huffpost.com.
Subscribe To Commons People
Each week, the HuffPost UK Politics team unpack the biggest stories from Westminster and beyond. Search for Commons People wherever you listen to podcasts and subscribe.