A museum in east London has decide to go against the wishes of a public consultation it commissioned and retain the statue of a controversial slave trader above its doors.
The monument to Sir Robert Geffrye at the Museum of the Home honours a 17th century merchant who made his fortune trafficking Black people with the East India Company and Royal African Company.
"Black lives clearly don't matter to that board of trustees," singer, activist and Hackney resident Jermain Jackman told HuffPost UK. "They clearly had their own agenda. I'm completely gobsmacked."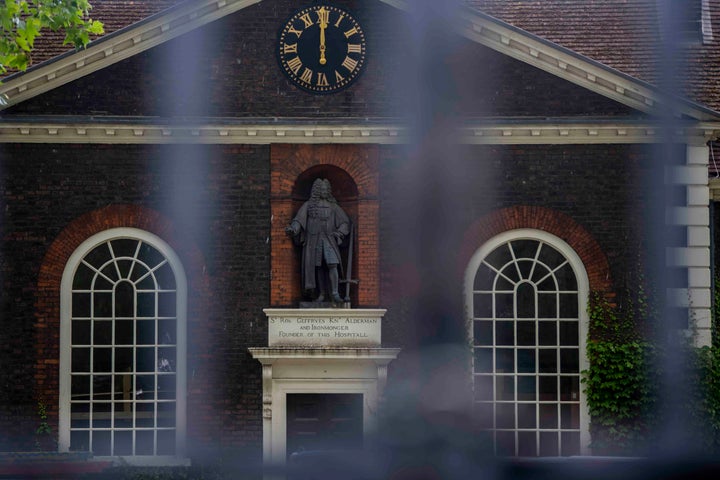 The Museum of the Home announced their decision on Wednesday in a press release in which it acknowledged that "overall, the response [of the public consultation] was in favour of removing the statue".
It added: "However, feedback showed that what to do with the statue is a complex debate, full of nuance and different opinions.
"On balance the board has taken the view that the important issues raised should be addressed through ongoing structural and cultural change, along with better interpretation and conversation around the statue."
He told HuffPost UK: "This statue is a symbol of enslavement, of glorifying a crime against humanity.
"It makes a mockery of everyone who spent time feeding back into that consultation and more importantly, sets the institution up as a place that can't be trusted."
The statue will remain, pride of place, above the doors of the building, looking out at an area of London rich in Black history and activism.
"There are a couple of trees in Hackney Downs that represent the people who died in the New Cross Fire," says Jackman.
"Bob Marley visited Dalston, just up the road from where the museum is. The first female Black MP in the country is here.
"One of my asks of the board of trustees – none of whom are Black, by the way – is to reverse that decision and to understand the community that they're in."
Both Jackman and Agbetu can't understand why the statue can't be removed to another part of the museum.
"Everyone's talking about education but we weren't being educated when that man was up on there," says Jackman.
"Let's have it in a corner, with a little interactive board where you can find out about what he did.
"But we don't need to celebrate him and we don't need to push it into the faces of people."
On Thursday the museum responded to Jackman's request for a review. In a tweet, it said: "The chair of the board has made a commitment to improving the diversity of the Board and making it more representative by July 2021.
"There are no immediate plans for a review of the decision regarding the statue."