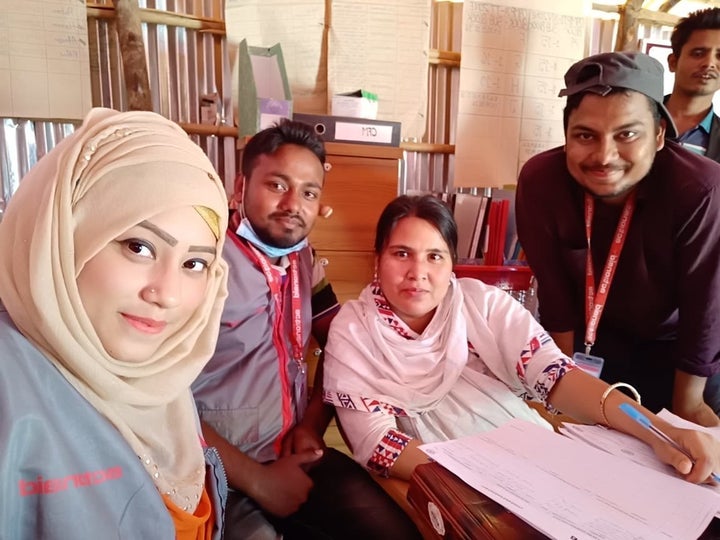 Every day I wake up early – about 5.45 in the morning – and get ready before starting my journey towards the refugee camp where I work. I live in Cox's Bazar, about 45 kilometers away from the camp. I put everything in my bag that I need – raincoat, boots, umbrella, and some food for lunch. I try to get out of the house by 7.00am and catch the nearest bus to the camp. I always need to be really punctual in the mornings – even if you're just a little bit late, it can be difficult to get a seat.
Getting in and out of the camp is always a real challenge. The road to the camp isn't too good – it's a relentlessly bumpy journey for about two hours. When it rains, the road gets flooded easily, and it's very difficult for the drivers to drive smoothly. Plus, the road into the refugee camp is very narrow. At this time in the morning, when all the NGO workers are on their way in, you see heavy traffic jams all down the road.
I normally get in around 9 or 9.30am – it's always difficult to be on time. The first thing to do is get ready to go out into the camp to visit the refugees, particularly the women and girls. I quickly discuss the plan for the day with my colleagues, and then we spread out in the camp.
Things have changed quite a bit since I started working here late last year. It's monsoon season at the moment, and so it rains a lot. In the camps, the soil is sandy, so the roads in the camps have become very muddy. It's really tricky to walk around the camp – I've personally slipped and fallen countless times while going around to visit refugees in their homes. When there is no rain, it feels very hot – like a desert.
I started this job doing things like making lists of volunteers. Now, I'm working on relocation – helping people to move to safer ground, if they're living in a place that's prone to landslides from the monsoons. We go out in the camps every day and find out which areas are most risky, and which families are most at risk. Then we speak to the refugees about moving, fix a date for their move, arrange a bus or a truck, and assign volunteers to help the families shift their belongings.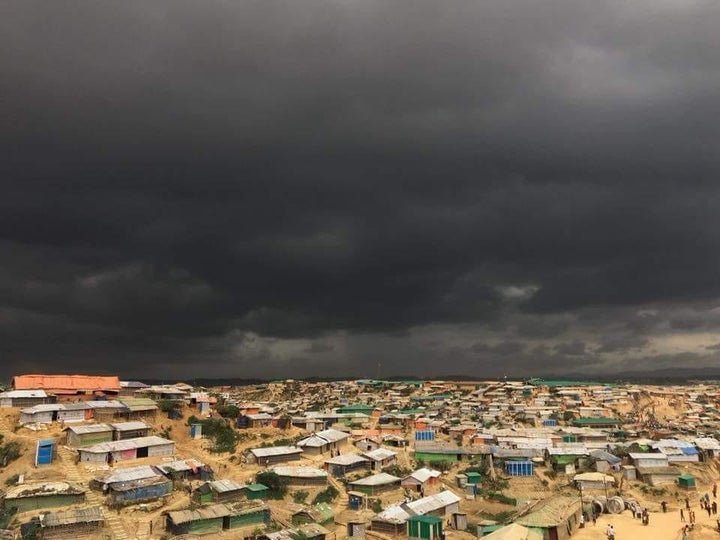 I'm responsible for a particular 'block' in one of the camps, where there are 20 families. I try to visit each household and ask how they or their families are – if they need anything. Today I visited nearly 15 households.
Twice a week, I try to have a big meeting with the families in my block. We sit together in one of the shelters and discuss various things, everyone together. It's like an information sharing process – solving the little problems through discussion. We often talk together about how to make decisions and manage our emotions in the most difficult times.
For the refugees, the camp is a place of disappointment. Imagine a place where people have nothing to do – they have no work, for example. This can lead to real disasters.
Right now, the Rohingya people don't have to fear for their lives any more, thanks to the Bangladeshi government, the local community, and national and international organizations. But there are problems here.
At the moment, one of the biggest challenges is security for women and girls in the camp. Gender-based violence is a really alarming problem here.
On my very first day in this job, I came across a terrible scene that I can't forget to this day. We were collecting information, and I saw a woman in a block whose husband was physically and mentally challenged. One of her little children was very sick, and it was urgent that someone called a doctor. But the mother was helpless – she herself had been very badly beaten. When my colleagues and I saw this, we stepped in and helped the woman get her child, and herself, to a doctor. That was a day when I really saw how life can be extremely tough.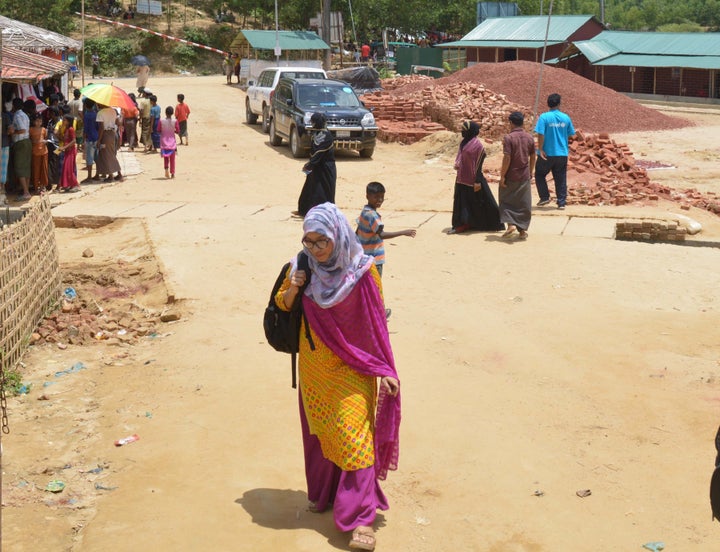 After my meeting with the families, usually at about 1.30 pm, I take a quick break and have my lunch. Then I go back to my block again to catch up with some of the community elders – called 'Majhis'. Later on, I'll write up my notes.
At about 3.45pm I sit with the rest of the ActionAid team and we talk through what we've found out or done that day. I usually leave the camp on a bus about 4.45pm.
There's always a huge traffic jam on the way home, just like in the morning. I normally get home by about 7.30 pm. I freshen up, change and have dinner with my family.
Before going to bed, I try to make the best use of the evening – doing personal admin or hobbies. I'll usually go on social media, or watch TV or YouTube. At about 11.30 pm to midnight, I try to fall asleep.
Every day in this job is challenging. But it's all a matter of patience and self-control. I love helping people – meeting them and being a part of solving their problems.
Rehul Zannat is a facilitator at ActionAid Bangladesh, working with Rohingya refugees. She joined ActionAid Bangladesh in 2017, and is one of several women leading the charity's emergency response to the Rohingya crisis. She lives in Cox's Bazar. ActionAid is an international charity that works with women and girls living in poverty around the world