He's the baby boy the world couldn't wait to meet, and now we have a name to match that adorable face – Archie Harrison Mountbatten-Windsor.
The Duke and Duchess of Sussex revealed their choice with a new family photograph on their Instagram account @sussexroyal – settling the question that royal fans and bookies have been debating ever since Meghan's pregnancy was first announced in October 2018.
"The Duke and Duchess of Sussex are pleased to have announced they have named their first born child: Archie Harrison Mountbatten-Windsor," the caption read.
"This afternoon Their Royal Highnesses introduced Her Majesty The Queen to her eight great-grandchild, at Windsor Castle. The Duke of Edinburgh and the Duchess' mother were also present for this special occasion."
By deciding to call their son Archie Harrison Mountbatten-Windsor, Harry and Meghan have chosen not to use a title for their son.
As the first born son of a duke, Archie could have become Earl of Dumbarton – one of Harry's subsidiary titles – or Lord Archie Mountbatten-Windsor – but instead he will simply be Master Archie Mountbatten-Windsor. A source said: "They have chosen not to use a courtesy title."
Archie means "genuine", "bold" and "brave", and is German in origin. Short for Archibald, it's now given as a name in its own right. Famous Archies include the actress Archie Panjabi, who starred in The Good Wife, and Archie Andrews, the fictional hero of the US Archie comics and a character in Netflix show, Riverdale.
Harrison means "son of Harry" so is likely to be a tribute to the duke, according to PA. It is English in origin – with Star Wars actor Harrison Ford probably the most famous. The royal baby's surname includes Mountbatten – a name used by some of the male-line descendants of the Queen without royal styles and titles.
Archie was the 18th most popular name for boys in England and Wales in 2017, according to the latest available figures from the Office for National Statistics. It has experienced a rise in popularity since 1996 when it was only in 192nd place. Some 2,803 baby boys were named Archie in England and Wales in 2017.
Since the announcement, Ancestry – a family history site – predicted that Archie would become one of the most popular names by the time Archie Harrison starts pre-school in 2022.
The name has taken people by surprise, as it wasn't among the the top 10 in the running, according to bookmakers. Names beginning with A were high on the list – Alexander, Arthur, and Albert – but Archie did not feature.
Some people expressed shocked reactions on Twitter.
But many loved the choice.
And one person even tweeted that Archie Harrison is the name of his dog...
The Duke and Duchess of Sussex introduced their two-day-old son to the world in a photo call at St George's Hall, Windsor Castle, with Meghan declaring: "It's magic, it's pretty amazing. I have the two best guys in the world so I'm really happy."
Speaking as her husband held their son, Meghan added: "He has the sweetest temperament, he's really calm."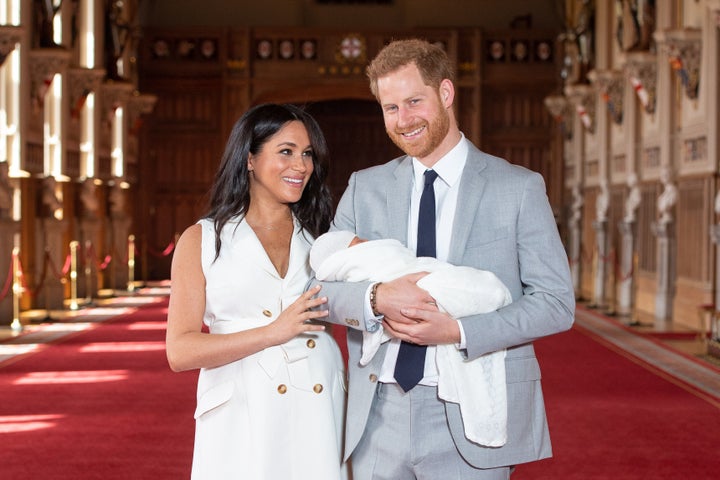 The baby boy, weighing 7lb 3oz, had arrived at 5.26am on Bank Holiday Monday, as most of the nation looked forward to a day off work,
He is seventh in line to the throne – an eighth great-grandchild for the Queen and the Duke of Edinburgh. Meghan's "overjoyed" mother, Doria Ragland, is staying with her daughter, grandson and Harry at Frogmore Cottage in Windsor.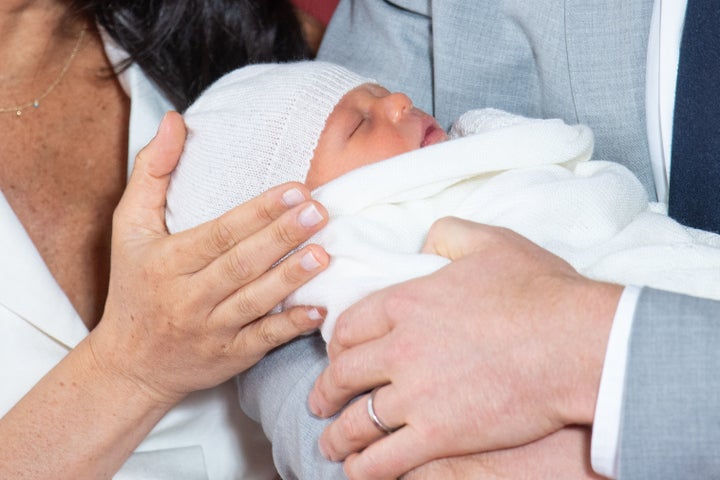 Announcing the birth on Instagram, Meghan, 37, and Harry, 34, said they were "excited" about this "special time in their lives".
A beaming Harry told assembled press on Monday that the birth was "the most amazing experience I could ever have possibly imagined," adding: "How any woman does what they do is beyond comprehension.
Because the baby was "a little bit overdue", Harry and his wife had "a little bit of time" to decide on a name, he said, and planned to make an announcement when "everyone can see the baby".
The prince added: "I'm so incredibly proud of my wife. And as every father and parent would say, your baby is absolutely amazing.
"But this little thing is absolutely to-die-for so I'm absolutely over the moon."