Over the 12 days of Christmas, HuffPost UK will host a series of blogs from individuals at the centre of some of 2018′s biggest news stories. Today, cellist Sheku Kanneh-Mason speaks on playing the royal wedding, and how it's changed his life. To find out more, follow our hashtag #HuffPost12Days
When I was about five or six, I went to my first orchestral concert, and was instantly captured by the sound of the cello. Part of the reason I'd already become interested in music was that I have an older brother and sister, and always used to always hear them practising music in the house. I wanted to follow them – so at age six, I embarked on my journey as a cellist.
I never had to be pushed to practise – even though it took a lot of practise to get to where I am – I loved the instrument from the moment I started. This was in part helped by the fact that I had a really good first teacher who made me excited about music; she was so inspiring and always encouraged me to perform a lot. We'd have concerts every term and I progressed really quickly. In my spare time I also used to listen to a lot of classical music and watch concerts. I also still love to listen to recordings of people who died many years ago – not just cellists, but musicians of all instruments. I've learnt lots from listening to others.
In terms of getting involved with the Royal Wedding, I couldn't tell you exactly why I was asked – maybe the royals had seen a video or heard a recording of me somewhere. But when they approached me, Meghan Markle actually personally called to ask if I would do it. She was lovely, so friendly, really nice. I'd had no idea what the call was going to be about, but when she asked me to perform, of course I said that I'd love to do it straight away. Then we had a discussion about what they'd like to hear, and I made some of my own suggestions too, so the planning of the performance was really collaborative.
Being asked was a massive honour, and I knew it would be a very exciting event in history to be a part of. But for a few months I wasn't actually allowed to tell my friends or anyone about it; I only told my parents.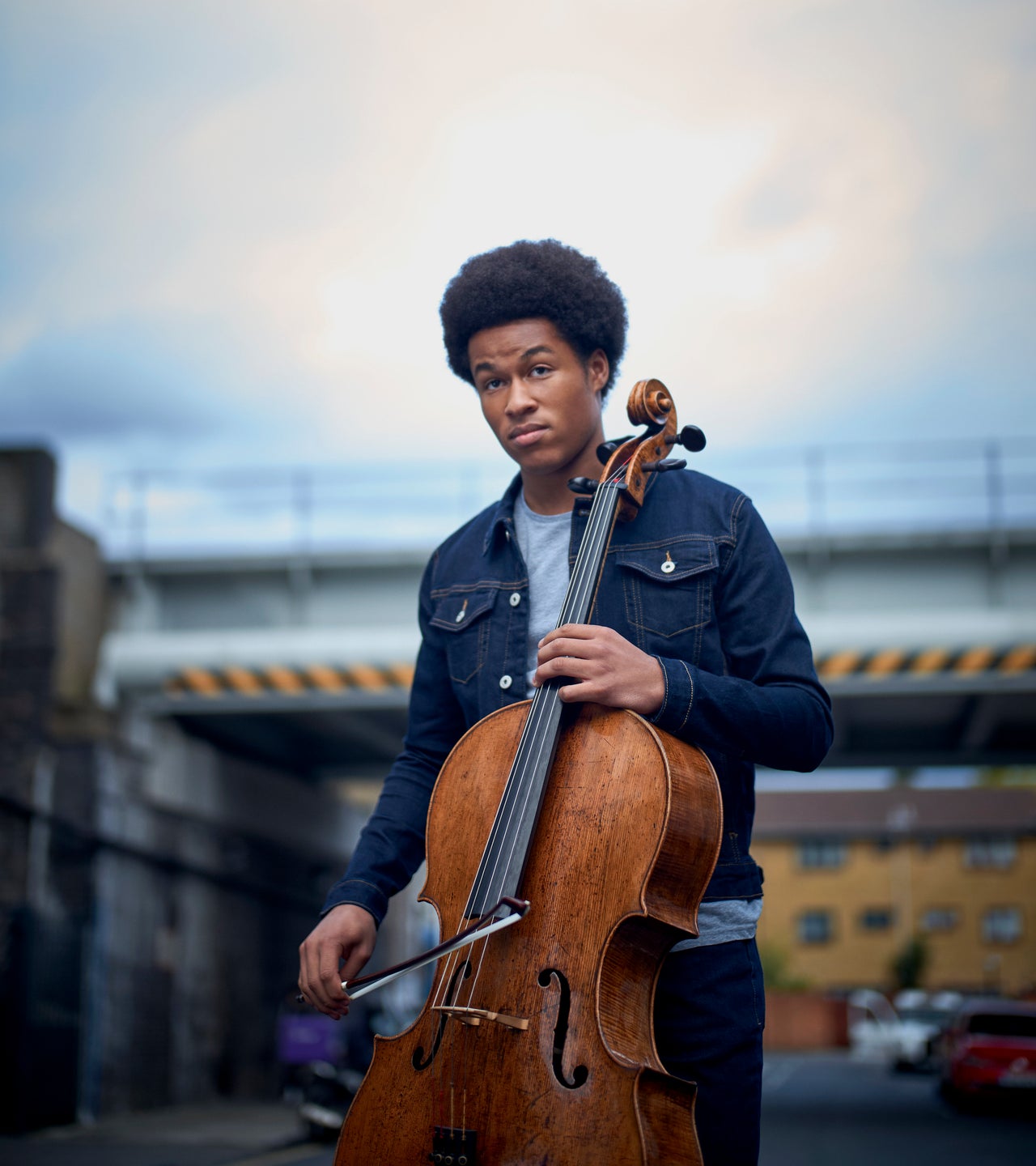 When it came to the big day, in many ways I treated it like I would any concert. There weren't stringent guidelines around what I had to wear or anything, so I went for I'd normally wear for a performance, so I felt relaxed. I tried not to think about the fact that so many people were watching, which is what I always do when I perform. And of course in the room you don't get a sense of how huge the TV audience is, so that was actually quite easy to do – I just pretended I was only performing for the people who were there. Although there were lots of celebrities in attendance, I wasn't thrown off, it was all people I admire and above all that just felt exciting. I also remember thinking how beautiful the building was, it was inspiring to play there.
And yes I did get to meet Harry and Meghan after, they were really lovely in person.
Thinking about what the experience means to me now, performing at an event like that is something that I've always wanted to do – it's also the biggest audience I've ever played for. But above and beyond performance itself, my focus as a cellist is always trying to bring music that I love to people who may not have heard much classical music, so in terms of that mission, it was incredibly fulfilling.
Nowadays I'm still studying full time – I've just gone into my second year of university. Yes, I study music, at the Royal Academy Of Music... music is pretty much all I do. I have lots of concerts and performances throughout the year, and my extracurricular life and studies sort of blur into one, but it's what I love.
Overall, I feel really lucky. I also hope to keep bringing the music that I love to as many people as I can; particularly people who haven't had the opportunity to engage with it from such a young age.
I wish more people had access to classical music, it's such a wonderful thing. I feel very lucky to have been exposed to all this wonderful music, it's an amazing gift to have in your life.
I don't know what my hopes are for 2019, probably just to continue to perform a lot, to develop as a cellist, and to grow taller than my brother. That's really it.
As told to Micha Frazer-Carroll
Related