'Princess Diana chicken', 'Suprême de Saumon Reine Mary', a side order of tongue in aspic and 'Bombe Glacée Princesse Elizabeth'. Named after the bride and groom and often in French, Royal wedding menus have never been subtle.
But the food the royal couple choose is more than a meal - their menus are a carefully coded statement on the state of Britain and the monarchy's position within society, food anthropologist Kaori O'Connor from University College London, says.
"It's not a foodie thing - you're eating England. All royal wedding breakfasts are symbolic.
"It's a kind of ritual with a deep meaning."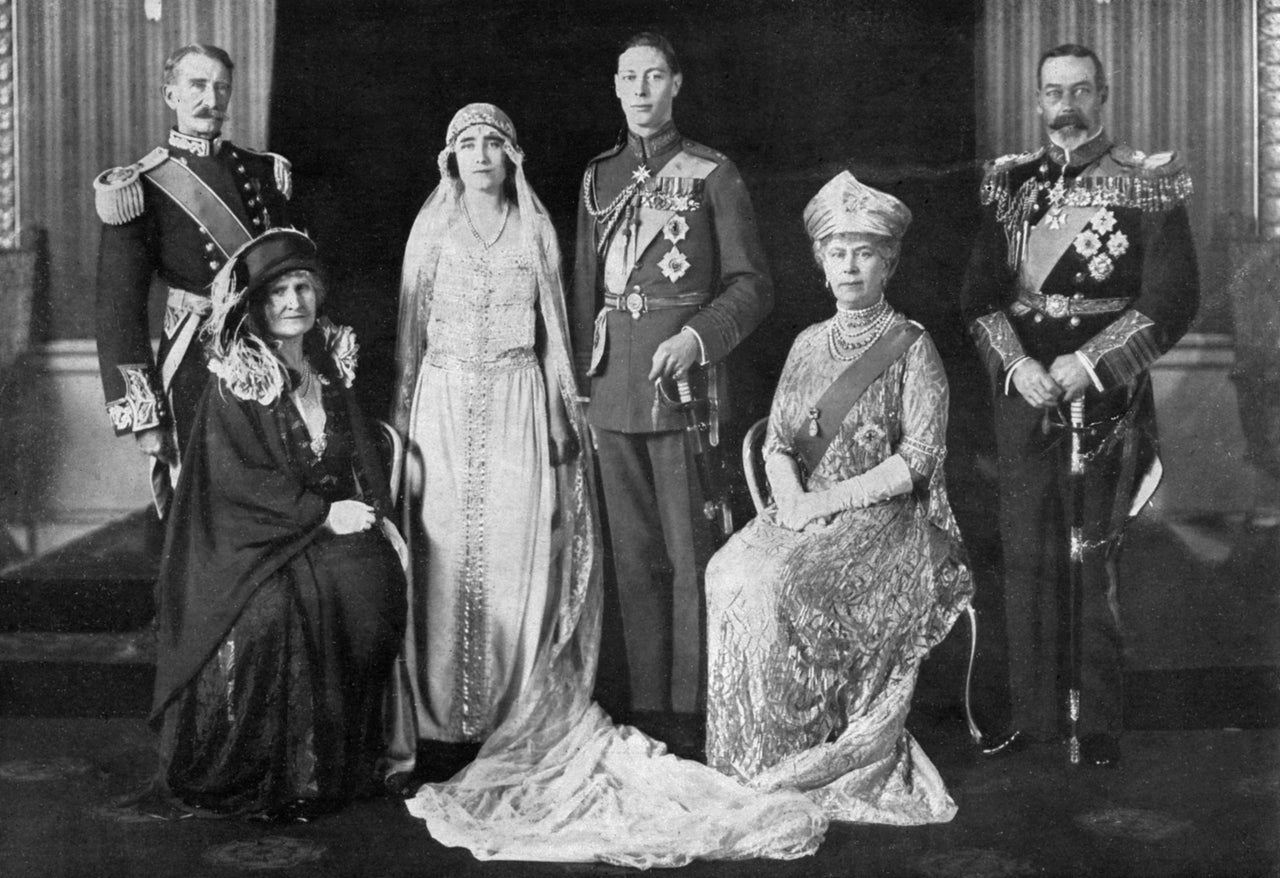 When Prince Albert tied the knot with Elizabeth Bowes-Lyon in 1923, there was no indication he would one day become King George VI following the abdication of his older brother.
But despite the fact he was not the heir to the throne, no expense was spared for his wedding - something that is shown in the couple's wedding breakfast.
Prince Albert and Elizabeth Bowes-Lyon, 1923
Menu

Consommé à la Windsor/ Windsor soup

* * *

Suprême de Saumon, Reine Mary/ Queen Mary salmon supreme

* * *

Cotelettes d'Agneau Prince Albert/ Prince Albert lamb chops

* * *

Chapons à la Strathmore/ Strathmore chicken

* * *

Jambon et Langue découpe à l'Aspic/ Ham and tongue in aspic

Salade Royale/ Royal salad

* * *

Asperges, sauce Crème Mousseuse/ Asparagus in a creamy mousse sauce

* * *

Fraises, Duchesse Elizabeth/ Duchess Elizabeth strawberries

Paniers de Friandises/ Basket of sweet treats

* * *

Dessert

* * *

Café/ Coffee
A nine-course feast of meat and fish, the extravagant menu reflects what the British people expected of their monarchy at this time, says Kaori O'Connor.
"Back in 1923, the crash and the depression that followed were far in the future," she explains.
"The public would have expected the royal family to put on a good show at the wedding and to have a luxurious meal afterwards - they would have been disappointed with anything less."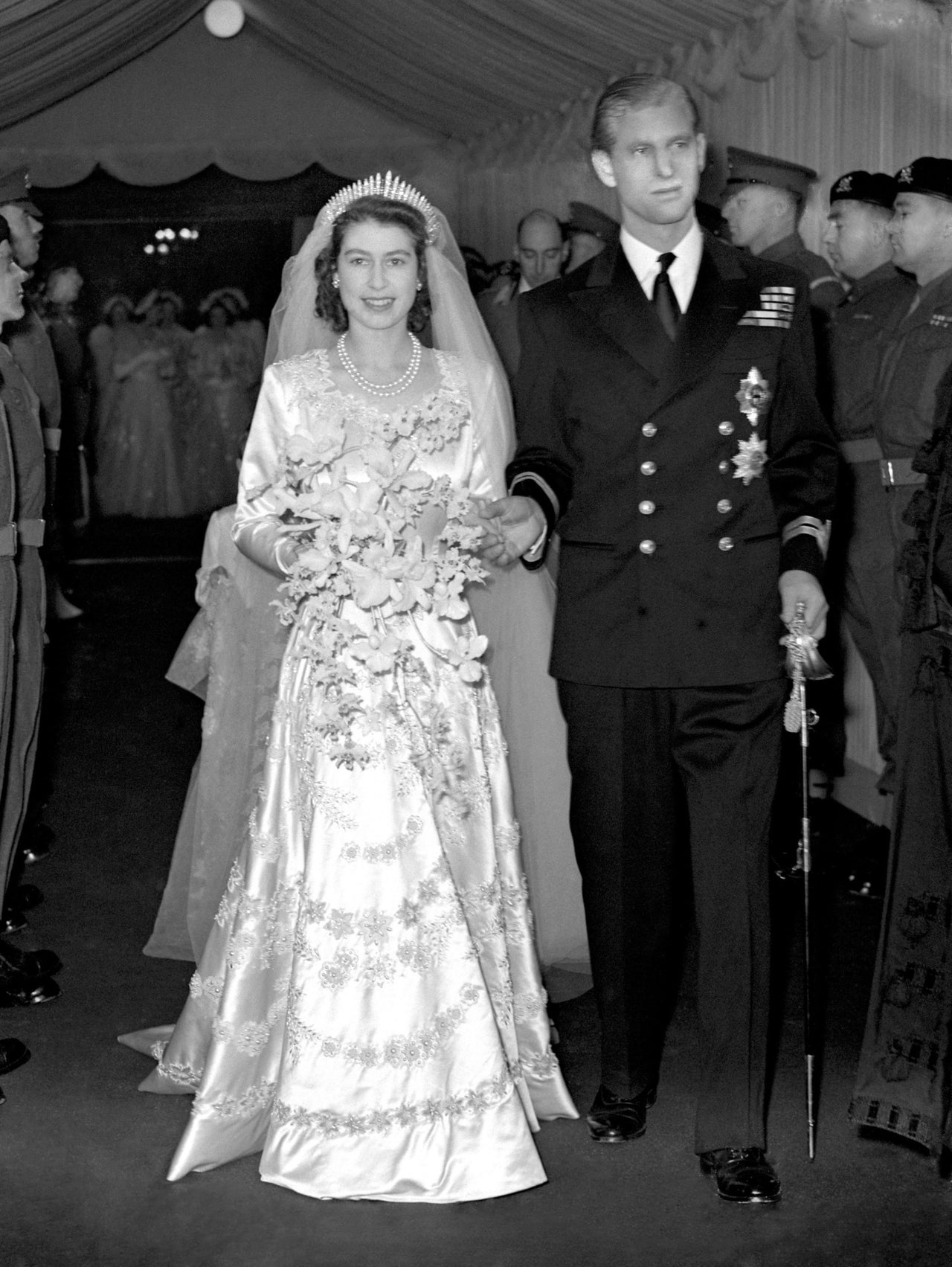 But by the time 21-year-old Princess Elizabeth married Philip Mountbatten in 1947, the days of the public celebrating royal extravagance were long gone.
In a crippled post-war Britain where rationing was a feature of daily life, Elizabeth would have been "letting the side down" if her wedding breakfast had mirrored her parents' lavish spread, says food historian Annie Gray, who also hosts the BBC's Victorian Bakers.
Princess Elizabeth and Philip Mountbatten, 1947
Menu

Fillet de Sole Mountbatten/ Mountbatten-style fillet of sole

* * *

Perdreau en Casserole/ Partridge casserole

Haricot Verts/ Green beans

Pommes Noisette/ Noisette-style potatoes

Salade Royale/ Royal salad

* * *

Bombe Glacée Princesse Elizabeth/ Princess Elizabeth ice-cream bomb

Friandises/ Sweet treats

* * *

Dessert

* * *

Café/ Coffee
Instead, Buckingham Palace served a muted five-course luncheon, Gray explains, a "cleverly set up menu" that adhered to the Ministry of Food's strict rules "while ignoring that these restrictions didn't really apply to the royal family".
Unlike the vast majority of their subjects, the royals still had their own farms and kitchen gardens, so weren't limited in terms of meat, fruit or vegetables.
But they still had to be seen as adhering to the norms.
"They were quite clever to serve partridge because, being game, it was un-rationed and would have been easily attainable due to the vast shooting estates at Balmoral."
Meanwhile, the couple's nine-foot, four tier wedding cake was nicknamed the "10,000 mile cake" as, with strict post-war food rationing still in place on dried fruit, sugar and butter, many of its ingredients were donated by the Australian Girl Guides.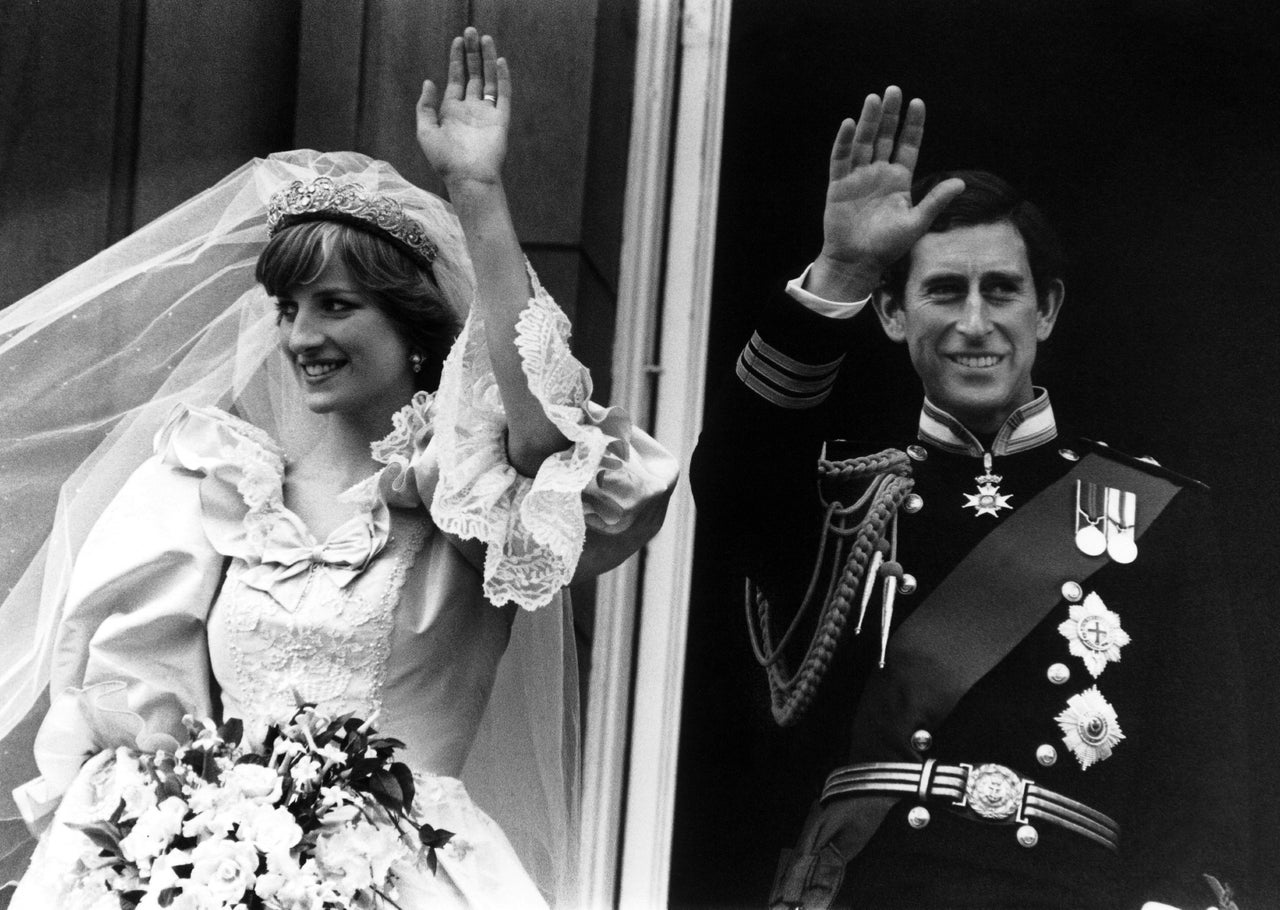 Austerity though was just distant memory when Prince Charles popped the question to Lady Diana Spencer.
Their upcoming nuptials were quickly dubbed the "wedding of the century" as more than 3,500 guests packed into St Paul's Cathedral to watch the "fairytale couple" exchange their vows.
The marriage of the heir to the throne was celebrated by the royal family with a four-course banquet hosted by the Queen at Buckingham Palace.
Prince Charles and Lady Diana Spencer, 1981
Menu

Quenelles de Barbue Cardinal/ Quenelle of brill in lobster sauce

* * *

Supreme de Volaille Princess de Galles/ Princess of Wales chicken supreme (chicken breast stuffed with lamb mousse)

Fèves au Beurre/ Butter beans

Maïs à la crème/ Cream of corn

Pommes Nouvelles/ New potatoes

* * *

Salade/ Salad

* * *

Fraises/ Strawberries

Crème Caillée/ Clotted cream
For food writer and historian Angela Clutton, the menu reflects the dichotomy of the fact they were a young couple - Diana was just 20 at the time of the wedding - who had the future of a historic institution resting on their shoulders.
"It's interesting how this menu maintained the tradition of royal wedding menus to be in French and with dishes named for the couple," she tells HuffPost.
A long-standing custom among royalty and the aristocracy, dishes were also named after members of the monarchy at the Queen and King George VI's wedding banquets.
"In those ways the menu choice is more in keeping with royal traditions than other weddings of the time," Clutton continues.
"But on the other hand, this is a distinctly simpler menu with fewer courses than there would have been for earlier generations.
"That is certainly indicative of them taking a more modern approach."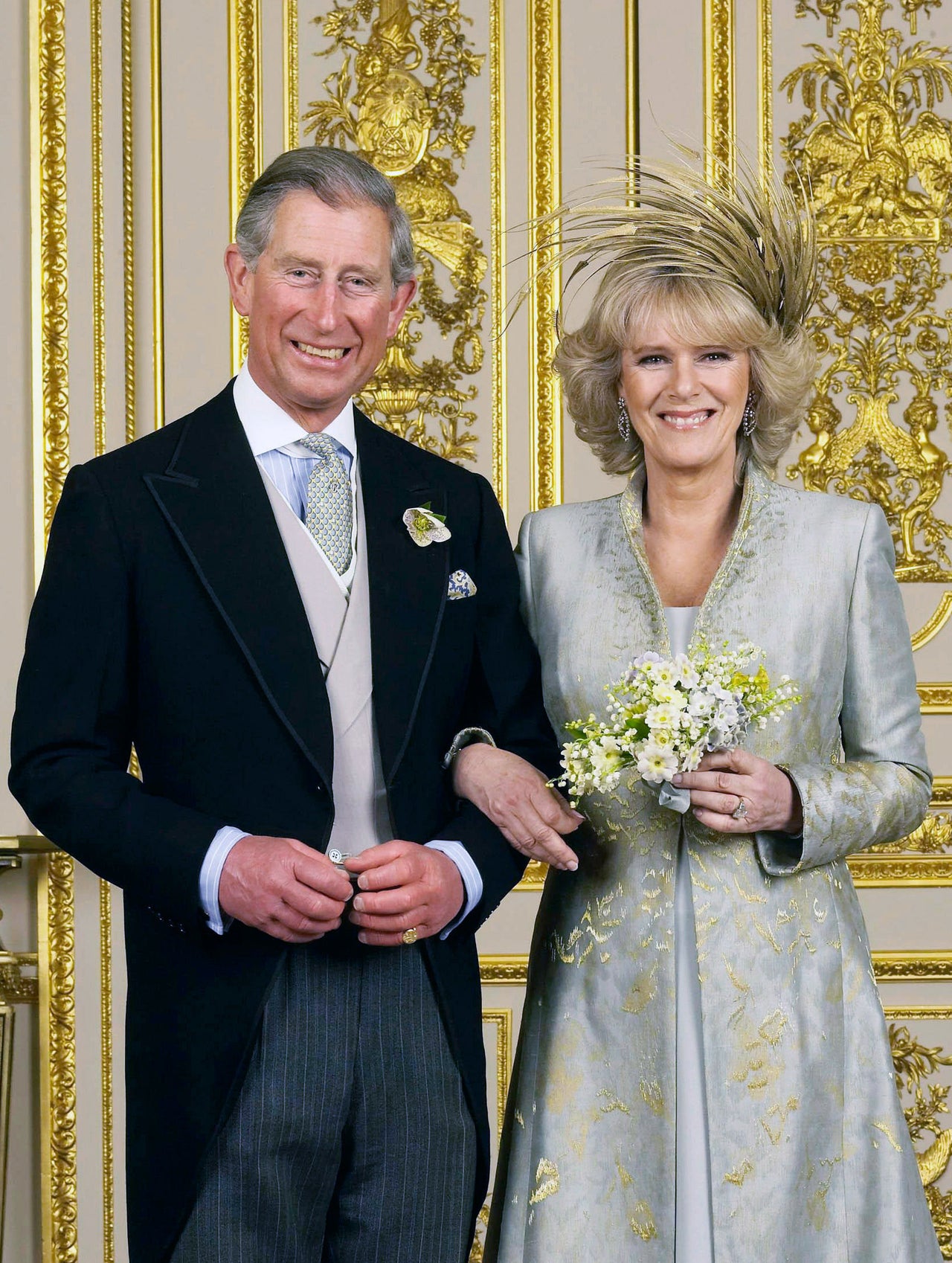 However, the Prince Charles and Camilla Parker Bowles 2005 nuptials were an understated affair in comparison.
A civil ceremony at Windsor Guildhall - not attended by the Queen - followed by a blessing and reception at Windsor Castle, was a world away from Charles' St Paul's ceremony, which was watched by 750 million people around the world.
With Diana, the "people's princess", having publicly and emotionally described Charles and Camilla's affair before her death, news that the prince was to remarry divided public opinion.
In turn, the couple opted for a more private "low key" wedding - a decision that was reflected in the wedding breakfast.
Prince Charles and Camilla Parker Bowles, 2005
Menu*

Sandwiches:

Egg and cress on granary bread

Smoked salmon on brown bread

Roast venison with Balmoral redcurrant and port jelly on white bread

Open sandwiches:

Roast venison with Balmoral redcurrant jelly

Potted shrimp bridge rolls

Hot canapes:

Mini Cornish pasties

Mini vegetarian pasties

Grilled vegetable and Parmesan tartlet

Miniature pastries

Caramel banana slice

Strawberry tartlets

Glazed mocha fudge

Caramelised lemon tarts

Plain scones with Cornish clotted cream and Duchy strawberry jam

Double-boiled fruit cake

Miniature ice-cream cornets
In a stark move away from the tradition of having a sit-down luncheon at Buckingham Palace, guests were served a quaint English buffet of sandwiches, scones and mini Cornish pasties.
"There was a very relaxed atmosphere," Harrold continues.
"It was amazing actually - one minute you could be talking to a member of the royal family, the next you could be talking to a celebrity. It was extraordinary."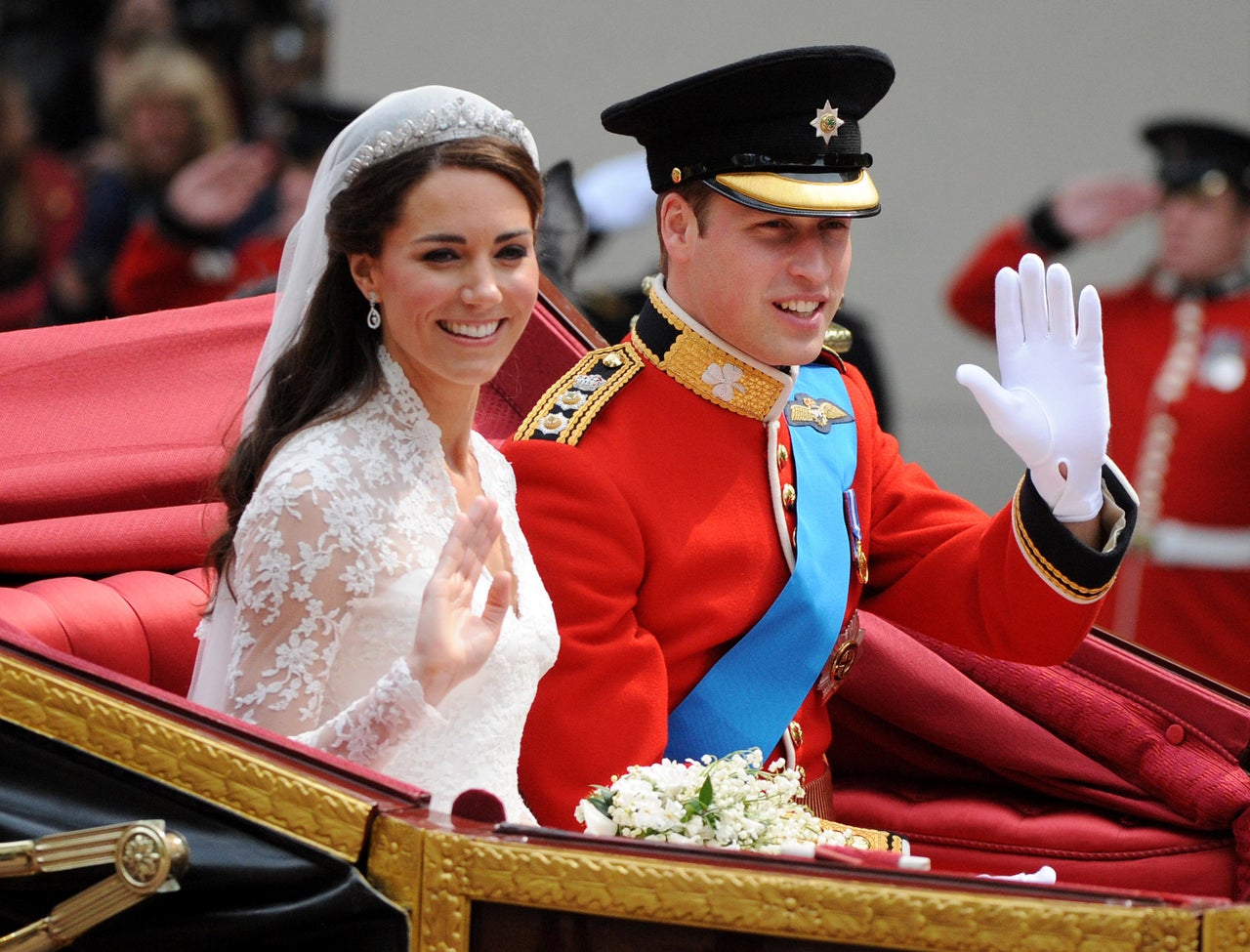 With the marriage of Prince William and Catherine Middleton in 2011 came the birth of the modern royal family - and with it, a modern menu.
Credited with having the same "common touch" as William's mother, royal commentators heralded the pair as chance for the monarchy to move away from its public image as a stuffy, overly-proper institution.
Despite the undeniable grandeur of the couple's Westminster Abbey ceremony and the event's gilded guest list, it was Kate and William's contemporary outlook that was reflected in their five-course "best-of-British" breakfast - with a menu printed entirely in English.
Prince William and Catherine Middleton, 2011
Menu

Marinated South Uist salmon, Lyme Bay crab and wild Hebridean langoustines, fresh herb salad

* * *

Saddle of North Highland Mey

Select organic lamb, Highgrove spring vegetables, English asparagus, Jersey Royal potatoes, Windsor sauce

* * *

A trio of Berkshire honey ice cream, sherry trifle and chocolate parfait

* * *

Coffee and fresh mint tea
Writing menus in French had been a long-standing royal tradition that dates back to the Norman conquest in the 11th Century, when French became the formal language of the court.
This may have reverted back to English, food anthropologist Kaori O'Connor says, but the French style has always been seen as the superior form of cuisine in aristocratic circles.
"If the Queen hosts a dinner at Buckingham Palace, the menu is normally in French," former butler Grant explains.
"When she and the Duke hosted dinner following the wedding of the Prince and Princess of Wales, it was done in their style, with the menus in French."
Noting the intricate descriptions of the ingredients' origins, he adds: "This was a modern menu promoting the best of British."
Prince Harry and Meghan Markle, 2018
Anticipation is already building over what Harry and Meghan will serve at their big day this summer.
"Meghan is an extremely unique royal bride," long-serving royal commentator Richard Fitzwilliams says. "She is American, she's divorced, she's mixed-race, she's an actress and she's an activist."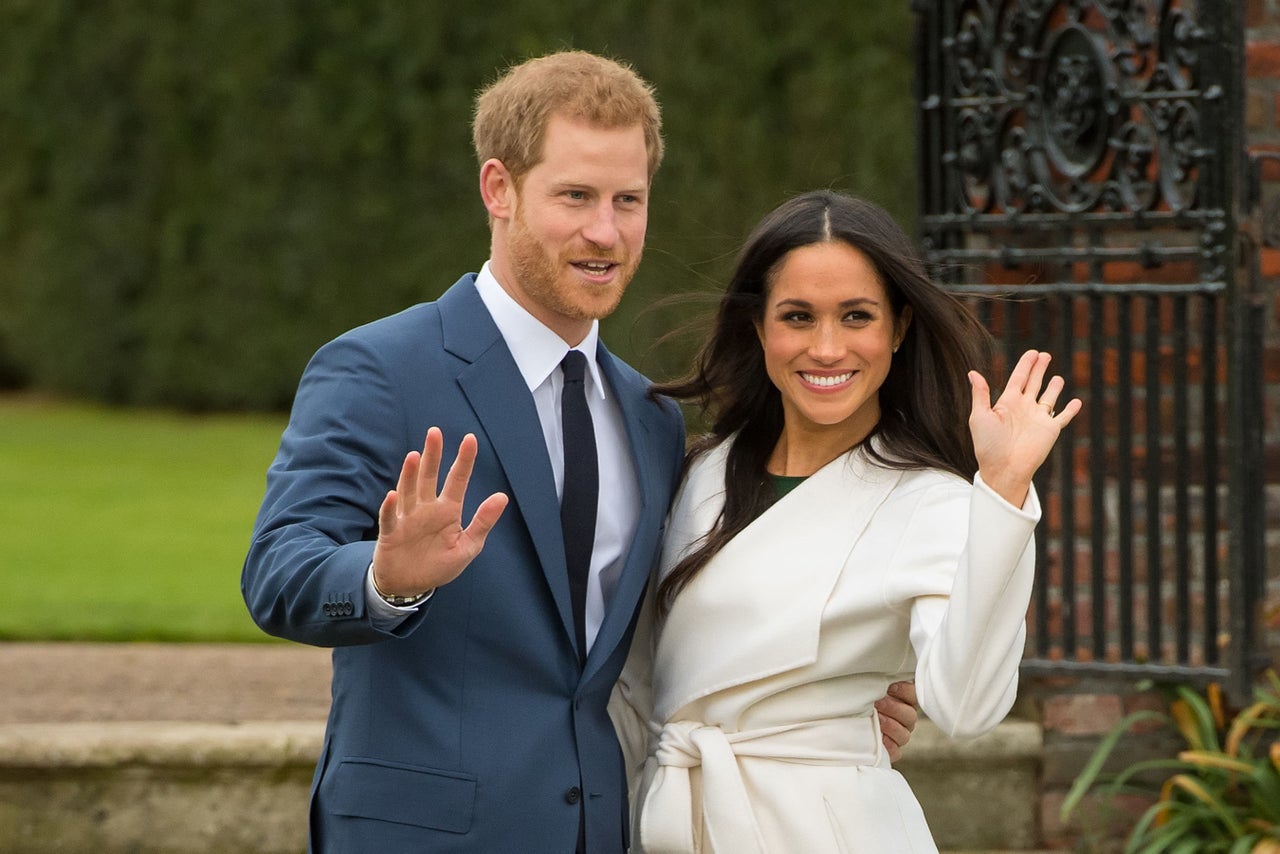 As fifth-in-line to the throne, Harry and his bride are likely to have more control over planning their nuptials than William and Kate did for their 2011 wedding, which was a semi-state occasion, Fitzwilliam adds.
This is likely to be displayed in the wedding breakfast, predicts UCL academic O'Connor.
"Meghan is an interesting character," she continues. "She's known to have food views and practices of an 'actressy-fringey nature' and is interested in 'eating clean'.
"To what extent this is going to turn up in the menu, I don't know. But you would certainly expect there to be some American element in the food as tribute to her," says O'Connor.
"It could be regional, a family favourite or a food that has a personal meaning to the couple."