It's been a tumultuous week for politics, but according to Russell Brand, we only have one decision to make. "It isn't about whether or not to remain in the European Union," he told the audience at the Mindful Living Show on Friday. "It's about whether or not to remain in union with our central selves."
The author and comedian was reflecting on the ways mindfulness and meditation have impacted his own life, guiding him through recovery from drug and sex addiction.
"I'm lucky I was a crack and heroin addict, because in that you get to learn the idea that no external thing can make you happy," he said. "People take drugs or drink or consume in order to feel happy, but feeling happy is a spiritual situation – that's a spiritual problem."
Brand – who now meditates for an hour a day, joking that it involves "intense breath work" – told the audience to experiment with mindfulness, meditation and spirituality to discover happiness. "There's a lot of things that I've done in my frankly desperate attempt to gain some wisdom. But there's no going back now, there's a certain point where you can't come back from it, because Coca-Cola and blow jobs don't work anymore."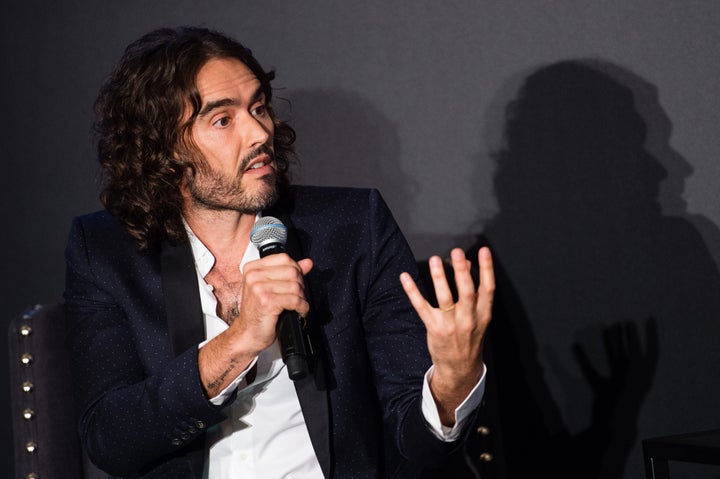 The comedian spoke – or in his words "delivered a stream of consciousness" – about the 12-step programme, a popular method used by those recovering from addiction. He said key concepts, such as recognising changes in mood and knowing when to ask for help, continue to remain important in his daily life.
"If I wake up and feel anxious, irritated and angry – once I recognise it, I then have to acknowledge that it's not necessary to live like that," he said, adding that he then plans practical steps to improve his mood. "I have given up the idea that I can make myself happy through success or fame or money or any material things."
Now a father-of-two, Brand acknowledged that even with a change of lifestyle, maintaining good mental health isn't always easy. He advocated the power of mentors, saying opening up to people he trusts is a vital lifeline.

"I prioritise what they say over what I think and feel," he said. "Because when I am in the fog of my madness, I am an unreliable witness, I am an unreliable author and I am an unreliable narrator of my own situation."
"I have given up the idea that I can make myself happy through success or fame or money or any material things.""
Hosted at London's Business Design Centre, the Mindful Living Show consists of talks and workshops alongside stalls selling and advertising the latest sleep aids and wellness products.
But Brand, who was the keynote speaker opening the two-day event, said he's concerned about the growing commercialisation of mindfulness.
"All advertising, all consumerism, is predicted on 'you will feel better', but that's a spiritual idea, to feel better, but we've somehow materialised it," he said. "That's why sometimes I'm concerned about the extraction of spiritual ideas from their mystical origins – the secularisation of mindfulness, suggesting that meditation might make you better at sales, or sailing, that's just not going to cut it."
The takeaway message from his talk? Focus on authentic, internal self-fulfilment in order to be happy. "It doesn't how matter how good your job is or how many people you've had sex with, it's just not going to work," he said.
"I thought the purpose of life was to gain access to material things and to pleasure – and it turns out that wasn't the answer."