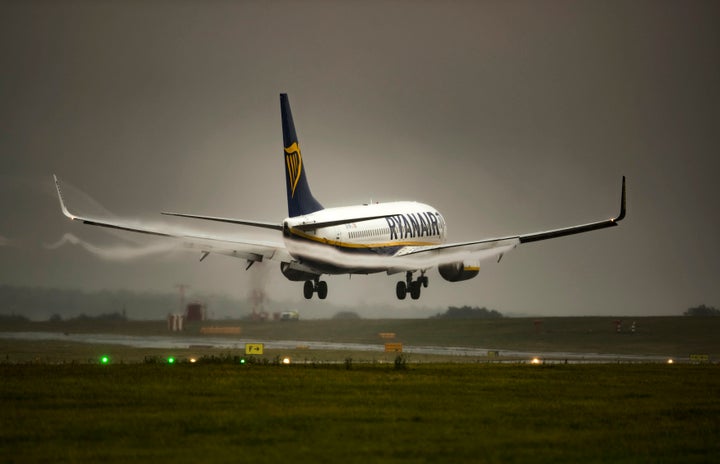 Budget airline Ryanair cancelled dozens of flights from Stansted Airport airport on Tuesday, blaming thunderstorms for the delays.
But passengers were left tweeting their frustration from an apparently sunny tarmac, with some forced to delay their trips by several days.
Air traffic control staff shortages also contributed to delays for 72 of the airline's 441 first wave of morning flight departures.
Via Twitter the company said: "Affected customers with cancelled flights will be notified by email and SMS text message and advised of their options of a refund or free move to the next available flight.
"Ryanair sincerely apologise for these weather and ATC disruptions which are entirely beyond our control."
Stansted Airport confirmed to HuffPost UK Ryanair was the only airline to have made cancellations on Tuesday.
A number of disgruntled passengers vented their frustrations at the airline, describing the airport as having been plunged into "chaos" and complaining the weather is fine and does not appear to have hampered other flights leaving Stansted.
The budget airline said knock-on effects from Friday night's thunderstorms, along with air traffic control shortages, was responsible for up to 14 cancelled flights out of Stansted Airport on Saturday.
Speaking at the weekend, Nats, the UK air traffic control service, which was due to handle 8,841 flights in 24 hours, said thunderstorms had affected flights across the UK.
A spokesman said: "Dealing with bad weather is one of the most difficult things for air traffic controllers to manage. Its unpredictable nature means aircraft are not able to fly their usual routes, which results in unusual flight patterns.
"Thunderstorms are particularly disruptive as they effectively block large swathes of airspace because aircraft cannot fly through them."
Last week Ryanair warned of job losses for more than 100 pilots and 200 cabin crew as it revealed plans to cut its Dublin-based aircraft fleet by 20%, blaming recent pilot strike action.