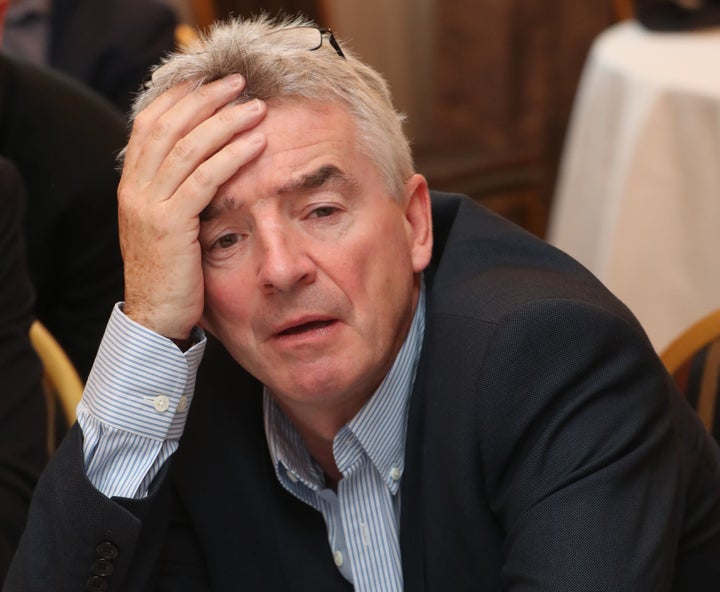 Ryanair suffered a dip in pre-tax profits over the last financial half brought on by rising fuel costs and compensation payouts for delayed and cancelled flights.
The beleaguered airline saw a 9% fall in the six months up to September 30, to €1.3 billion (£1.1bn).
The firm was forced to issue a profit warning at the start of the month, in which it announced its full year profits were expected to fall 12%.
The latest report shows overall revenue rose 8% to £4.2bn.
Average fares fell 3% triggered by excess capacity in Europe, an earlier Easter in the first quarter, staff shortages and cancellations of weekend flights which tend to be higher cost.
Chief executive Michael O'Leary said: "As recently guided, first half average fares fell by 3%. While ancillary revenues performed strongly, up 27%, these were offset by higher fuel, staff and EU261 (compensation) costs.
"Our traffic, which was repeatedly impacted by the worst summer of ATC (air traffic control) disruptions on record, grew 6% at an unchanged 96% load factor."
"We have trimmed winter capacity by 1% (including base closures in Eindhoven and Bremen) in response to weaker fares and higher oil prices."
Ryanair said it now expects annual traffic growth of 6% to 138 million passengers – slightly down on previous guidance of 139 million – following a 1% reduction in winter capacity.
The airline's fuel bill is expected to come in about €460m (£496m) higher year-on-year.
It follows a year of chaos in which passengers have repeatedly been left stranded following delayed and cancelled flights throughout Europe as pilots and cabin crew embarked on strikes.
The disruptions aren't the only concern on the airline's mind as it expressed hopes that a transition period after Brexit will be extended.
O'Leary added: "The risk of a hard ("no-deal") Brexit in March 2019 is rising. While we hope that a 21-month transition agreement from March 2019 to December 2020 will be implemented (and extended), we remain concerned that the time to complete such an agreement is shortening."
It comes as the airline was hit with another scandal over the weekend in which an elderly black woman was racially abused by another passenger on a flight from Barcelona to London Stansted.
The woman's family exclusively told HuffPost UK that Mrs Gayle, a 77-year-old immigrant of the Windrush generation, has still not received an apology from the airline three days after the incident.
A spokesperson for the company said they could not comment further "as this is now a police matter".