Ryanair's new baggage fees have taken affect today, meaning passengers who want to take anything other than a small bag on board must now pay.
The definition of a small bag is within dimensions of 40x20x25cm. In other words, it needs to be able to fit under the seat in front of you. Just what you need when you're already very tight on legroom.
If you want to bring anything bigger, then you have three options. The first is to pay for priority boarding (at the cost of £6/€6). Those with priority tickets are allowed to take on a suitcase, up to 10kg, to place in the overhead lockers.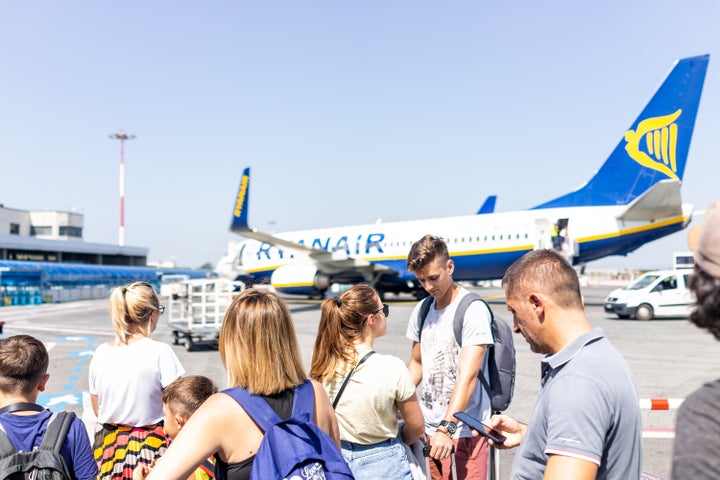 Your second option if you haven't paid for priority boarding, is to cough up an £8/€8 surcharge in addition to your ticket cost to bring your bag with you.
And the third, and worst option, is leaving the decision till you get to the airport. If you try to board with a wheelie case and have not paid in advance you'll find yourself having to cough up £25/€25 on the tarmac to put in the hold.
So if you sense you're likely to cave and bring the bigger bag to the airport, it makes more financial sense to buy priority boarding and save yourself the headache and a hit to your wallet later on.
Although with only 95 priority tickets per flight, you'll need to be quick.
On the surface Ryanair's move makes sense – anyone who has travelled on the Irish air carrier will be more than familiar with the sardines-like lack of space on board and the delays incurred trying to find room for passengers' luggage.
The model of aircraft used by Ryanair is estimated to be able to carry around 90 wheelie suitcases but given it flies hundreds of passengers at an average of 95 per cent occupancy on its short-haul routes, the numbers don't quite add up.
But for passengers on a budget, the new rules mean most are now going to be facing higher charges on top of their initial ticket – why not just charge slightly more and give passengers luggage as a non-negotiable like British Airways?
And you have to ask the question – is charging an additional £6-£8 really going to stop people bringing their luggage with them? How many people travel, even for just an overnight stay or weekend break, with just a handbag on them? A cynic might say this is a money-making scheme that will do little in reality to ease congestion.
The airline will also be capitalising on the many passengers who won't be aware of the changes and will need to pay the higher £25 charge at the last minute. And instead of causing delays on the aircraft, it will cause delays at check-in, like those seen at Stansted airport on Thursday morning when the changes were introduced.
Some passengers will be familiar with the changes as Ryanair has been slowly introducing them since January – taking larger suitcases off passengers at the boarding gate and putting them in the hold free of charge. But those who haven't flown with the airline recently might still be in the dark.
Some passengers were already venting their anger at the situation,
Other budget airlines are slightly more generous in their baggage allowances. On EasyJet, all passengers can take a bigger bag – up to 56x45x25cm – in the cabin, with the caveat that some may get checked in the hold free of charge.
Whether or not this will impact the numbers of people flying with Ryanair is yet to be seen, but the airline isn't just contending with outcry over baggage fees.
Last month a passenger was filmed racially abusing another passenger on a Ryanair flight from Barcelona. Many said that they would no longer be flying with the airline after the lack of action from staff on the flight.
Have you been affected by the changes to the Ryanair policy? Let us know, email sophie.gallagher@huffpost.com