Health secretary Hancock laid into Khan during a Downing Street press conference on Tuesday evening, claiming the Underground should be "running in full", and there was "no good reason" for the packed carriages. Many Tube services are now running every 10 minutes rather than every three or four, leaving passengers crammed together and unable to observe social distancing rules.
But Khan had earlier blamed the government for the problem, saying the trains would be less crowded if No.10 closed building sites across London so construction workers didn't have to travel across the city.
Asked by HuffPost UK for his reaction to the overcrowded trains and the mayor's criticism, Hancock said: "When it comes to the Tube, the first and the best answer is that Transport for London should have the Tube running in full so that people travelling on the Tube are spaced out and can be further apart – obeying the two-metre rule wherever possible.
"And there is no good reason in the information that I've seen that the current levels of Tube provision should be as low as they are. We should have more Tube trains running."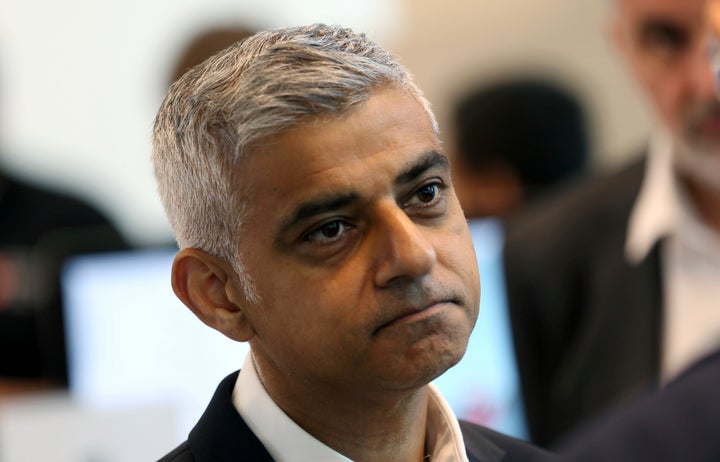 But a City Hall spokesperson immediately hit back at the claim, pointing to staff shortages caused by the coronavirus.
"This is simply not true," she said. "The mayor has told ministers countless times over recent days that TfL simply cannot safely run a full service because of the levels of staff sickness and self-isolation.
"Nearly a third of staff are already absent – there aren't enough drivers and control staff to do it.
"The government must act urgently to get more people staying at home rather than going to work unnecessarily – that means taking the difficult decisions they are refusing to take to ban non-essential construction work and provide proper financial support to freelancers, the self-employed and those on zero-hours contracts to stay at home."
NHS nurses and doctors tweeted photos of early morning Tube trains, with no sign of the recommended two metre distancing between passengers.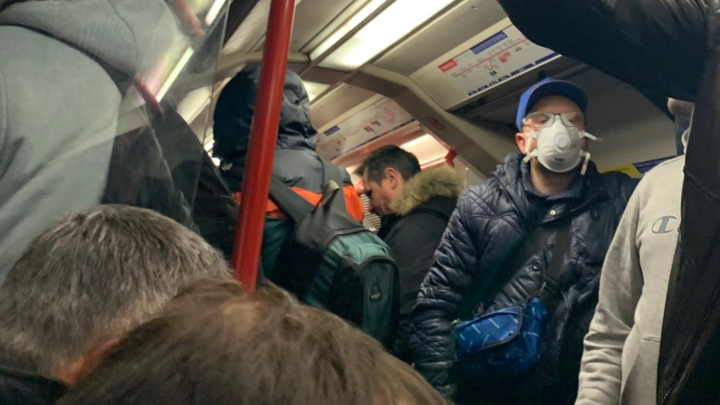 Khan earlier revealed he had been overruled by the PM and other Tory cabinet ministers when he proposed a ban on building site work during a Cobra emergency meeting on Monday.
He told LBC Radio he had suggested a ban on building work during the meeting but Johnson "and every one of the government ministers who spoke overruled me".
"Construction workers, unless it's for safety reasons, should not be going to work. I was overruled by the prime minister, who doesn't believe that construction workers should be at home," Khan said.
"I've worked on a building site. I've been a labourer. But also I visit building sites. The idea that construction workers can stay two metres apart during the course of a busy day, and also the idea that we can't put on hold construction work during this public health crisis, I find astonishing.
"I think it's important for the government to understand the scale of the challenge we are facing. [...] The prime minister has been moving slower than I would have wanted."
The mayor's plea was backed by Scottish first minister Nicola Sturgeon, Wales first minister Mark Drakeford and northern Ireland's first minister Arlene Foster, HuffPost UK understands.
The PM's spokesperson said construction would could continue so long as it followed rules set down by Public Health England and the industry's own Construction Leadership Council.
He said that "if builders are already working on site they can continue to do so" as long as they follow the guidance.
Sturgeon, by contrast, made plain on Monday that her advice to Scottish construction firms was that building sites should close down.
"There are still too many people across our country who are being expected to, or expecting to, go to work as normal and this presents a serious and unnecessary risk of spreading the virus," she said.
And Welsh first minister Drakeford underlined the point on Tuesday at his own press conference.
"I believe there is a strong case for closing some construction sites. There are sites open today that do not need to be open and will not be open before many days are over," he said.
TSSA train union chief Manuel Cortes added: "Matt Hancock must stop playing petty blame games and if he's unsure about what needs to happen on the Tube I'd be happy to set him straight, by phone.
"In all seriousness it looks as though the Tories are prepared to defend the interests of building companies who've made huge donations to their coffers, rather than protect the lives of ordinary Londoners and Tube staff."
During a No.10 briefing, it also emerged that new powers to let the police fine the public £30 during the lockdown would be passed by parliament by Thursday at the latest.