A sports presenter has blamed Sam Allardyce's downfall on the "poisonous press", in a hastily deleted and then reworded tweet.
BT Sport's Jake Humphrey said Allardyce would be remembered as "the England manager who lasted 67 days. Undone by a trio of greed, naivety and our poisonous press", after he stood down following a newspaper sting.
But amid a backlash, Humphrey deleted the tweet and posted a new one, decrying the "ruthless" press instead, saying this was "better wording".
He then tried to clarify he did not mean the press was wrong to pursue the story but was merely commenting they were "ruthless" in doing so.
But Humphrey's original tweet touched a nerve after what the FA described a "difficult 24 hours".
Some England fans had attacked the press for recording Allardyce without his knowledge and then writing about it, calling it "entrapment".
Allardyce was filmed by undercover Telegraph journalists telling them wow to bypass Football Association rules that stop third parties "owning" players.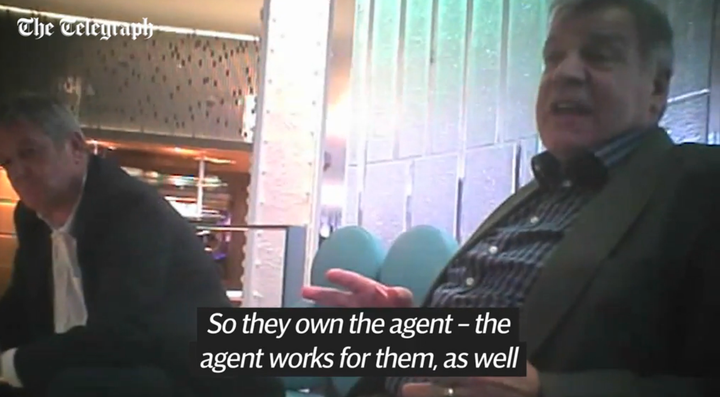 He told them: "You can still get around it. I mean obviously the big money's here."
He was trying to negotiate a £400,000 deal for himself, despite already being paid £3 million a year as manager.
Former News Of The World and Mirror editor Piers Morgan said it was "so lame to blame 'poisonous press'".
Morgan slapped down one fan who demanded to know whether "your all for entrapment, are you Piers?"
While former managing editor of The Sun Stig Abell asked Humphrey why the press was at fault if Allardyce had to go.
Deputy Sun editor Gordon Smart said the case showed "exactly why we should have a 'ruthless' press."
Guardian media commentator Roy Greenslade defended The Telegraph's sting.
He wrote: "The Sam Allardyce story puts the journalistic use of subterfuge under the spotlight once more. Was the Daily Telegraph right to launch what amounts to a sting operation to expose the England football manager?
"My unhesitating answer, based on my reading of the newspaper's articles (and not on any extra inside knowledge) is yes.
"There is a clear public interest justification in knowing that a man employed by the Football Association is offering advice on how to circumvent its rules."
Sports commentator Ian Abrahams tweeted: "Lets [sic] get this right - Big Sam was bought down by greed & naivety not the British Press/Media."