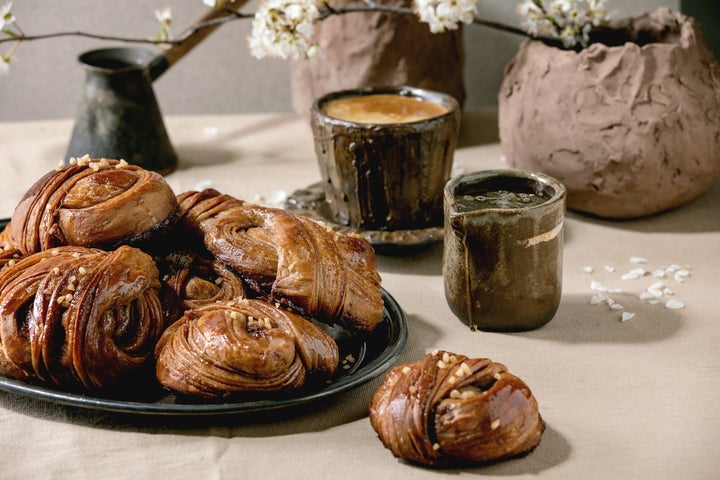 Winter is rough and its shorter days, colder temperatures, and lack of sunshine can make us all feel a bit miserable.
Fortunately, it's more simple than you might think. Hygge (pronounced hyoo-guh), the Danish word that describes something as "invoking or fostering a sense of coziness, contentment, and well-being," has had its moment in the spotlight – it's time for something new.
Ally Fekaiki – wellbeing expert and founder of Juno - has shared four other Scandi-wellness trends that we should incorporate into our daily lives to help us stay happy and healthy, even on the gloomiest of days.
Kos: cosiness
'Kos' – a Norwegian concept meaning 'cosiness' – encompasses everything you need to get through the colder months ahead.
Cosiness might conjure up images of candles, blankets and fairy lights (very Hygge) But kos is so much more than an aesthetic. It's about finding warmth and comfort in everyday moments, too. Kos could be something as simple as a meaningful conversation with a friend.
The good news is that this means it's easy to build Kos into our daily lives. Get into cosy habits by regularly smiling at strangers or reading in bed, whichever style of kos suits you best both guarantee warm, fuzzy feelings on gloomy days.
Fika: the coffee and cake break
There's no better time of year than now to incorporate 'fika' – a Swedish concept which translates to 'coffee and cake break' – into your daily routine.
Coffees and cinnamon rolls are recommended, but optional. For Scandinavians, 'fika' boils down to finding joy in the little things, and savouring quiet moments to yourself. Even if you only have 15 minutes spare on a Monday morning, regularly carving out time for fika creates a ritual you can look forward to no matter how busy or downbeat you're feeling. Simply remove any screens and distractions, and enjoy the chance to pause and be present.
Lagom: not too much, not too little
It can be hard to find the motivation to make plans on colder, shorter days. It's easy to instead eat lunch at our desks, lose track of time, and work late into the evenings – particularly whilst working from home. But this doesn't make for a particularly healthy routine or good work-life balance.
Following the Swedish practice of 'lagom' can help. The phrase roughly translates to 'not too much, not too little' – something that can be applied to all aspects of life, but which might be particularly pertinent for winter workaholics.
To embrace lagom and create healthier work-life boundaries, sticking to set working hours is a good place to start. This is a helpful way to avoid working too much, and create time in your mornings and evenings to do more of the things you enjoy outside of work.
Friluftsliv: outdoor life
During these colder months, getting outside and going for walks in the fresh air is often unappealing – even though we know it's good for us. Embracing a Scandi-mindset can help.
The Scandinavian trend 'friluftsliv', which literally translates to 'outdoor life', describes the mental and spiritual wellbeing benefits of being outside. Whether you're hiking up a mountain in Norway or simply appreciating the beauty of the autumn leaves in a park in London, anyone can embrace 'friluftsliv' by being present in the moment and reconnecting with nature. You might even find that it changes how you feel about walking outdoors.
By thinking of your next walk as an opportunity to press pause on the bustle of everyday life and take in the world around you, rather than a form of exercise you have to endure, it should become a little easier to put your coat on and step outside.