Cathy Ranson, editor of parenting site ChannelMum.com, acknowledges that having kids at home can be stressful. In March, when school closures were first announced, we sought advice from parenting experts on how to get through this period. These ideas might make the next few weeks a little easier.
Stick as closely as you can to your normal routine
Schools are likely to set work for children to do at home if they're unable to go in. Ranson advises you to stick as closely as you can to your usual routine to keep a sense of normality. Set an alarm, have breakfast, and get them up and ready for the time they'd usually start school.
Explore work from home options
If you're a working parent, speak with your employer about how you can work from home if you aren't already. "Set up a designated 'workspace' at home so your kids know when you are working and when you are available to play."
Matt Bradbury, an employment expert at Citizens Advice, says if you're an employee, you have a right to take leave called 'time off for dependents' by law. "This is a right to take 'reasonable' time off to take care of an emergency relating to a child or other dependent, including school closures, for any reason," he tells HuffPost UK. Find out more about your rights at a parent.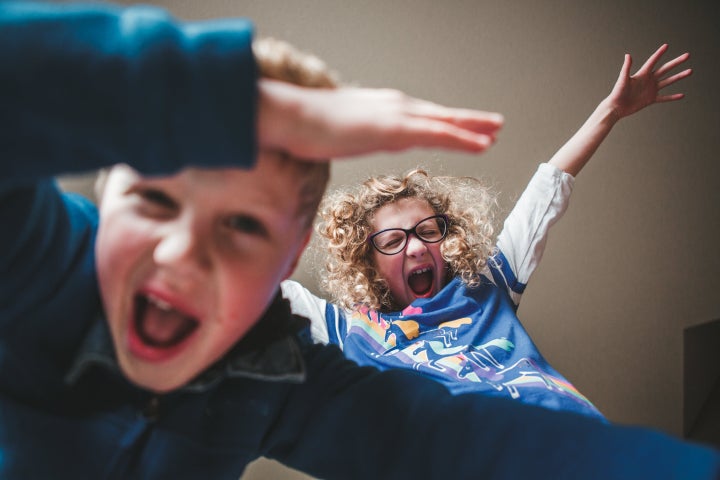 Keep talking to your kids
We should use this extra time to talk with our kids, says Ranson. "Have a family chat time each day when everyone gets five to talk about how they feel," she suggests. "It may seem odd at first, but it quickly becomes a lovely way to share feelings and bond the family together."
Parenting expert and child behaviour expert at Parent 4 Success, Elizabeth O'Shea, recommends having a family brainstorm to discuss ideas about how everyone will be able to spend the time at home together – both with the family and on their own. "Your children will have some great ideas," she says.
Google 'conversation starters with children' for topics to talk about over meals, she adds: their favourite band, what superpower they would most like to have, who they would invite to a meal if they could invite anyone, living or dead.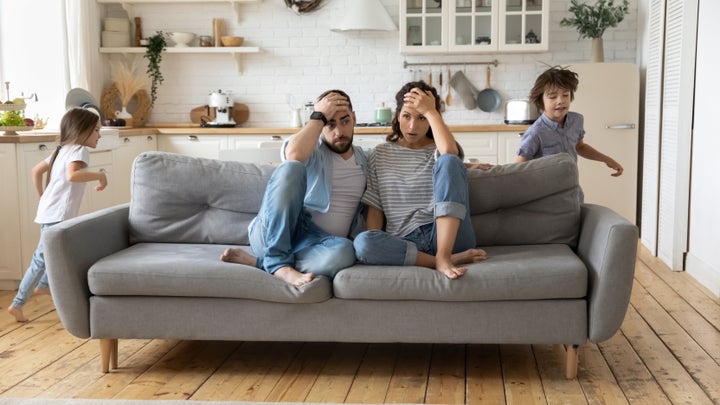 Ease any anxieties
Some children maybe frightened about the Covid-19 rules, especially as they have already had a term at school. They might not understand why schools are closed again.
"Make sure to keep the conversation open," says Rachel Thomasian, a family therapist, noting that kids may continue to hear things about Covid-19 from peers. "Let your kids know that if they have any questions or want to talk about it again, they're welcome to come to you. I know that it can get frustrating to revisit a topic multiple times. But not only does having these conversations as many times as your child wants to help them build a sense of safety, but it also helps create a secure attachment between you and your child and helps you become their safe base to come back to."
Bring out the old-school games
Revive fun pastimes like hopscotch and skipping. "They may seem old fashioned to modern kids but once they try them, they'll get into them," says Ranson. "Older kids can pass hours together playing the retro way."
You could also try card games and word games, adds O'Shea, or set up a 'family disco' and get your children to plan the playlist. "Find a project you can do together, such as building a den, bird table, even clearing the garage."
Teach them life skills
Amanda Gummer, a psychologist and founder of Fundamentally Children says parents should remember a lot of skills that children need to learn aren't taught at school. "It's a great opportunity to teach children how to do laundry, budget to do a weekly shop, look after house plants, change a bed, sweep/vacuum the floor and so many more life skills that they will enjoy learning if you make it fun.
"Try playing match the socks when sorting laundry, or playing hunt the thimble when tidying the front room. The Goodplayguide.com has lots of fun and developmentally beneficial activities as well as educational toys and games that can help children engaged with their school subjects."
Review screen-time rules
Experts are divided over whether you should stick to your usual screen-time rules. Ranson suggests they could be relaxed. "This isn't the time to be strict," she says, You could also check out the learning and academic channels on YouTube Kids. "There is a wealth of great teaching and all for free. Kids won't realise you've sneaked in an extra lesson, they'll think 'aha, I've got one over on mum watching YouTube.' But stay in the room and supervise so they don't stray on to other content."
O'Shea advises sticking to screen time limits. "Reiterate that they will only be allowed a maximum of two hours screen time a day. But help your child plan their viewing times and what they most want to do during this time."
What you do depends on your own family and circumstances.
Try and keep fit
If the weather allows, maybe go for a walk or bike-ride with your child, says O'Shea. "However, if it's too cold or rainy, a pillow fight may be a good way to let off steam. Or let your child plan and run an exercise class for the family!"