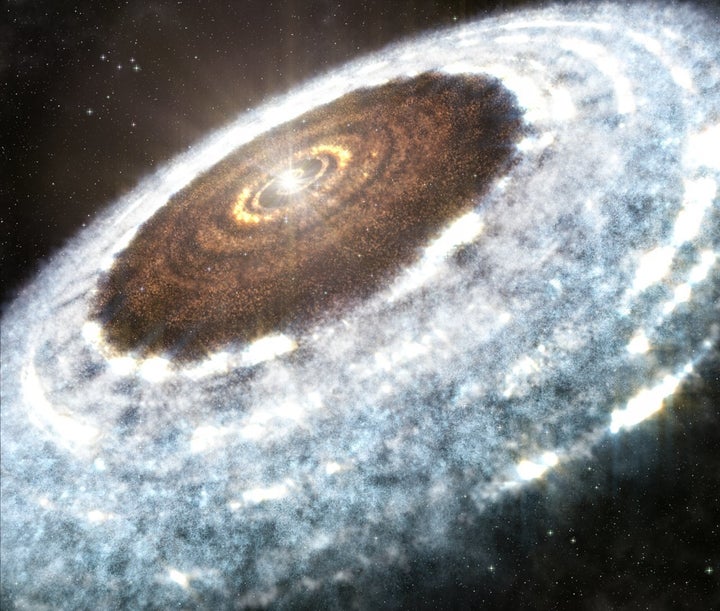 Scientists have for the first time seen a water snowline surrounding a young star in an infant solar system.
Protoplanetary disks are formed by the distribution of gas and debris and are fundamental to the formation of planets.
Disks belonging to young solar systems which contain water are comprised of two distinct zones. The first, which forms closer to the star, is made up of water as a gas. But further into the solar system, the gas freezes, forming snow in space.
Normally, it's impossible to capture the snowline, the point at which snow forms, because it is too close to the star. But in this instance the star heated significantly in a series of outbursts, which forced the snowline far enough out that they were visible through the telescopes.
Zhaohuan Zhu, an astronomer at Princeton University and co-author of the paper, which was published in Nature this week, said: "ALMA's observation sheds important light on how and where this happens in protoplanetary disks when young planets are still forming."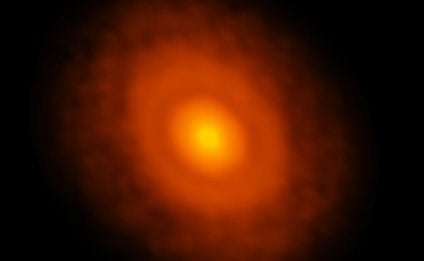 The snowline lies approximately 6 billion kilometres from the star, about the same distance from the Sun to Pluto.
The young star, V883 Orionis, is only about 30% more massive than the Sun, but it is currently 400 times brighter and significantly hotter.
The series of outbursts were caused by debris from the disk colliding with the surface of the star.
Because the area beyond the snowline contains more water ice than dust, planets accumulate more material and form bigger and faster there, according to Zhu. Jupiter and Saturn are believed to have formed in an equivalent region during the early stages of our solar system's development.
Zhu added: "We now have direct evidence that a frosty region conducive to planet formation exists around other stars."
NASA's Most Famous Images: