Sean Spicer has directly contradicted President Trump by insisting last summer's meeting between Don Jr and a Russian lawyer was solely about adoption.
Speaking at an off-camera White House press briefing (the last one to be held on-camera was 29 June), the Press Secretary said:
"There was nothing as far as we know that would lead anyone to believe that there was anything except for discussion about adoption."
Only there is. Quite a lot in fact.
First of all there's the email Don Jr released himself which stated he was offered documents on Hillary Clinton as "part of Russia and it's government's support for Mr Trump".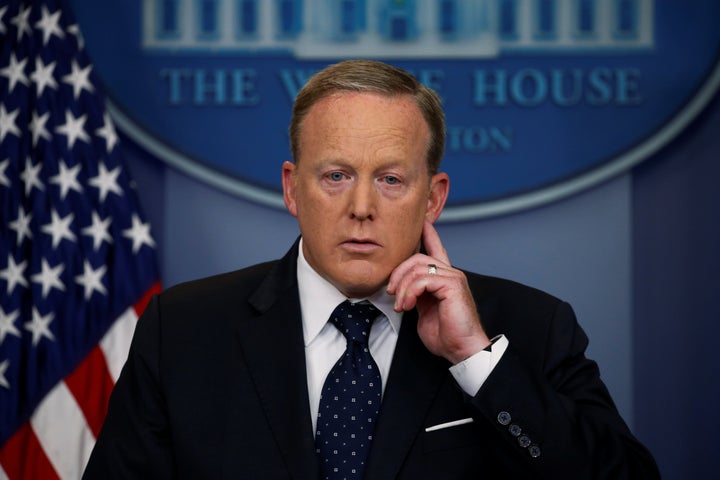 The fact this was discussed during the meeting, which was also attended by Jared Kushner and Paul Manafort, was confirmed by the President's son who told The New York Times that "the woman stated that she had information that individuals connected to Russia were funding the Democratic National Committee and supporting Mrs. Clinton".
In addition, on the same day Spicer made the claim, Donald Trump tweeted:
So far "most politicians" have failed to back up the President and his own pick for new FBI Director last week said anyone in a similar situation should inform the FBI that a foreign power is seeking to influence an election.
The explanations from the White House for the meeting have repeatedly changed over the last few days.
Legal teams for the president, Trump Jr and Kushner all discussed the matter before the meeting was first reported by The New York Times but lawyers couldn't agree on a single, public explanation for the meeting and ultimately settled on a statement that had to be repeatedly amended as new information dripped out.
The growing crisis in the White House over allegations of possible collusion with Russia is being reflected in the growing number of high-powered lawyers being hired by members of Trump's inner circle - with correspondingly high price tags.
Trump himself has both an outside legal team and a new in-house special counsel, Ty Cobb, for Russia-related matters. White House senior adviser Jared Kushner, who is also Trump's son-in-law, has a pair of high-powered attorneys working for him.
Trump Jr, recently hired his own lawyer. And former campaign aides who expect to be caught up in the expanding probes are also shopping for representation - and dealing with sticker-shock over the price tags.
The result is a crowded group of high-priced attorneys bent on defending their own clients, even if it means elbowing those clients' colleagues, reports the Associated Press.
"Any one of those individuals can anticipate that they will be in a position to provide information adverse to any of the other individuals," said Stephen Gillers, a New York University law professor and legal ethics expert.
"They have to have their own lawyer."
Last week's revelations helped prompt the president to bolster his own legal defence. He hired Cobb, an experienced white-collar attorney, who is slated to join the White House staff on July 31, according to Cobb's law firm. Cobb is expected to play a public role, crafting official White House responses to developments.
His hiring came with an acknowledgement that the current arrangement wasn't working. Trump's personal lawyers were supposed to take the pressure off the White House to respond to Russia inquiries. But it's become untenable for the West Wing staff to keep punting questions about the president.
"We end up spending a lot of time talking to the counsel's office about what can and can't be referred to outside counsel, what still remains in our purview," White House spokesman Sean Spicer said Monday. Spicer said he did not believe Cobb had vetted the president's tweet on Monday.
The expanding legal teams come at a cost.
The Trump presidential campaign has spent almost $1 million on legal fees since the beginning of the year, according to a campaign finance report filed Saturday with the Federal Election Commission.
That includes a $50,000 charge for the law firm of Alan Futerfas, who is representing Trump Jr. The payment was made nearly two weeks before news reports about the younger Trump's Russia meeting.