SeaWorld's oldest pilot whale, Bubbles, has died after performing to nearly 100 million visitors for five decades.
Bubbles was believed to have been the oldest animal of her species in a zoological park, SeaWorld said on Friday.
In a statement posted online, the marine park said: "SeaWorld San Diego is saddened to announce the passing of one of the world's most beloved animals, Bubbles the pilot whale."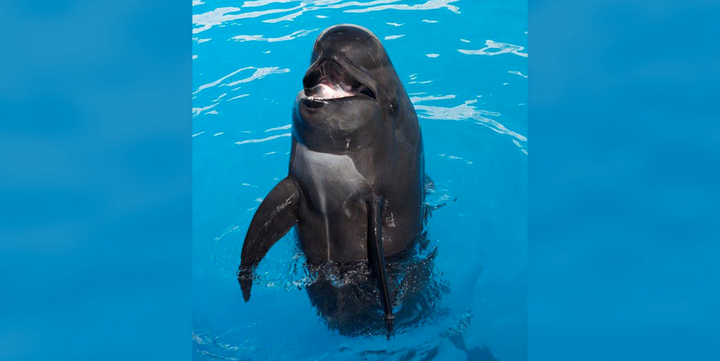 Bubble was in her early to mid-50s, SeaWorld said.
The statement continued: "Loved by her trainers and veterinarians, Bubbles had been a member of the SeaWorld family for nearly 30 years.
"She was one of several pilot whales and a dozen dolphins that have participated in various shows at Dolphin Stadium since the late 1980s."
A necropsy is planned to determine the cause of death.
The company, which operates marine parks in San Diego, San Antonio, Texas, and Orlando, Florida, did not say when she died.
SeaWorld has faced growing scrutiny in recent years over its public display of marine animals, especially killer whales.
Killer whale Morgan launched herself onto a concrete slab after performing for tourists, where she lay motionless for more than 10 minutes.
Morgan lives at Tenerife's Loro Parque along with five other orcas owned by SeaWorld.
Pilots whales, which have rounded heads and mouthlines that curve upward to resemble a smile, are in the dolphin family and are smaller than orcas, or killer whales.
Pilots, which live in pods of 20 or 90 animals, are about as intelligent as dolphins and easily trained, according to the American Cetacean Society.
Weighing roughly 3,000 pounds (1,360 kg) and measuring 15 feet (5 metres) long, Bubbles was considered the "grande dame" of SeaWorld, Reuters reports.
She was known for her ability to jump out of the water and spin at great velocity.
Related