The number of children in the UK who are sexting (sharing sexual images of themselves in a text message) has more than doubled in two years, new statistics have revealed.
Police forces in England and Wales recorded 6,238 underage sexting offences between 2016 and 2017, a rate of 17 offences per day, according to the BBC.
This figure marks a huge 131% rise since the same period in 2014.
Not only is the problem increasing in frequency, but the age of children affected is dropping, with many reports from children under ten years old.
And in July it was reported that a five-year-old boy from County Durham had become the youngest person in the UK to be investigated for the crime, after taking a picture of himself on an iPad and sending it to another child.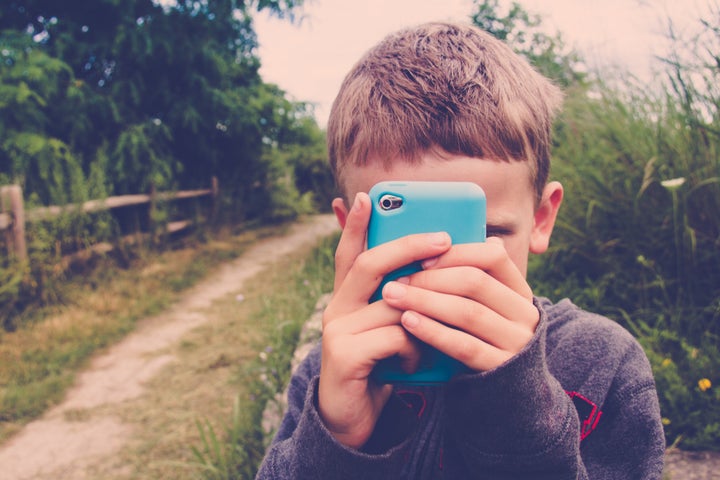 Zoe Hilton, Head of safeguarding at the National Crime Agency, told HuffPost UK: "With smartphones and tablets, and new apps emerging all the time, this behaviour is becoming quite normal for teenagers. It can be alarming for mum and dad who might not know how to help when things go wrong."
So how should parents be dealing with this problem?
What Is Sexting?
The UK government defines sexting as the exchange of sexual messages or images and creating, sharing and forwarding sexually suggestive nude or nearly nude images through mobile phones and the internet.
How Common Is Sexting?
According to research by NSPCC, around one in seven young people admitted to having taken a semi-naked/naked picture of themselves. Over 50% then went on to share the picture with someone else via the internet.
What Is The Law Around Sexting?
A study by the NSPCC revealed that 50% of parents do not know it is illegal for their child to take nude selfies.
A young person (under 16 years old) is breaking the law if they:
Take an explicit photo or video of themselves or someone else.

Share an explicit image or video of a child, even shared between people of the same age.

Possess, download or store these images

.
"Although it may seem harmless, under UK law creating or sharing explicit images of a child is illegal, even if the person doing it is a child."
As of January 2016, if a young person is found creating or sharing images, the police can choose to record that a crime has been committed but that taking formal action isn't in the public interest.
Although this doesn't stop sexting being illegal.
How Do I Talk To My Child About Sexting?
Peter Wanless, CEO of the NSPCC told The Huffington Post UK: "Of course, talking about sexting can be an embarrassing or awkward conversation for both parents and children."
But Wanless explained that a worrying statistic showed that 50% of parents weren't confident about getting the right support to talk to their child.
And this needs to change.
Suzie Hayman trustee of Family Lives shared tips for parents:
Have a plan: "Having a plan will make your life easier. Rather than waiting for something bad to happen, think about when and how you are going to start and keep the conversation going about the risks and rewards of the online world."
Pick a time with no pressure: "Avoid starting a conversation just as your child is going to bed or walking out the door. Use a storyline from an article or TV programme to start up the conversation about this."
Get to know their friends' parents: "They'll probably share your concerns, so you could agree on rules around technology and supervision. You can also share anecdotes about the questions your children have asked, which might help you prepare for your own conversations."
Do not dismiss sexist language or behaviour as funny: "Remember that you need to be a role model for them and they will look to you to determine what is right and what is wrong."
Let them know about the risk: "That taking, sharing or sending images of themselves could be shown to others or distributed online and there will be little they can do to stop this."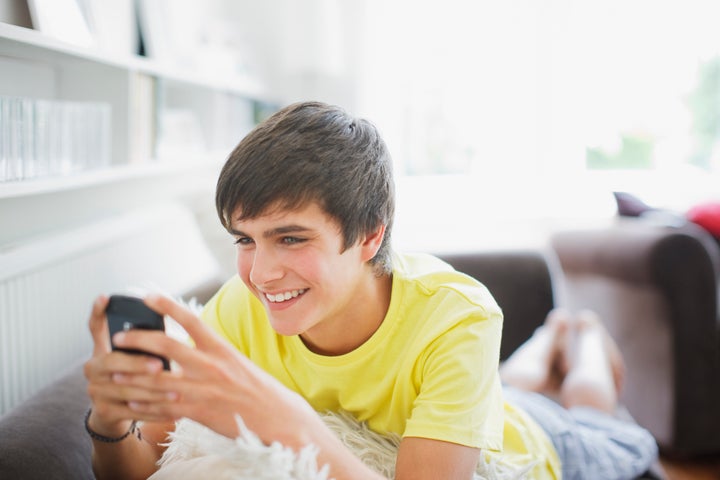 Are There Any Tools For Parents?
In June 2015, the National Crime Agency (NCA) launched a campaign to educate parents about the correct tools to talk to their child about sexting. They have lots of videos on their website for parents to learn more about how to approach the awkward topic.
Are There Any Tools For Children?
The Think U Know website, set up by the NCA helps children (of different age groups), by answering questions and providing information about how to use technology safely and legally.
Direct your children to this website if you think you could do with some help discussing the more awkward parts of sexting.
Or your children can also download the Zipit app to keep the situation in control if someone's asking them for naked images.
Zipit helps children get "flirty chat back on the right track" providing them with comebacks and responses to help young people stay in control of the conversation.
What Do I Do If I Think My Child Is Sexting?
Peter Wanless, CEO of the NSPCC told HuffPost UK about how parents should react if they think their son or daughter is engaged in sexting.
Calm: Stay calm and really try not to be angry with your child.
Delete: Encourage them to delete images from their phone or own social media accounts.
Contact: Contact the site hosting the images of their child if they have been posted by someone else.
Discuss: Discuss issues of consent and trust in healthy relationships or friendships.
Children and young people can contact Childline free, 24 hours a day on 0800 1111 or get help at www.childline.org.uk.