Michael Gove has been accused of acting like a First World War general who orders his troops "over the top" without knowing what lies beyond the trenches.
The justice secretary and fierce EU critic was tackled by an audience member in a Sky News debate on Britain's upcoming referendum.
Andrew Carnegie, a business owner whose company makes parts for intensive care units, accused Gove and his colleagues in the 'Leave' campaign of not offering up a detailed economic plan for Britain's potential exit from the EU.
"In general election, parties present detailed manifestos on how they propose to manage the economy if elected," Carnegie said. "Why hasn't the 'Leave' campaign presented a detailed economic plan?"
Gove responded, insisting that Brexiters had outlined in "significant detail" things that could change as a result of a 'Leave' vote winning on June 23.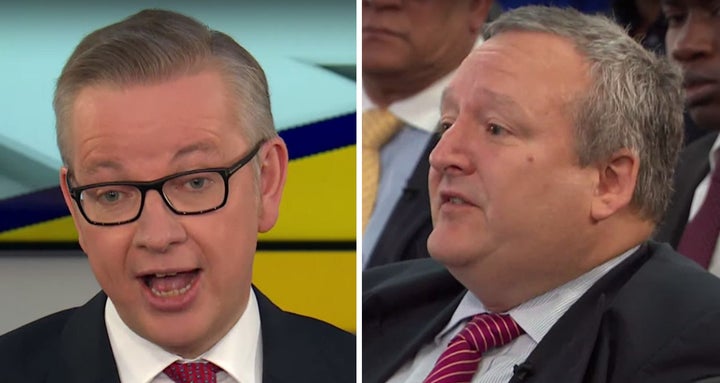 But the reply failed to win over Carnegie - and much of the audience who applauded him - who quipped back: "It's almost like a First World War general:
"You're waving the flag, you're saying 'over the top, men!' but you have no idea what's on the front line or what the casualty rate will be in the conflicts to come."
He also compared Gove's fielding of the economic debate to a married couple undertaking a divorce.
"I think the answer is there is no economic plan," Carnegie fired at Gove. "It appears you're asking people to vote for a divorce and sort the financial settlement afterwards.
"That makes no sense to me - there's lots of people who go through divorces and the last thing they want to do is try and sort the money out after - you negotiate before."
The cutting comments were described by veteran Sky News anchor Adam Boulton as like "both barrels" being fired at the Surrey Heath MP.
The "tough line" was picked up on other pundits.
While Gove's immediate response to Carnegie - which was to thank and praise the business owner for the work he did - was mocked by a parody 'Thick of It' MP's Twitter account.
But 'Vote Lave' supporter and commentator Toby Young derided the 'divorce' analogy, saying it wasn't "quite right".
Daily Mail political editor-at-large Isabel Oakeshott also weighed in, when the question of Gove's general comparison was posed to her. "We won the war didn't we?" she fired back.
Related