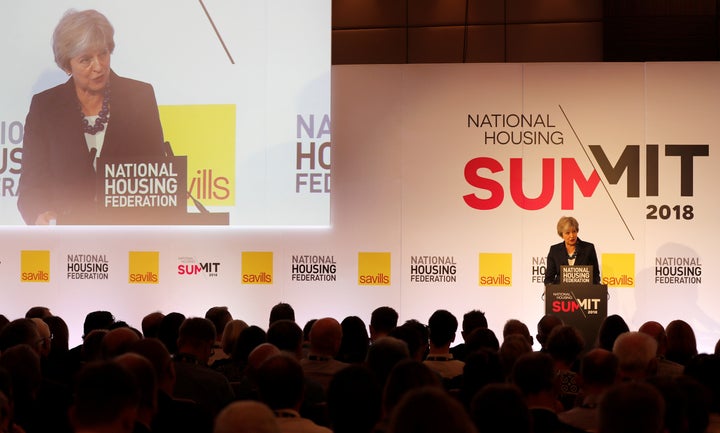 We've reached a point where virtually no one disagrees that our country is in the grip of a worsening housing crisis as homelessness rises, and millions of people struggle to contend with the high-cost and deep insecurity of private renting.
This crisis has been years in the making. Successive governments have presided over decades of failure to build enough genuinely affordable homes. We are paying the price for their mistakes – from the loopholes that allowed profit-hungry developers to wriggle out of building their fair share, to the policies that allowed social housing to be sold off without replacing it.
Sitting in the eye of the storm the current government has realised it can no longer be so complacent. Theresa May came to power vowing to fix the housing crisis and since 2016 her government has indeed taken some of the steps required. Yesterday's announcement is another example of this shift in political will.
Last October, the Prime Minister announced £2billion in funding for social and affordable homes – the first chunk of new money for social housing in years - and yesterday she laid out plans for another £2billion to be used by housing associations. This is on top of councils' borrowing caps being increased and developers being told they can no longer sidestep their affordable housing commitments.
Finally, it seems we have a government alive to the importance of building social homes. A position we wholeheartedly support, and the reason we have launched our own cross-party commission into the future of social housing in partnership with the community affected by the terrible Grenfell Tower fire and its continuing aftermath. The commission's sole aim is to create a blueprint for the ambitious programme of change we need to see.
There is no way to solve the housing crisis without social housing. It is the only housing that's guaranteed to be affordable for all those at risk of homelessness. The only kind of housing guaranteed to be affordable for those on lower incomes across much of the country. The only kind of housing where rents are low and stable enough to give many people the breathing room they need to save up a bit of money each month - whether that's for a deposit or any other aspiration they might have for themselves or their family.
Let's be clear: we need a great deal more social housing than we're currently building, and a lot more than this new funding can provide. Last year, England eked out just over 5,000 social homes - the lowest rate of social housebuilding since WWII. Meanwhile, more than 300,000 people were officially recorded as homeless and 1.2million households remain on social housing waiting lists.
This gives you some sense of the scale of the problem we face. So, while a further £2billion will help – it's nowhere near enough on its own. There's also no guarantee that housing associations will even use it to build social rent homes.
Housing associations will be able to choose what types of homes they build. But as communities up and down the country know all too well, often so-called "affordable housing" isn't actually affordable to local people. It could be used to build the less affordable kinds of subsidised housing like shared ownership or Starter Homes.
Worse still, there is a danger the money could end up lining the pockets of already rich landowners who've been making a mint out of the housing crisis. One of the main barriers to building more homes is the huge cost of land. With their relatively limited funds, housing associations are increasingly struggling to compete with private developers in the expensive land market. When they are forced to pay over the odds for a piece of land it makes it much less likely they will build the social homes we need the most.
To make sure this money – and the future investment we hope must follow - isn't a missed opportunity, the government should build on the announcement by reforming our broken land laws. This would help to bring down the cost of land and make it much easier to get more social housing built.
Let's hope the warm welcome housing associations gave to the Prime Minister's latest plans doesn't end up looking premature. Changing our country's course away from the housing crisis will require a huge effort. Social homes must be at the heart of the change, which means a much bigger long-term investment and set of reforms by the government. Shelter's commission will soon provide the government with a clear way forward and a compelling vision for what social housing can achieve. It's not cheap or easy. But it is absolutely necessary.
Polly Neate is chief executive of Shelter