In Spenny vs Penny we compare the products we love, with those following in their (sometimes pricey) footsteps. Here we compare lipstick from MAC and The Body Shop.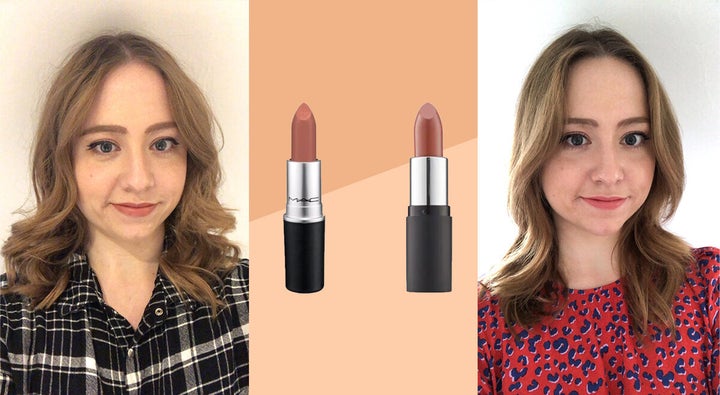 HuffPost may receive a share from purchases made via links on this page. Prices and availability subject to change.
The perfect nude lipstick is notoriously hard to find. While there's no shortage of them to shop from, a good one should flatter your skintone and the rest of your makeup.
As a fair Irish-skinned woman who loves a bright red or pink lippy – sometimes purple if I'm feeling bold – it's rare for me to find a nude lipstick that does me any favours. Most of the time I end up looking like I've slathered concealer over my lips, circa 2007.
I'm a full face of makeup girl might I add. We're talking primer, foundation, concealer, powder, eyebrows pencil, eyeshadow, eyeliner, mascara, bronzer, blusher and highlighter before I've even got to lipstick in my beauty routine. Lipstick still plays a big part, a bright red makes me feel instantly more confident (it's also a fabulous distraction technique from breakouts or dark circles).
In an attempt to secure a nude lippy that can serve me well, without making me look like a corpse warmed up, I put Mac's legendary nude shade, Velvet Teddy, to the test to see how it fared against a similar shade from cheaper brand, The Body Shop. But which was best? Read on to find out.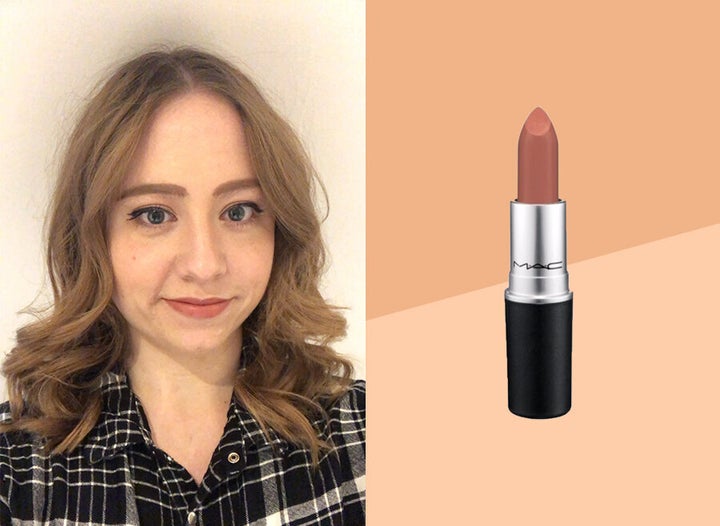 I own many a Mac lipstick, so I have high hopes for Velvet Teddy coming out on top in this head to head challenge. It's a warm-toned, creamy, matte formula – and I've tried enough matter lippys to know I need to apply some lip balm before testing this.
As I swipe it on the texture is creamy as promised, and pigmented enough that it only needs one coat – this gets a big thumbs up, I'm not interested in sheer lipstick. A nude lipstick allows for a bolder eye look, so I pat on a shimmering gold shade to my lids to compliment it, paired with my go-to feline eyeliner flick. I'm pleasantly surprised by how flattering it is, as my biggest problem with nude shades is often it looks like you're not wearing anything at all, but it's not this case here.
I go about my working day as usual, sipping on cups of tea, eating lunch – y'know the drill. Once I'm done eating, I check the damage in a compact mirror and apart from being a little faded, it's perfectly in tact. My lips aren't dry and I layer one another coat that sees me to dinner time. I have no complaints, well done Mac, no wonder it's one of the best-selling shades.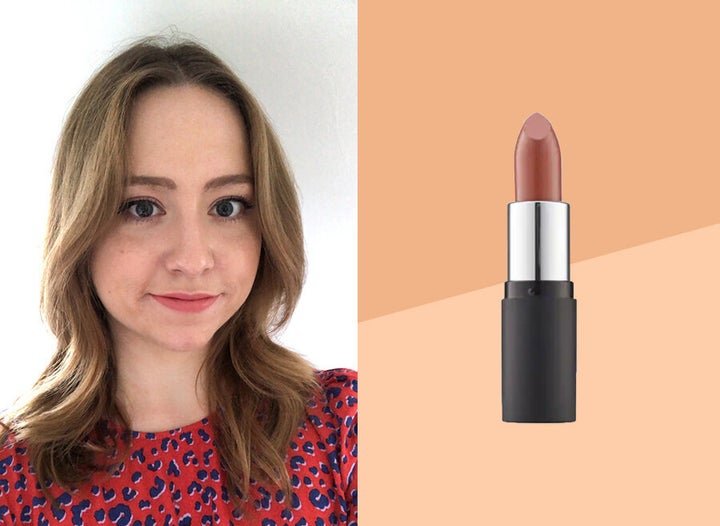 Unlike Mac, I'm completely new to The Body Shop's makeup line. Sure I've walked past it in stores, maybe even swatched an eyeshadow, but this is my first time wearing anything from it.
As I roll up the lipstick bullet, the shade looks like an exact match for Velvet Teddy, but as I'm applying it (after lip balm of course) it comes out looking more pink. It's less pigmented, so I end up going over it to make sure every inch of lip is filled in and I notice the texture is much thinner.
Throughout the day it fades more when I check it in my mirror, but as it's pinky, it's more noticeable. It's pleasant, if not a little drying, but nothing another touch of lip balm can't fix.
It's nice, inoffensive, but I'm left feeling undersold. While it matches my dress and suits my skin tone, it's not the nude shade I was expecting, which is misleading from what it looks like in the tube.
Personally, I think Mac's is better, even at double the price.