In Spenny vs Penny we compare the products we love, with those following in their (sometimes pricey) footsteps. Are they worth the cash? Here, we compare Yves Saint Laurent Touch Eclat to Aldi's Lacura concealer.
If I was only allowed to wear one item of makeup, it would be concealer. Without it, I look dead, thanks to my deep purple under-eye bags – dead, or like I've been beaten up. And before you ask for proof, no, I'm not putting a photo of my eye bags on the internet. And, yes, they're there regardless of whether I've had a good night's sleep. Believe me, I'm incredibly self-conscious about them.
So you can understand why concealer is an essential part of my routine. I'm actually lucky enough not to have breakouts or blemishes, so this piece of kit is all about making me look less exhausted, rather than covering up spots. I've been wearing it since I was a teenager, when I used considerably less makeup than I do now, and I always, always carry it in my handbag.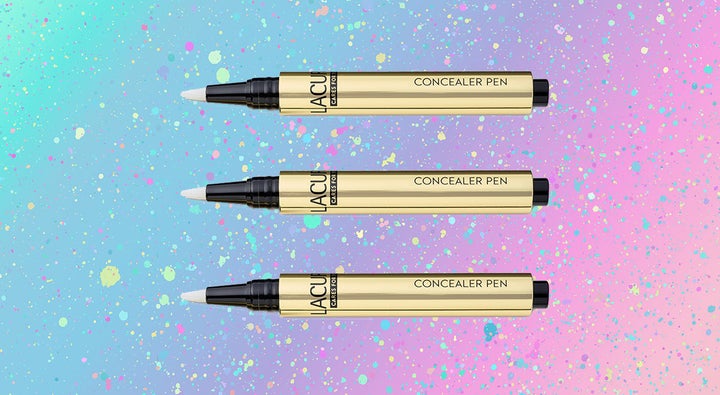 Spenny: Yves Saint Laurent Touch Eclat, Amazon, £26
Wearing YSL Touch Eclat was like a rite of passage to womanhood for me. Seriously. My mum always used the product so when I started wearing makeup, she'd buy it for me as a gift. Since then, every holiday my parents took, they'd hit up Duty Free and come back with a new pen.
For years Touch Eclat only came in one shade – an incredibly light pinky colour. Now it comes in 14 (luminous milk to luminous toffee, though still far fewer dark shades than lighter ones, which is disappointing).
After that expansion, I wore the shade 1.5 'radiant silk', which has a yellow undertone and suited my skin tone. Two clicks of the pen was enough to cover my under eyes in the silky smooth liquid, but it had usually worn off by evening, prompting another two clicks of the pen from my bag.
But now Aldi has released a concealer of its own, which looks spookily similar to Touch Eclat. So how does the cheaper product measure up to YSL and Mac?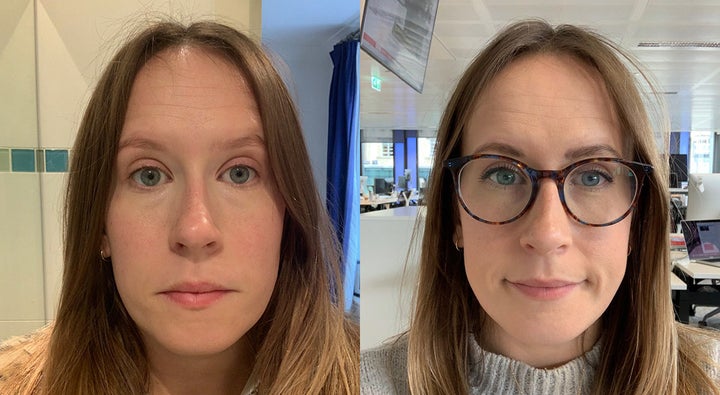 Penny: Lacura Concealer Pen, Aldi, £2.99
As with the YSL version, the brush is clean to start with and you have to click the button between 12 or 14 times to get enough concealer to cement on to your eye bags. Aldi's product is disappointingly available in only three shades – Savanna, Cashmere and Amber – I try the former, which is a pinky beige.
I immediately notice the liquid is much thinner and more watery than YSL and suspect it might not last the day. At midday, I head to the work loos to check my face and those purple under-eye bastards are starting to show through. So I add more. It only takes four clicks this time to get enough coverage. In the evening I go for dinner with a friend and by the time I get home and look in the mirror, I wish I'd had another touch up before leaving work. Obsessed... me?!
The next day I only need a few clicks in the morning to cover the circles, but by midday I'm reapplying again. Given how much I've had to use throughout each day, I'm not sure how long this will last. Although at around one eighth of the price, the Aldi one is still better value for money than the YSL version –– the real problem will be trying to track it down as they've sold out online and so you'll have to rummage around the store.
Ultimately, using a brush to apply concealer instead of using your fingers means less is wasted, but given how much I've had to put on to get the coverage I want, I think I'll be sticking to my Mac.
We all work hard to earn our money – so it shouldn't feel like hard work to spend it well. At HuffPost Finds we'll help you find the best stuff that deserves your cash, from the ultimate lipstick to a durable iron to replace the one that broke (RIP). All our choices are completely independent but we may earn a small commission if you click a link and make a purchase.