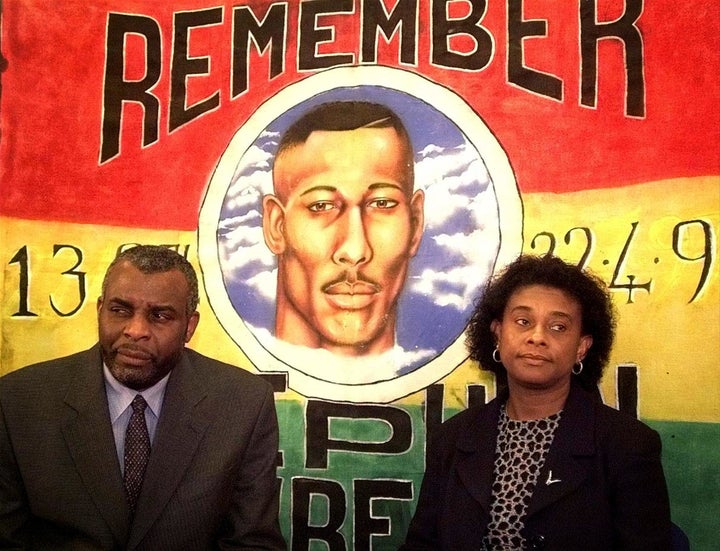 I was seven years old when Stephen Lawrence was murdered by a gang of racist youths in 1993. As it did for so many, the tragedy opened my eyes to racism in the UK.
The Lawrence family were infiltrated by undercover police, treated like suspects rather than victims. It took 19 years to put just two of Stephen's murderers behind bars. The senior police officers who bungled the investigation may only now be investigated for misconduct.
Years of campaigning by Stephen's parents, Doreen and Neville, led to a judicial inquiry that exposed institutional racism in policing and demanded changes in attitudes and the law.
Targets were set for recruiting and promoting more black and Asian officers. The Independent Police Complaints Commission was established. New policies ensured hate crimes were always investigated. And the entire public sector was obliged by law to protect victims of discrimination and promote equality.
We've come a long way in the 25 years since Stephen's death, but recent government policies have stalled progress – and on many fronts we've begun to move backwards.
Figures released in 2017 showed worsening racial disparity in the use of stop and search. You were now eight times more likely to be stopped if you were black than if you were white – compared with 6.5 times in 2016 and 4.4 times in 2015.
Yet in February, the Home Office announced a roll-out of technology allowing officers to scan people's fingerprints in the street and check them against criminal databases and error-strewn lists of asylum seekers. Stop and scan is the latest of a suite of policies that let police act on their worst prejudices.
The 2016 Immigration Act introduced a new criminal offence of "driving while illegal" – incentivising officers to stop drivers they suspect are undocumented.
If you don't look British, you're at risk. Black people are already more likely to be pulled over under existing traffic stop powers, but less likely to be arrested or prosecuted – suggesting many shouldn't have been stopped.
The Policing and Crime Act 2016 enabled police officers to ask anyone under arrest who they believe is not British to state or prove their nationality – even though most offences have nothing to do with your country of birth. The potential for discrimination is inescapable. The oppressive environment it creates for people of colour is inevitable.
There have even been cases of people reporting a crime to the police and being arrested because they're suspected of being undocumented. Treated like criminals, not victims – just like the Lawrence family.
These measures are part of Theresa May's "hostile environment". In the name of controlling immigration at any human cost, ministers are worsening police-community relations.
Compounding these damaging policies is the slow pace of change in the police.
London's Met has the highest proportion of black, Asian and ethnic minority officers in the UK – yet they make up just 13 per cent of the force, compared with 40 per cent of the city's population. The proportion of BAME officers reaching more senior ranks has been declining since 2016.
As Chief Constable Jon Boutcher, the national police chiefs' lead on race, has said: "Racial disparity in policing undermines legitimacy and threatens policing by consent".
But he also recognised that "it's not just about representation, it is about behaviours" – and there, too, the police are failing.
The Met's Gang Matrix – an intelligence system listing suspected gang members – is just one little-known tool that appears to perpetuate discrimination.
Data suggests BAME people make up 87%of the Matrix, with black men accounting for 78%. Rumour, hearsay and prejudice can land people on that database, with serious repercussions. It's used in stop and search and joint enterprise prosecutions.
Several forces use facial recognition, which has no basis in law. Research shows the technology is more likely to misidentify black people – raising serious questions about the Met's decision to use it at last year's Notting Hill Carnival.
A quarter of a century after Stephen Lawrence's murder, institutional racism should be a thing of the past. Instead, the Government's desire to co-opt police into frontline immigration enforcement is creating new opportunities for discrimination.
The Government must end the police's role in controlling immigration and work with forces to improve police-community relations.
A good start would be to reverse worsening stop and search figures with sanctions for officers and forces failing to meet high standards and compulsory recording of ethnicity data for traffic stops. Communities should be involved in scrutinising the use of the powers and Police and Crime Commissioners should have to create strategies on eradicating racism.
Until everyone in the UK is policed equally, some will have more freedom, more protection and more hope than others. Until that day comes, we have not honoured Stephen's life.
Martha Spurrier is director of Liberty