A former Brexit Minister has branded Theresa May's advisors "childish" in a scathing attack on Downing Street.
Steve Baker, who quit government on Sunday night in protest at Theresa May's Brexit plan, revealed he nearly walked out over a briefing to journalists ahead of last week's Chequers summit which flagged up the services of a local taxi firm should any minister wish to leave the meeting early.
Baker said he was left "absolutely furious" by the briefing, but refused to name who he thought was responsible.
Speaking on the BBC's Daily Politics on Monday morning, the usually unflappable Baker was visibly trying to control his anger as he hit out against the 'taxi cards' briefing.
He said: "It certainly irritated me, I was absolutely furious at the childish nonsense being issued by Number 10. Absolutely unequal to the task at hand.
"Frankly I was furious - I could almost have resigned just over the childishness of that briefing."
Baker went on to say that it was an "untruth" that he had been offered a promotion as a bribe for accepting the May's Brexit policy.
He added: "It was briefed out as if any of us could be bribed. I am absolutely furious about it."
When asked who he blamed for the briefing, Baker replied: "It would be in all of our interests if I didn't name the individual who I would hold accountable, but he will know who he is."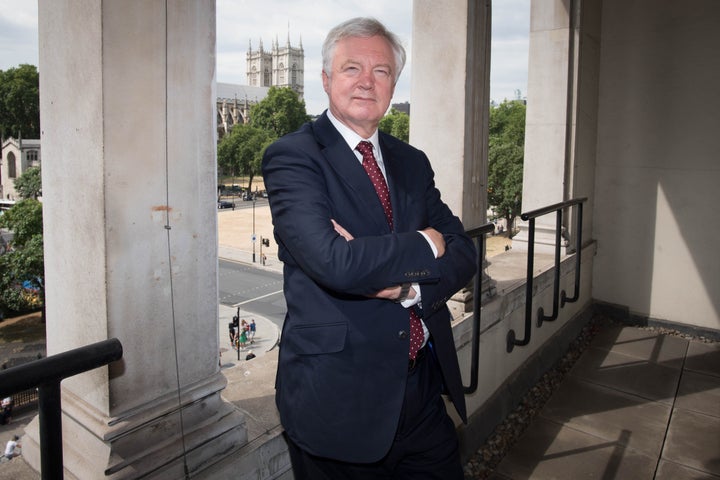 The PM announced on Friday evening the UK would seek a "common rulebook" with the EU when it comes to goods and agriculture products, thereby continuing current standards in a bid to avoid delays at ports and airports.
The UK Parliament would 'take back control' by having the power to align UK goods rules with Brussels - or to diverge from them in the future, although this would have implications for the trade deal as a whole.
Baker said he and others in the Brexit department were "blindsided" by the policy, as it was an "evolution" of May's positions from previous speeches on the UK's departure from the EU.
Despite his anger, the former minister tried to quell any moves against the Prime Minister, claiming it was for Brexiteers like himself to try to change the direction of government through persuasion.
He said: "There can be no question of letters going in, no question of challenges to the Prime Minister.
"What we need is a change of policy, and not to be challenging the Prime Minister."
Daventry MP Chris Heaton-Harris will replace Baker at the Brexit department, under former housing minister Dominic Raab who is the new Brexit secretary.
Kit Malthouse will replace Raab at the Ministry of Housing, Communities and Local Government, Downing Street said on Monday afternoon.