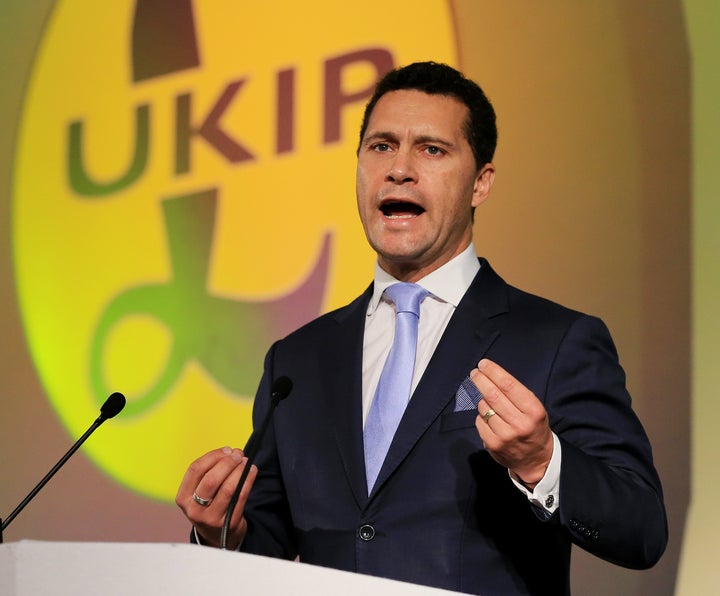 Ukip leadership contender Steven Woolfe has provoked anger among the party faithful after admitting he considered defecting to the Tories just days ago.
Woolfe today announced he would seek to replace Diane James as leader after her shock resignation just 18 days into the job.
The North West MEP failed earlier this summer to take over as party leader after he submitted his application forms too late to be entered into the contest to replace Nigel Farage.
However, Woolfe today also admitted he had considered switching to the Conservatives in recent weeks as he was "enthused" by Theresa May's leadership.
That revelation has been met with fury by many in Ukip, with one senior member of his previous leadership campaign team particularly angry.
They told the HuffPost UK: "How can people who slated Suzanne Evans and Douglas Carswell for being 'Tory-lite' now trust someone who was in talks about defecting to the Tories just days ago, and only thought against it because the Leadership became free again?"
Another Ukip activist, who stood as a parliamentary candidate for the party in 2015, said: "It's embarrassing and hurtful that someone who is willing to jump in bed with the Tories a week ago and now wants to lead Ukip. It's embarrassing to say you believe in Brexit if you are willing to jump in bed with a Remain PM."
Questions are also being raised by Ukip activists about the man behind Woolfe's media strategy – Jago Pearson, a director at the PR company Media Intelligence Partners.
In the article, Pearson admits to being a member of the Tory party ("All of my fellow Conservative members must acknowledge, as I do, that the referendum was won by Labour voters and non-voters…") and says Brexit is "a chance to secure Conservative government for a generation."
Pearson deals with press enquiries for Woolfe, and was the person who released the statement tonight in which the Ukip MEP confirmed he had considered defecting to the Tories.
A former member of Woolfe's leadership campaign team said: "The fact that Steven Woolfe's spokesman is a Conservative Party member and wants the 'Tories to Govern uninterrupted for a generation' should worry all Ukip members."
In the statement announcing his leadership bid, Woolfe said: "In the last few weeks I have thought long and hard about my political future and how I can best help build the Brexit Britain we voted for in June - a meritocratic, independent and prosperous country that stands up for the millions of people who have been ignored for too long.
"I have been enthused by the start to Theresa May's premiership. Her support of new grammar schools, her words on social mobility and the growing evidence that she is committed to a clean Brexit prompted me, as it did many of my friends and colleagues, to wonder whether our future was within her new Conservative Party.
"However, having watched the Prime Minister's speech on Sunday I came to the conclusion that only a strong UKIP can guarantee Brexit is delivered in full and only our party can stand up for the communities of the midlands and the north."