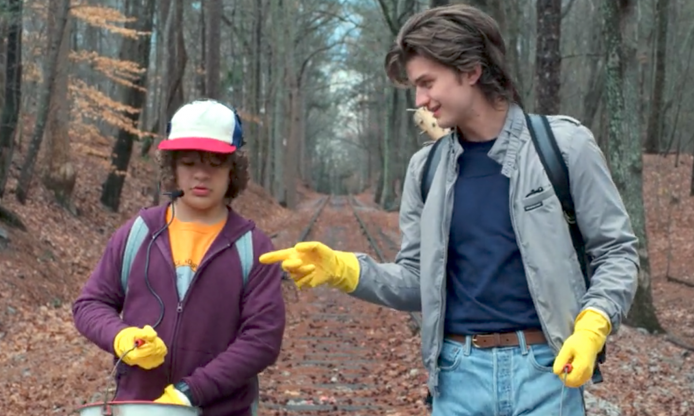 WARNING! This article include (loads) of 'Stranger Things 2' spoilers.
'Stranger Things 2' isn't short of shocking moments and plot twists, but while most of them are pretty terrifying, there's one storyline that proves good things can happen in Hawkins.
Yes, we mean Steve Harrington and Dustin Henderson's blossoming friendship.
The pair first team up when Dustin needs help taming his pet polliwog-turned-demodog Dart, as the youngster spots Steve and asks if he still owns the nail-clad baseball bat that came in pretty handy in season one.
Despite initially being sceptical of Dustin's claim that a cat-eating monster is in his basement, Steve lends him a hand and when he realises the magnitude of the situation, pretty much stays by Dustin's side until the end of the series.
Firmly settled into his new big brother role, Steve also has the chance to reflect on his other relationships, admitting to Nancy Wheeler that he has been a pretty "shitty" boyfriend, before taking charge of the younger kids during the final standoff against the creatures from the Upside Down.
It's not just us who think their new bond is one of the series highlights either:
Considering his humble beginnings as a totally unpleasant, Barb-hating jock, Steve has done pretty well for himself.
This pair - Stustin? Deve? - aren't the only fan favourites to form new bonds either, as it's revealed early in the series that Chief Hopper has been secretly harbouring Eleven, with the hope of one day helping her live a normal life.
Lucas also built up a pretty solid friendship (that could transform into something more) with new girl, Max Hargrove.
Fans have already begun speculating about what season three could have in store, following the Duffer Brothers' confirmation that more episodes will be on the way.
Will any of the budding romances become proper relationships? Is Will definitely free of the Upside Down curse? And, most importantly, what about #JusticeForBobTheBrain? Watch this space...