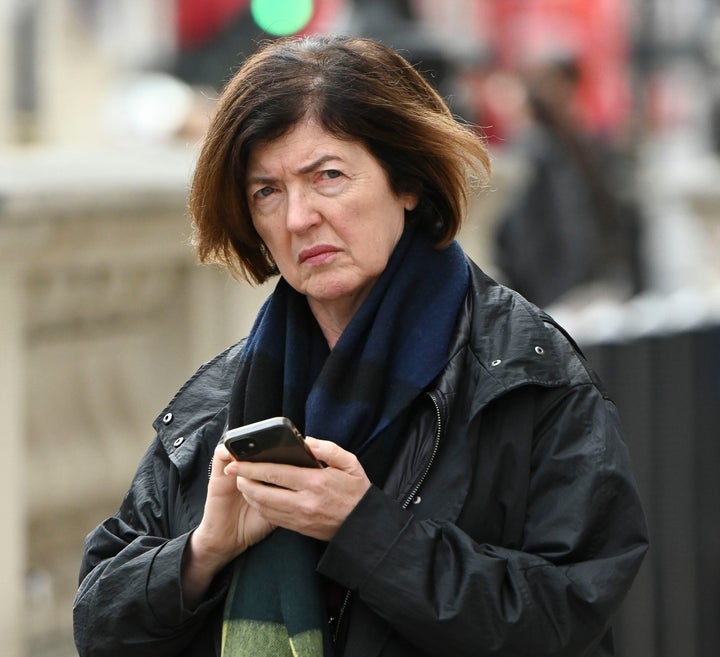 This week, the investigation the nation has held its breath for is expected to land when Sue Gray publishes the full findings of her report into the Downing Street partygate scandal.
Her full report was held back until the conclusion of a separate Metropolitan Police investigation into the scandal.
Last week, the Met announced that Operation Hillman was now finished, with 126 fixed penalty notices handed out to 83 people, including Boris Johnson, his wife Carrie and Rishi Sunak.
Here HuffPost UK runs through all the key moments in the partygate scandal so far.
What is Sue Gray investigating?
Gray is investigating a total of 16 events that occurred between May 15 2020 — the so-called "wine and cheese" garden party — and April 16 2021, when two leaving parties were held for staff hours before Prince Philip's funeral.
These are just two events that have received a lot of media attention; others include the "bring your own booze" party on May 20, 2020, the so-called "Abba party" held in Johnson's Downing Street flat on November 13 the same year.
The prime minister is said to have attended at least six gatherings in total.
The 16 events Gray has investigated are:
May 15 2020: "Wine and cheese" gathering in the Downing Street garden attended by the PM, Carrie Johnson and Cummings.

May 20 2020: "BYOB" gathering in the garden of Downing Street to which more than 100 No.10 staff were invited by Johnson's former principal private secretary Martin Reynolds.

June 18 2020: A gathering in the Cabinet Office to mark the departure of a No.10 private secretary.

June 19 2020: Birthday gathering for Johnson in the Cabinet room in No.10 Downing Street.

November 13 2020: A leaving party for a senior aide, thought to be former director of communications Lee Cain.

November 13 2020: An event in Johnson's flat on the night Cummings left Downing Street.

November 27 2020: a gathering in No 10 Downing Street on the departure of a special adviser.

December 10 2020: Department for Education gathering.

December 15 2020: A No 10 Downing Street gathering for an online Christmas quiz.

December 17 2020: A gathering in Cabinet Office, 70 Whitehall to hold an online Christmas quiz for the Cabinet Secretary's private office.

December 17 2020: A gathering in Cabinet Office, 70 Whitehall to mark the departure of a senior Cabinet Office official.

December 17 2020: a gathering in No.10 Downing Street to mark the departure of a No 10 official.

December 18 2020: A gathering in No.10 Downing Street before the Christmas break.

January 14 2021: A gathering in No.10 Downing Street following the departure of two No.10 private secretaries.

April 16 2021: A gathering in No.10 Downing Street on the departure of a senior No.10 official.

April 16 2021: A gathering in No.10 Downing Street on the departure of another No 10 official.
What did Gray's interim report say?
In her initial report, published on January 31, Gray blamed "failures of leadership and judgment" in No.10 and the Cabinet Office for the partygate saga.
Gray said it was "difficult to justify" the controversial gatherings and criticised the "excessive consumption of alcohol" by government staff.
In the 12-page report, Gray said: "At least some of the gatherings in question represent a serious failure to observe not just the high standards expected of those working at the heart of government but also of the standards expected of the entire British population at the time.
"At times it seems there was too little thought given to what was happening across the country in considering the appropriateness of some of these gatherings, the risks they presented to public health and how they might appear to the public.
"There were failures of leadership and judgment by different parts of No 10 and the Cabinet Office at different times. Some of the events should not have been allowed to take place. Other events should not have been allowed to develop as they did."
What happened after the interim report was published?
Following the findings, Johnson immediately issued an apology to MPs in the House of Commons.
"I want to say sorry. I am sorry for the things we simply did not get right and sorry for the way this matter has been handled," he said.
The prime minister resisted calls to resign in the wake of the report, but sparked a fresh row by using his Commons statement to falsely accuse Labour leader Keir Starmer of failing to prosecute Jimmy Savile when he was Director of Public Prosecutions.
This led to a wave of criticism, with more Tory MPs calling on him to quit and his chief policy advisor, Munira Mirza, quitting her job.
In response to the criticism, Johnson announced a major shake-up of the Downing Street operation, with chief of staff, Dan Rosenfield, director of communications, Jack Doyle, and principal private secretary, Martin Reynolds, all leaving their posts.
Steve Barclay was brought in as chief of staff, with his fellow Conservative MP Andrew Griffith made head of policy.
What did the Met Police Investigation find?
The Met concluded its investigation on May 19.
The police force investigated 12 events and issued fines for eight of them.
A total of 126 fixed penalty notices for breaches of Covid-19 regulations were handed out.
Of those, 53 were men and 73 were women.
The PM, his wife and the chancellor all received a fixed penalty notice (FPN) for the birthday party held for him in the Cabinet room in Downing Street on June 19, 2020.
The Met said a team of twelve detectives were involved in the probe, which cost of total of £460,000.
It worked through 345 documents, including emails, door logs, diary entries and witness statements, 510 photographs and CCTV images and issued 204 questionnaires.
That same day, No.10 confirmed that no further action would be taken against Johnson, in what represented a significant boost to his chances of political survival.
What is the full report expected to say?
According to the Times, Gray's report is expected to contain a section detailing the events that took place, another section on what happened at the gatherings and then a final statement on what should happen as a result.
Reports suggest she could publish a tranche of photos and other evidence such as WhatsApp messages and emails as part of her investigation which could incriminate an embarrass senior officials in No.10.
Any negative judgments Gray does pass on the PM will undoubtedly be damaging, but his allies will likely point to the fact that he has only received one fine as proof that his role in the scandal was limited.
How bad will it be for the prime minister?
The Met's decision not to issue Johnson with any more fines — and to fine him only for the birthday party — means that the consensus is that his political future is secure.
However, it will still make for deeply uncomfortable reading if Johnson's character is questioned by one of the country's most senior civil servants.
And in his latest blog, Cummings appeared to suggest that junior civil servants who were fined could be prepared to publish potentially damaging photos.
"Any reasonable person looking at some of these photos will only be able to conclude that the PM obviously lied to the Commons, and possibly to the cops, and there is no reasonable story for how others were fined for event X but not him," he wrote.
After so many Tory MPs said they would withhold their judgment of the PM until Gray's final report, it may still be the moment they decide to submit their letter of no confidence to 1922 backbench committee chair Graham Brady.
What happens next?
It's not all over for Johnson even after Gray's report is published.
Johnson has been accused of misleading parliament in December, when he insisted Covid rules had been followed in No.10 at all times.