We may be just weeks away from parliament's summer recess, but there's no sign of action in Westminster slowing down just yet.
After the BBC's Panorama investigation into anti-Semitism in the Labour Party aired this week, Labour's reaction to the programme dominated the Sunday politics shows.
First up was veteran Jewish Labour MP Margaret Hodge, who said she was "devastated" by the testimonies she heard from former Labour staffers in the programme.
"I don't know how often, how many people, how many incidents of anti-Semitism we have to have on our televisions screens or in our newspapers for the party leadership to stand up and really listen," she told Niall Paterson, who was presenting Sky's Sophy Ridge on Sunday show.
"There seems to be a dogged determination not to listen," Hodge said.
"It was utterly deplorable and a complete abuse of power for the leadership's reaction simply to try and pursue these people with lawyers and trying to shut them up," she went on to add, saying she never thought Labour would try to silence whistleblowers.
Meanwhile Hodge – who confronted Jeremy Corbyn over the issue of anti-Semitism in the House of Commons in 2018 – said things "have got worse" in the past year.
"Day after day after day more cases are coming out," she said, insisting that in clear cases of anti-Semitism, members must be immediately expelled with the right of appeal.
The party has reached a "tipping point" on the issue, Hodge added.
"If the leadership doesn't start to listen now there will be many more people who will feel so uncomfortable within the Labour Party that they can no longer remain."
Appearing on The Andrew Marr Show, shadow foreign secretary Emily Thornberry criticised Labour's approach to the whistleblowers who appeared in the Panorama investigation.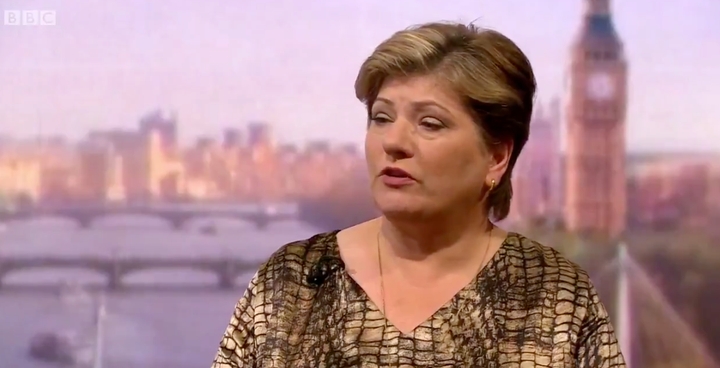 "I think we shouldn't be going for the messengers, we should be looking at the message," she said. "I think that is what is important."
"Nobody can pretend that there isn't an ongoing problem within the Labour Party about anti-Semitism, about our processes for dealing with it."
In May, the Equality and Human Rights Commission launched a formal investigation into claims of anti-Semitism in the Labour Party.
It is "a shame and a disgrace" that the commission had to be brought in, Thornberry said, "but they have and we should welcome it".
The anti-Brexit campaigner – who successfully forced Theresa May to give MPs a vote on triggering Article 50 – said the move would be "beyond a prime minister's powers", calling parliamentary sovereignty the "jewel in the constitutional crown".
"To bypass it, to close the doors of parliament, we feel… that that would be beyond a prime minister's powers," Miller told Sky News, adding that her reassembled legal team had looked at case law on the subject.
She has written to Tory leadership contender Boris Johnson, who has refused to rule out proroguing parliament, to warn him of the legal action.
But former Tory frontbencher Priti Patel – an ardent Brexiteer who has backed Johnson in the leadership race – said there was an "absolutely relentless" campaign to stop Brexit.
"It's now down to MPs and a new government to actually take action, not for third parties by going through the courts," she said on Sunday, arguing that the British public are "sick to death of this".
"This should not be about the semantics of parliament or just votes in parliament or proroguing parliament. We now have to get behind a new government."
Meanwhile, Patel's Tory colleague Amber Rudd – who is backing Jeremy Hunt in the race to Number 10 – said proroguing parliament would be a "mistake" and the "wrong thing to do".
"MPs across both parties at every level think it is the wrong thing to do and I would urge any prime minister to put that aside," she said.
The work and pensions secretary also used her interview with Marr to explain why her stance on a no-deal Brexit has changed, saying the "situation has changed".
"I still think no-deal would be bad for the economy, bad for security and bad for the union," she told the BBC. "So one of the good things is both of the candidates feel they are committed to getting a deal.
"But I have accepted we now need to allow no-deal to be part of the leverage to make sure people compromise more."