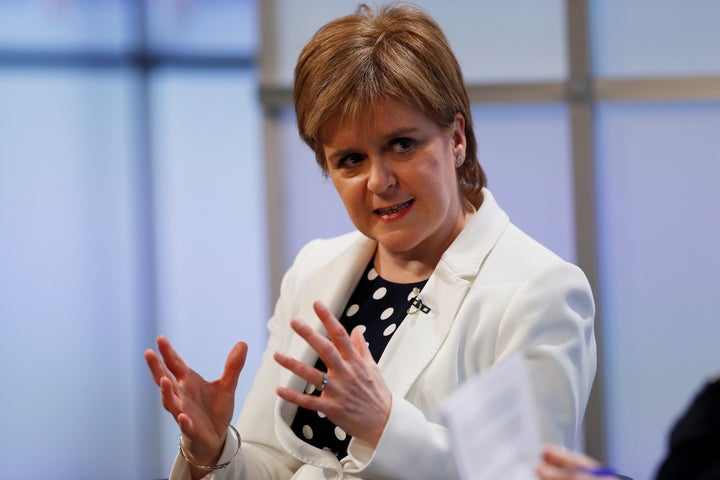 Conference season may be drawing to a close but the Sunday politics shows were not short of breaking news.
Brexit
She also said that she "cannot envisage" SNP MPs backing a Brexit deal based on Chequers as the party's position was to remain in the single market and customs union.
Theresa May faces a challenge from hardline Brexiteers in her own party, who are threatening to bring down the government by voting against key legislation if she does not change course on the deal she is seeking from Brussels.
Amid reports that May is close to reaching a deal with the EU, Conservative Party chairman Brandon Lewis attempted to allay DUP concerns about the prospect of a hard border in Northern Ireland, saying that "cannot be and there must not be" such an outcome.
He told BBC1′s The Andrew Marr Show he was confident May would return with a deal.
The former head of MI6, Sir Richard Dearlove, also said the UK can "survive and thrive" outside the European Union.
Dearlove, appearing on Sky News' Sophy Ridge on Sunday programme, said he was "personally happy" to see the UK leaving the EU.
He said: "I see it as an issue of sovereignty, so I think that that's a very important point.
Labour
Labour has previously called for Universal Credit to be paused and reformed.
"I think we're moving to a position now where it's not sustainable, it will have to go," he said.
Corbyn had associated himself with groups that were not "friends of the British nation" in the past said Dearlove, and he was "expressing concerns".
McDonnell immediately hit back, saying Dearlove was "a reactionary member of the establishment" who "should spend his retirement in quiet contemplation" over the Iraq war.
McDonnell was also asked about the Conservatives paying tribute to shadow home secretary Diane Abbott after she received a huge amount of abuse online.
He said he found it "a bit hypocritical" as it was the Conservative Party who "set the dogs on Diane" and "personalised the campaign" at the last general election.
Tory
Lewis was pressed about reports in The Times that Universal Credit could see families lose out on £200-a-month.
It comes after Theresa May said an end to austerity was "in sight" when she spoke at the Conservative Party conference last week.
Lewis said Universal Credit "ensures work pays" and was "the right way to go".
The party chairman was also asked about the age of Tory party members, the majority of whom are thought to be older, and insisted that members' demographics are "pretty much the same as Labour's".
SNP
The SNP is gathering for its annual conference in Glasgow and First Minister Nicola Sturgeon has given an interview to the BBC's Andrew Marr.
She said she believes the case for a so-called People's Vote is understandable, but the real solution for Scotland is independence.
She said: "I think we are on a journey that ends with independence. I think Brexit brings issues around this sharply into focus.
"That democratic deficit we have seen in the last two year, 62% of people in Scotland voted to remain in the EU and yet in under 200 days we are going to face exit from the EU."
A poll published in The Sun on Sunday and The Sunday Herald suggests a no-deal Brexit would see backing for Scottish independence reach 52%.
Sturgeon also said she will make her opinion known about the case for another poll after "this phase" of Brexit talks are over.
She said: "I will set out what I think the next steps are when we are at the end of this phase of negotiations.
"Whether I like it or not - or whether anybody likes it or not - the future of EU/UK relationship is the context in which Scotland will decide that question of independence."
She added: "I will set out my views on the next steps at that stage, if that's when Theresa May comes back with the deal.
"It could be later this month, it could be November, it could be December."