Ranjit Singh Boparan, also known as the 'Chicken King', said food price inflation is at risk of reaching double digits due to the ongoing supply chain issues.
He explained: "The days when you could feed a family of four with a £3 chicken are coming to an end.
"In relative terms, a chicken today is cheaper to buy than it was 20 years ago. How can it be right that a whole chicken costs less than a pint of beer? You're looking at a different world from now on where the shopper pays more."
Food prices already rose by 0.2% in the UK in August, according to official consumer price data.
Britain has been struggling to stock shelves in light of the HGV driver shortage which has broken down national supply chains and stock distribution.
Away from the trucker problem – an issue felt across Europe but most keenly in the UK – energy and CO2 costs have risen by more than 500% in the last year and packaging prices have shot up by 20% in six months too.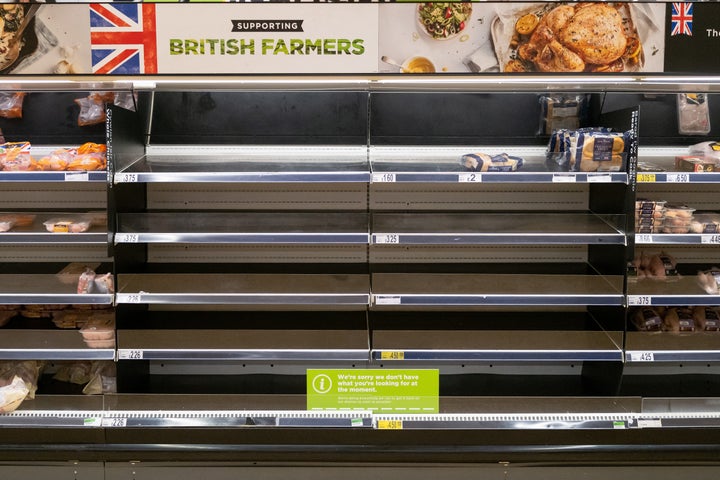 Fee costs, supplements, veterinary costs and wages have all risen by 15 to 20% as well, according to the chicken supplier.
As founder of 2 Sisters food company, Boparan produces approximately one third of all poultry products consumed in the UK. It processes 10.4 million birds a week and owns more than 700 farms.
He warned that Downing Street will not be able to fully address all of the issues – or control the inevitable wage inflation.
Boparan said: "Less labour means less choice, core ranges, empty shelves and wage inflation and this isn't going to change.
"Right now I need to be honest about what this means for the consumer as inflation could reach double digits."
The problems stocking shelves are thought to stem from Brexit, although the government has repeatedly denied that leaving the EU played a significant part in the problems and is blaming it on the pandemic instead.