"Surge" tests are being delivered to homes across England – specifically south London – after more cases of the South African coronavirus variant were discovered.
The variant in question – also known as 501Y.V2 – was first detected in two people who arrived in the UK from South Africa in December 2020. However, cases appear to be rising in the Wandsworth and Lambeth boroughs of London.
Some 44 confirmed cases have been found, with a further 30 probable cases of the South Africa variant identified, the Department of Health and Social Care (DHSC) said.
Surge testing can help identify both asymptomatic and symptomatic cases and reduce transmission of the new variant.
The South African variant is thought to be far more transmissible, but not more lethal, than other variants of the coronavirus. There's also emerging evidence to suggest it is less susceptible to immunity induced by the Covid-19 vaccines.
This is why health authorities are keen to get as many people tested as quickly as possible. Here's what you need to know about the new surge testing plans – including what to do if one lands on your doormat.
Who will be 'surge' tested for Covid?
People aged 11 and over who live, work or travel through those areas are being urged to take a Covid-19 polymerase chain reaction (PCR) test. Visit the Lambeth or Wandsworth local authority websites for more information.
How the test will be administered depends on the local authority. Some will be sending out mobile testing units to test people on their way to work or to the supermarket, while other people might receive tests through their letterboxes.
Some might even receive a knock on the door by a healthcare professional wanting to conduct the test there and then.
The DHSC said it is the "largest surge testing operation to date" aimed at suppressing any possible new cases of the variant. It said all those who have tested positive for the variant, with the first case in the area being found in early March, are isolating or have completed their isolation, and their contacts have been traced and asked to isolate.
Dr Susan Hopkins, chief medical adviser for NHS Test and Trace, said the cluster of cases is "significant".
People in Lambeth and Wandsworth should continue using twice-weekly rapid testing alongside the PCR test as part of surge testing, the government has said.
How do the tests work?
The surge testing kits include PCR swab tests, which are used by the NHS at testing sites across the UK. The test should be taken whether you have Covid-19 symptoms or not.
If you attend a mobile testing site everything will be done for you – all you need to do is turn up and have a swab taken, which staff will then send off on your behalf.
If you receive a test kit through your letterbox, you should follow the instructions to take a nose and throat swab. Package it up and either post it back or, if someone has said they will collect it, wait for them to arrive at your door.
The swab will be sent off to be analysed in a laboratory and you should receive your result within roughly 48 hours.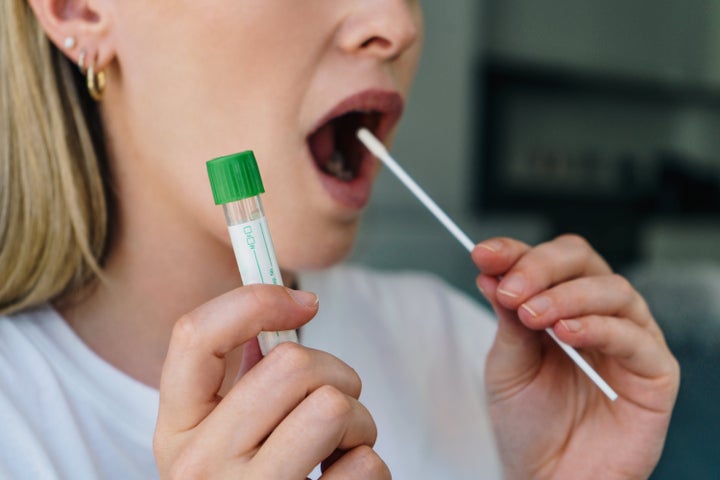 Do you need to self-isolate while you wait for results?
The current health advice still stands: you need to self-isolate if you test positive, have any symptoms, or are contact traced following contact with someone who tests positive.
If you're not experiencing any symptoms, you are free to go about your business while you wait for your result. That said, experts recommend staying home where possible to try and reduce any potential transmission – and to remember 'hands, face, space'.
In the last round of surge testing, health secretary Matt Hancock urged people living in the postcodes where cases of the South Africa variant have been detected to "stay home".
If you are experiencing symptoms of coronavirus when you take the test you should self-isolate until you receive your result.
If the result is positive, you should self-isolate for 10 days (or longer if your symptoms continue). If it's negative, you can go about as normal while still adhering to local rules.
Will you find out if you have the South African variant?
After the swabs are tested and a positive or negative result shows, scientists won't be able to say whether you've tested positive for the new strain or not. This is because positive samples are then sent off to be sequenced – the process by which they identify which variant of Covid-19 you have had.
What are the benefits of surge testing?
The rapid response PCR tests aim to identify variant clusters and the extent of the spread of the variant, says Professor Rowland Kao, an expert in epidemiology and data science at the University of Edinburgh.
It's thought one in three Covid-19 cases are asymptomatic, so this could be a way to spot many cases that would otherwise be missed. People who do test positive – whether they have symptoms or not – will be urged to self-isolate for 10 days and it's hoped this will help reduce infection rates even more.
Any downsides?
This kind of rollout is "highly dependent" on individuals taking up those tests, as it remains a voluntary activity, says Prof Kao.