Donald Trump thanks UK and France for "wisdom and power" of their militaries
US remains "locked and loaded" and will respond to further chemical attacks
PM "confident" strikes were successful and links attack to Salisbury poisonings
Downing Street publishes document outlining why it says strikes were legal
Britain joins America and France in "precision strikes" in Syria following the alleged chemical attack by Assad regime.
Four RAF Tornados involved in operation as Theresa May acts without Parliament's approval.
Bombing raid aimed at chemical and military bases described as a "one-time shot" and completed in around an hour.
Jeremy Corbyn says the military action "won't save lives" and demands Government's legal advice is published.
May said she would give a statement to the Commons on Monday, when she is likely to face MPs' anger.
Donald Trump has thanked the UK and France for their "wisdom and power of their fine military" after joining the US in a wave of "precision" bombings in Syria.
Trump tweeted "mission accomplished" over the retaliation that came a week after an alleged chemical weapons attack on civilians in Syria.
Trump went on to express how "proud" he is of America's "great military... the finest our country has ever seen".
Speaking at a UN Security Council meeting in New York on Saturday evening, UN ambassador Nikki Haley pointed out that the emergency meeting was the fifth this week on Syria, adding "the time for talk ended last night".
She said Trump had told her that if there was further use of chemical weapons by Assad's regime, the US was "locked and loaded".
Theresa May has said she is "confident" that the strikes were successful and that the decision to join the US and France on the mission was "right and legal", despite MPs being denied a vote on it.
May said the "limited and targeted strikes" had degraded Syria's ability to use chemical weapons.
"This collective action sends a clear message that the international community will not stand by and tolerate the use of chemical weapons," she said at Downing Street.
Meanwhile, at an emergency meeting of the UN Security Council in New York, its secretary general, Antonio Guterres, called for "restraint" as the US indicated it was "locked and loaded" for further strikes.
Guterres said: "I urge all member states to show restraint in these dangerous circumstances and to avoid any acts that could escalate matters and worsen the suffering of the Syrian people."
Ambassador Vassily Nebenzia, Russia's ambassador to the UN, said the response followed a "well tried" pattern of provocation, "mendacious" accusation, verdict and punishment.
He said: "This is hooliganism in international relations, and not minor hooliganism given that we are talking about major nuclear powers."
US ambassador to the UN, Nikki Haley, pointed out the meeting was the fifth this week on Syria, adding "the time for talk ended last night".
She said Trump had told her that if there was further use of chemical weapons by Assad's regime, the US was "locked and loaded".
UK ambassador Karen Pierce told the meeting there had been "clear boundaries" in the action that had been taken in an attempt to avoid escalation.
She said repeated attempts to hold the Syrian regime to account had been met with Russian "obstruction and resistance".
"We have repeatedly in this council attempted to overcome this obstruction, without success," she said.
"We are faced with a litany of violations, no sense of guilt, no sense of regret, no sense of responsibility, a shameful record wrapped in a mix of denial, deceit and disinformation."
Pierce added: "I will take no lessons in international law from Russia."
On Saturday afternoon Downing Street published a document setting out why it says military action against the Syrian regime was legal, stating it has met three conditions permitted under international law.
The conditions are:

There is convincing evidence of distress that requires immediate and urgent relief

There is no alternative to force to save lives

The force is necessary and proportionate to the aim of relieving humanitarian suffering
Britain's UN ambassador Karen Pierce, asked during a press conference about Corbyn's concerns over whether military intervention in Syria was legal, said: "Yes, we are certain, but thank you for asking."
Earlier today May said that there was "no practicable alternative to the use of force" to deter the use of chemical weapons by Syrian President Bashar al-Assad.
The strikes began at 2am UK time and attacked infrastructure at three sites connected to the Syrian regime's chemical weapons programme.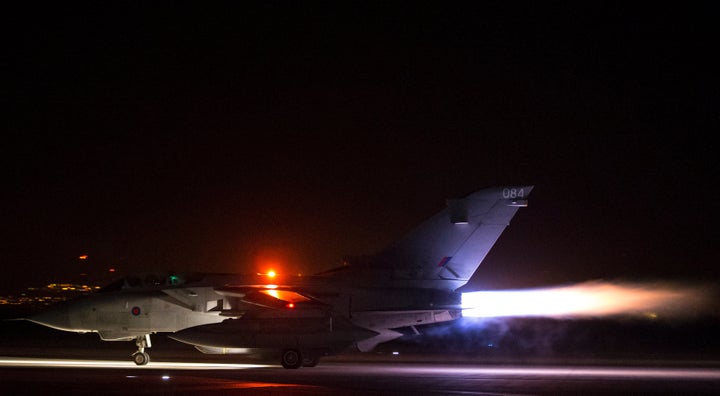 Syrian surface-to-air missiles were launched in response, with the Syrian government claiming most of the 110 missiles were "effectively shot down".
But The Pentagon later said no Syrian weaponry had any effect on the strikes.
Witnesses reported at least six loud explosions in Damascus in the early hours of Saturday and smoke was seen rising over the Syrian capital.
Four Royal Air Force Tornados contributed to the strikes, launching Storm Shadow missiles near the city of Homs.
By 3.30am UK time, the bombing was over.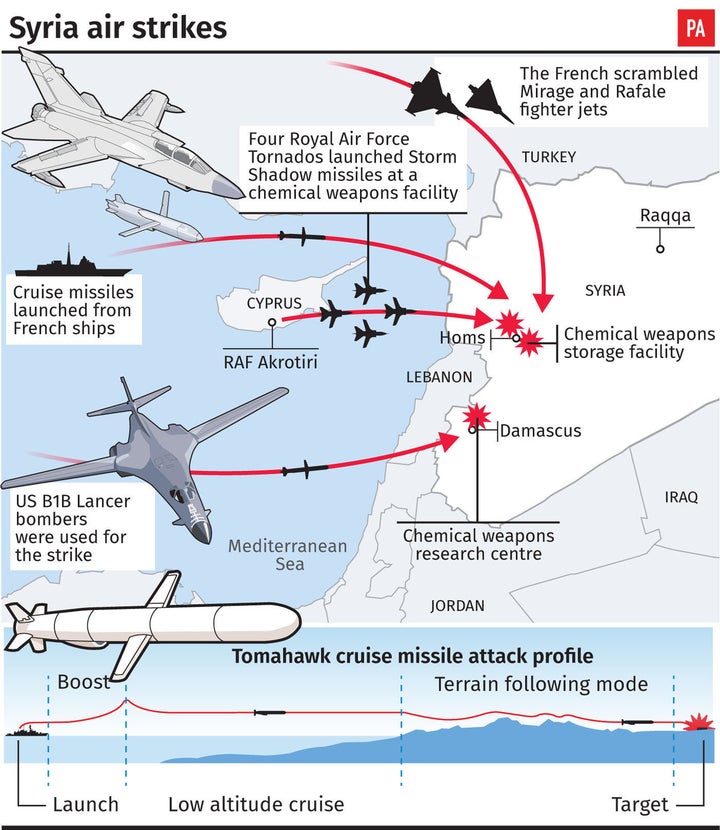 Defence Secretary Gavin Williamson said the attacks had a sufficient effect and it was a "highly successful mission".
He said the urgency of the situation meant they could not recall parliament for a vote on the strike, meaning the Government will likely now face MPs' ire when they return on Monday.
US Defence Secretary James Mattis and General Joe Dunford told reporters at the Pentagon that the operation was a "one-time shot" to dissuade Assad from "doing this again".
Double the number of weapons were used in the strikes compared with similar attacks on Syria carried out by the US unilaterally last year, Mattis said.
Syrian state media said the attack would fail and called it a "flagrant violation of international law".
Russia's ambassador to the United States said Moscow had warned that "such actions will not be left without consequences".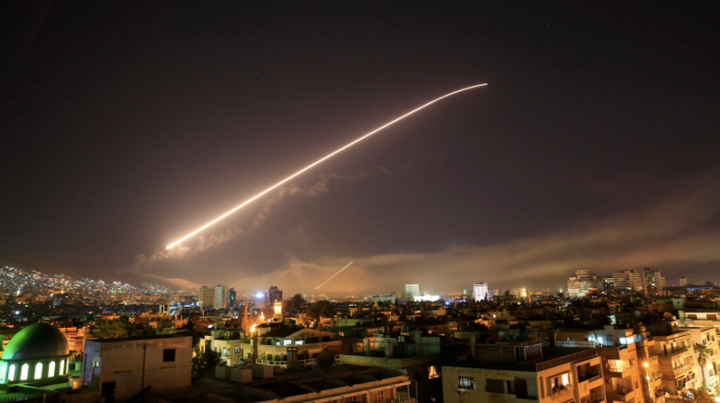 May is likely to face a backlash for taking the decision without the consent of MPs in Parliament, but has said that "every possible diplomatic channel" had been sought before the decision was made.
She said on Saturday morning: "This persistent pattern of behaviour must be stopped – not just to protect innocent people in Syria from the horrific deaths and casualties caused by chemical weapons but also because we cannot allow the erosion of the international norm that prevents the use of these weapons.
"This is not about intervening in a civil war. It is not about regime change.
"It is about a limited and targeted strike that does not further escalate tensions in the region and that does everything possible to prevent civilian casualties."
May said the action would also send a "clear signal" to anyone else who believed they could use chemical weapons "with impunity".
"This is the first time as Prime Minister that I have had to take the decision to commit our armed forces in combat – and it is not a decision I have taken lightly," she said.
"I have done so because I judge this action to be in Britain's national interest.
"We cannot allow the use of chemical weapons to become normalised – within Syria, on the streets of the UK, or anywhere else in our world."
She added: "We must reinstate the global consensus that chemical weapons can not be used. This action is absolutely in Britain's national interest. The lesson of history is that when the global rules and standards that keep us safe come under threat we must take a stand and defend them. That is what our country has always done and that is what we will continue to do."
Corbyn said May should have sought parliamentary approval before launching any attack.
"Bombs won't save lives or bring about peace," he said.
"This legally questionable action risks escalating further, as US defence secretary James Mattis has admitted, an already devastating conflict and therefore makes real accountability for war crimes and use of chemical weapons less, not more likely," he said.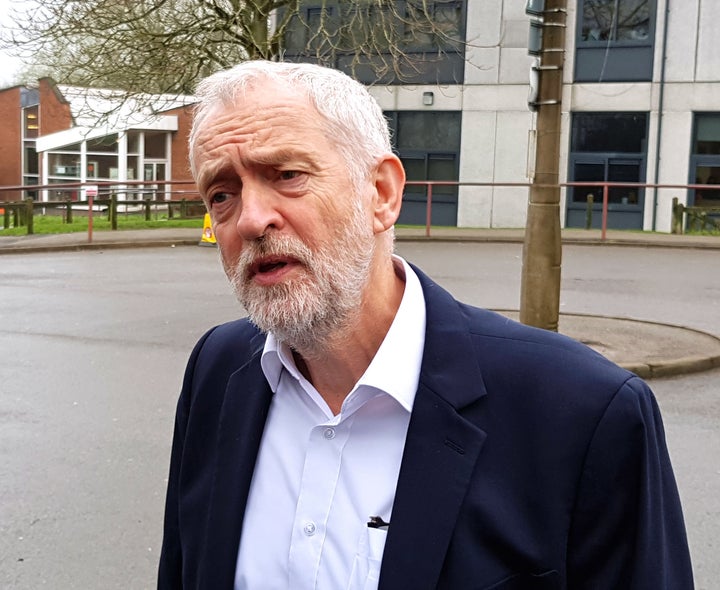 "Britain should be playing a leadership role to bring about a ceasefire in the conflict, not taking instructions from Washington and putting British military personnel in harm's way."
Corbyn said he would be pushing for the Government to release the legal advice it has received on action and demanding it goes back to the United Nations to get a new resolution.
He told broadcasters the use of chemical weapons was "appalling and disgusting".
"The consequences of any country taking unilateral action that has no legal basis are that it's an encouragement for others to do exactly the same and reduces our ability to complain when others do that."
Corbyn said the role of Britain was to be an "honest broker" in trying to bring Russia and the US together in agreement at the UN.
The Labour leader said Russia and the US had reached an agreement in 2013 on Syria.
Asked by a reporter if the strikes had also been a warning to Russia, May said: "The action that took place last night was an action which was focused on degrading and deterring the operational capability and the willingness of the Syrian regime to continue to use chemical weapons.
"There have been many instances when we have seen them using those chemical weapons.
"But I believe it should also be a message to others that the international community is not going to stand by and allow chemical weapons to be used with impunity."
May said chemical weapons had "all too often" been used in recent times.
"I think it is right that the international community has come together and said we will not accept this," the PM added.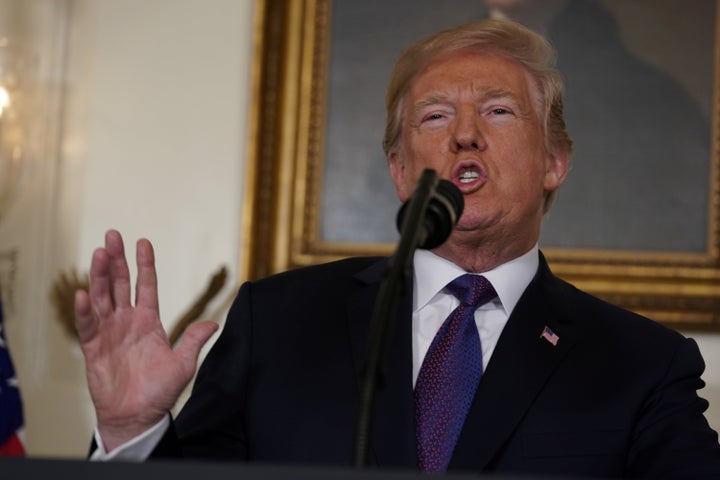 Trump said in a televised address from the White House: "A short time ago, I ordered the United States Armed Forces to launch precision strikes on targets associated with the chemical weapons capabilities of Syrian dictator Bashar al-Assad.
"These are not the actions of a man. They are crimes of a monster instead.
"The purpose of our actions tonight is to establish a strong deterrent against the production, spread and use of chemical weapons."
The US president had sharply critical words for both Russia and Iran, which have backed Assad's government.
"To Iran and to Russia, I ask, what kind of a nation wants to be associated with the mass murder of innocent men, women and children?," Trump said.
French president Emmanuel Macron said there was no doubt the Syrian regime was responsible for the chemical attack in Douma.
"We cannot tolerate the trivialisation of the use of chemical weapons, which represent an immediate danger for the Syrian people and for our collective security," he said.
"The red line set by France in May 2017 has been crossed."
The Organisation the Prohibition of Chemical Weapons announced Saturday afternoon that it had arrived in Damascus to "commence its work" on identifying what weapons were used in the suspected chemical attack.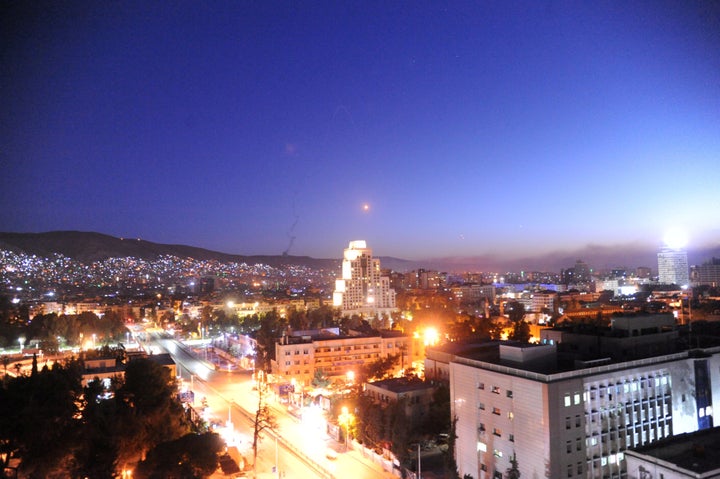 Mattis said the US remained in "close consultation" with its allies, adding: "We review the evidence all the time. But right now we have no additional attacks planned."
Syrian Brigadier General Ali Mayhoub read a statement on Syrian television saying one of the missiles hit a "scientific research centre" in Barzeh, near Damascus, damaging a building.
Another, in Homs, injured three people, he said.
Mayhoub added that the attacks "will not deter" the Syrian military from its ongoing war to eradicate "armed terrorists" from its territory.
Syria's foreign ministry claimed the attack was aimed at hindering the work of a fact-finding team from the international chemical weapons watchdog who were due to visit the site of the alleged chemical attack in Douma on Saturday.
European Council president Donald Tusk said the European Union "will stand with our allies on the side of justice".
He tweeted: "Strikes by US, France and UK make it clear that Syrian regime together with Russia & Iran cannot continue this human tragedy, at least not without cost."
Vladimir Putin has said Russia will call an emergency session of the UN Security Council over air strikes on Syria.
Last year, the US fired 59 Tomahawk cruise missiles from the guided missile destroyers USS Porter and the USS Ross that struck the Shayrat air base.
The targets of that strike included Syrian aircraft, aircraft shelters, petroleum and logistical storage facilities, ammunition supply bunkers, air defense systems and radar.
At the time, the Pentagon claimed that a fifth of Syria's operational aircraft were either damaged or destroyed.