More than 700 supporters of so-called Islamic State have escaped from a camp for displaced people in north-eastern Syria as Turkish forces advance on the area, Kurdish officials have said.
The administration said detainees inside the Ain Issa camp had attacked the gates and fled the site on Sunday as intense fighting continued nearby alongside airstrikes from Turkish forces.
The camp is home to some 12,000 people, including nearly 1,000 women known to have links to IS and their children.
The town of Ain Eissa, approximately 20 miles south of the border, is also home to one of the largest US-led coalition bases in north-eastern Syria.
The Kurdish forces, who partnered with the US in the fight against IS, have said they may not be able to maintain detention facilities holding thousands of militants as they struggle to stem the Turkish advance.
It was reported on Sunday that Boris Johnson had urged Turkey's prime minister, Recep Tayyip Erdogan, to halt Turkey's military assault on Kurdish-held northern Syria.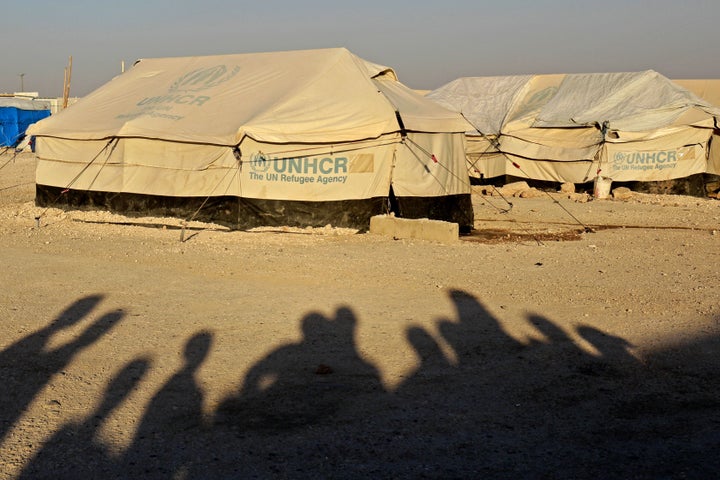 In a telephone call to the Turkish leader, the Prime Minister voiced his "grave concern" that the action could worsen the humanitarian situation in the region and undermine the fight against so-called Islamic State
A No.10 spokesperson said: "The Prime Minister was clear that the UK cannot support Turkey's military action.
"He urged the president to end the operation and enter into dialogue, and said the UK and international partners stand ready to support negotiations towards a ceasefire."
The incursion against the Syrian Kurds – who played a key role in dismantling the IS caliphate but are regarded as terrorists by Turkey – has been widely condemned by Western powers.
There are concerns that hundreds of suspected IS prisoners, including foreign fighters being guarded by Kurdish forces, may escape during the chaos.
The continued push by Turkey into Syria comes days after President Donald Trump cleared the way for Turkey's air and ground offensive, pulling back US forces and saying he wanted to stop getting involved with "endless wars".
His decision has drawn heavy criticism in the US amid accusations he was endangering regional stability and risking the lives of Syrian Kurdish allies