Rising star snowboarder Ellie Soutter has died on her 18th birthday.
Soutter was a bronze medallist for Team GB at the 2017 Youth Olympic Winter Festival and carried the British flag at the closing ceremony.
The teenager's death on Wednesday was confirmed by Team GB in a statement. Her cause of death has not been reported.
Soutter has since been remembered as an "inspirational talent" by her fellow athletes and her father, Tony, who lived with her in the French Alps, described her as his "soul mate".
He wrote on Facebook: "This cruel world took my soul mate and 'Bessie' from me yesterday on her 18th birthday I was so proud of the beautiful young woman she had turned into. Ellie I will miss you more than you could have ever imagined. Rest in peace you little Champion."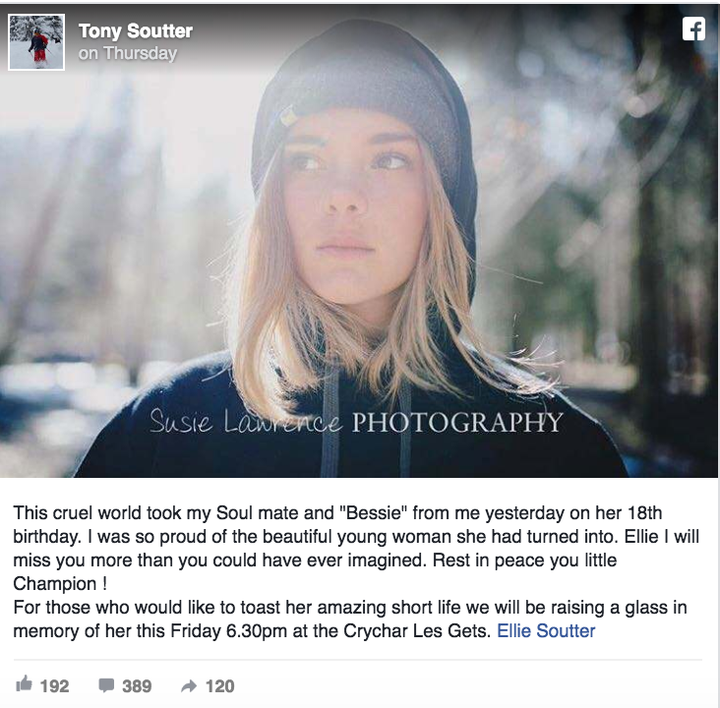 Fellow Team GB snowboarder Aimee Fuller wrote of Soutter: "Waking up to the most devastating news this morning. My thoughts and prayers go out to Ellie Soutter's family.
"We've lost a fellow snowboarder and a great inspirational talent within our small community."
And Olympic champion and presenter Amy Williams wrote on Twitter: "Such sad tragic news to wake up to. Thoughts and prayers go to Ellie Soutter's family."
Earlier this month, the teenager was named in the GB senior squad for the snowboard cross Europa Cup circuit, and she was tipped for a place at the 2022 Winter Olympics, the BBC reported.
Soutter had been training abroad in recent weeks but was in the UK when she died, the corporation said.
A statement from Team GB said: "The British Olympic Association is saddened to hear of the sudden passing of snowboard cross athlete Ellie Soutter, 18.
"Ellie claimed Team GB's only medal at the European Youth Olympic Winter Festival in Erzurum, Turkey last year."
British Olympic Association chair Hugh Robertson and British Olympic Association athlete commission chair Ben Hawes described Ellie as an "incredibly popular and well-liked member of the team".
"Our thoughts are with her family and friends at this sad time"