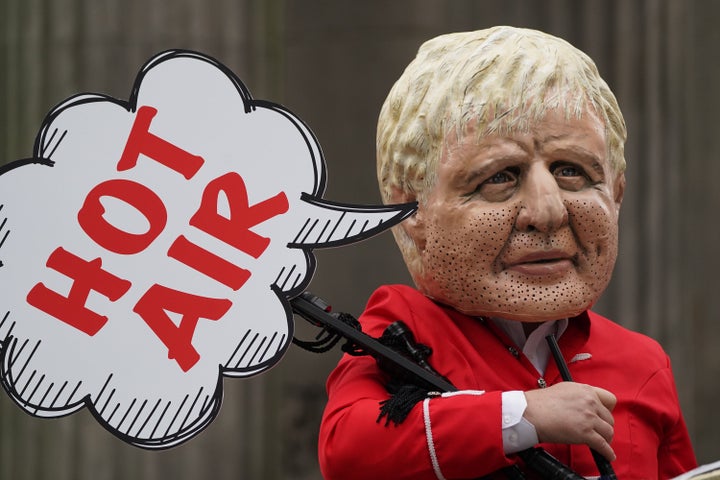 Prince Charles described it as a "last chance saloon" to save the world, while Boris Johnson warned we have "one minute to midnight".
There is no doubt world leaders are pitching Cop26 as a do or die moment in the battle against climate change.
But as the global bigwigs jump in their gas guzzling four-by-fours and private jets, it is fair to say there has been a number of hypocritical moments leading up to the Glasgow summit.
Of course it is reasonable that presidents, prime ministers and royalty take certain measures for their own security - as well as for practical transport reasons.
However, the inconsistent behaviour shows us that we all have a long way to go to turn the tide on global warming.
After all, Johnson's own Cop26 spokeswoman Allegra Stratton urged us all to take "micro-steps" such as not rinsing plates before putting them in the dishwasher and freezing left-over bread.
Here, HuffPost UK takes you through some of the controversies and contradictions surrounding the event.
Come Fly With Me
A parade of more than 400 private jets carrying world leaders and business executives are thought to be flying in for the summit.
Scotland's Sunday Mail estimated the flights will blast 13,000 tonnes of CO2 into the atmosphere - more global warming gas than 1,600 Scots burn through in a year.
Many of the leaders had to travel from the G20 summit in Rome and include Joe Biden on Air Force One and Prince Charles who reportedly travelled by non-commercial plane from Italy.
Amazon founder Jeff Bezos' £48million Gulf Stream also reportedly touched down in Glasgow after he had been celebrating Bill Gates' 66th birthday on a £2million-a-week superyacht. Bezos reached the boat by helicopter, according to reports.
Meanwhile, Johnson is said to have flown to Scotland on a "green flight" using Sustainable Aviation Fuels (SAF) – biofuels from plants or waste. He will also fly back to London.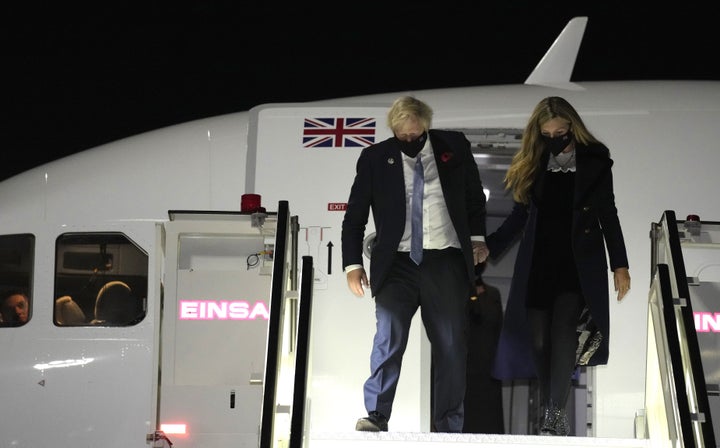 When In Rome
Some critics pointed out it might have made more sense to combine Cop26 with the G20 summit seeing as so many world leaders were attending both. Or perhaps they could have shared planes?
Some estimate Biden will make a 10,000 mile return trip, including a 92-mile motorcade tour in Scotland, that will generate a vast carbon footprint.
Welby Gaffe
Not only has the Archbishop of Canterbury had to apologise today for controversially likening the climate crisis to Nazism.
But critics have pointed out that Justin Welby has been lecturing the public when he himself used to be an oil executive.
The Archbishop was on the airwaves today saying that climate change was a "moral issue".
The former oil executive, who in 1987 resigned from the fossil fuel industry after 11 years to train for Anglican priesthood, added that the climate crisis is "life or death".
Cambo Oil Field
A major debate leading up to the global summit centred on the controversial Cambo oil field.
Environment activists want the development near Shetland to be stopped as part of the move away from fossil fuels.
On the eve of Cop26, the summit's president Alok Sharma refused to be drawn on whether Cambo would get the green light, saying he did not have power over the development.
However, shortly afterwards Scottish secretary Alister Jack said the oil field should "100 per cent" get the go-ahead despite the climate change crisis.
Jack said it was "foolish to think that we can just run away from oil and gas" and argued the UK had to be "realistic" that it still needed oil for important products.
The Beasts
US president Biden turned up to the event with a full motorcade of 4x4s, motorcycle outriders and limousines.
Side streets around the event are said to be "choked up" with chauffeur-driven cars and vans, many with their engines idling.
Car fumes contain a number of harmful gasses including carbon dioxide, which is bad for the environment and contributes towards climate change.
A number of world leaders have also been spotted getting in and out of gas-guzzling motors.
Transport Fail
On the eve of conference a tree fell on train tracks, leaving hundreds of delegates unable to get to Glasgow.
The incident caused rail chaos with some attendees opting to drive and fly in order to get to the event on time.
Environment minister Zac Goldsmith was among government officials and scientists aboard a service aborted at Milton Keynes.
Coal Controversy
At the start of the conference Johnson was confronted by a journalist over plans for a new British coal mine.
The PM was quizzed over West Cumbria Mining's plans to mine coking coal for steel and whether he would stop it. A planning inspector has held a public inquiry and will reach a final decision towards the end of the year.
The BBC's climate editor Justin Rowlatt said: "You're going to the developing world and saying phase out coal, at the same time as not ruling out a new coal mine in Britain."
The prime minister replied, pointing out that 80 per cent of UK power came from coal when he was a child and now it is just one per cent.
However, Rowlatt replied: "I'm sorry to bang on about coal, but it makes you look a little bit weaselly not answering the coal question."
Prince Charles
The heir to the throne has been at the forefront of the royal family's intervention on global warming.
He told the summit that a "war-like footing" was needed to tackle the climate crisis and called for a vast "military-style" campaign.
However, research shows that the royal family collectively flew 545,161 air miles between 2015 and 2020 – enough to "get them to the moon and back, and then complete three loops of the earth's equator".
A report by Stratos Jet Charters found that the majority of royal flights were taken by private jet - the least environmentally friendly form of flying.
Air Passenger Duty
Chancellor Rishi Sunak was criticised last week when he unveiled his budget complete with a cut to air passenger duty for domestic flights, saying they account for a "tiny part of our emissions".
It was argued he was effectively incentivising people to take flights within the UK just days before world leaders met for Cop26.
But Sunak said he was simply reinstating an old system whereby passengers did not pay the duty on both legs of a journey within the UK.
On the first day of Cop26, foreign secretary Liz Truss doubled-down on the commitment, saying: "The way to reduce climate emissions from flying isn't to stop flying – it's to create the new generation of next technology, which we're doing."
Boris's Climate Conversion
Johnson has positioned himself as a green prime minister, opening Cop26 with a warning that if they fail - future generations will never "forgive us".
But the leader has undergone a radical makeover, after previously displaying sympathies with climate scepticism.
In 2010, he expressed support for climate change denier and brother of Jeremy Corbyn, Piers.
In 2013 he questioned the phrase "climate warming" and in 2015 he suggested heat in December had "nothing to do with global warming".
However, the PM has undergone a major conversion and has a newfound enthusiasm for tackling the climate crisis.
He recently acknowledged his former scepticism, saying: "The facts change and people change their mind and change their views and that's very important too."