An Australian doctor who was the last man out of the Thai cave following the dramatic rescue of a football team on Tuesday found out shortly afterwards that his father had died.
Dr Richard Harris was meant to be on holiday but instead put his life at risk to help rescue the 12 young boys and their coach from Chiang Rai cave where they were freed after an ordeal that lasted more than two weeks.
The doctor has refused to speak about his father's passing, but his boss Dr Andrew Pearce says he has spoken with "Harry", as he is known.
Pearce told the ABC: "This is clearly a time of grief for the Harris family, magnified by the physical and emotional demands of being part of this week's highly complex and ultimately successful rescue operation.
"He will be coming home soon and taking some well-earned time off to be with his family. He has asked that the family's privacy is respected at this time."
While celebrations rang out across Thailand and the globe yesterday following the successful operation to free the 'Wild Boars' team, the anaesthetist from Adelaide and three Navy SEALS remained in the cave, not emerging to safety until several hours later.
Harris was part of a 20-strong Australian crew sent to help the rescue effort and was called in by Thai authorities after being named specifically by the British diving team leading the mission due to his medical skills and 30 years' diving experience.
He assessed the health of the boys and their coach, determining who needed to get out of the cave quickest and who could wait longer.
Australia's Minister for Foreign Affairs Julie Bishop said it took an incredible team effort to rescue the boys, with Harris playing a key role.
"He was an integral part of the rescue attempt," she told the ABC.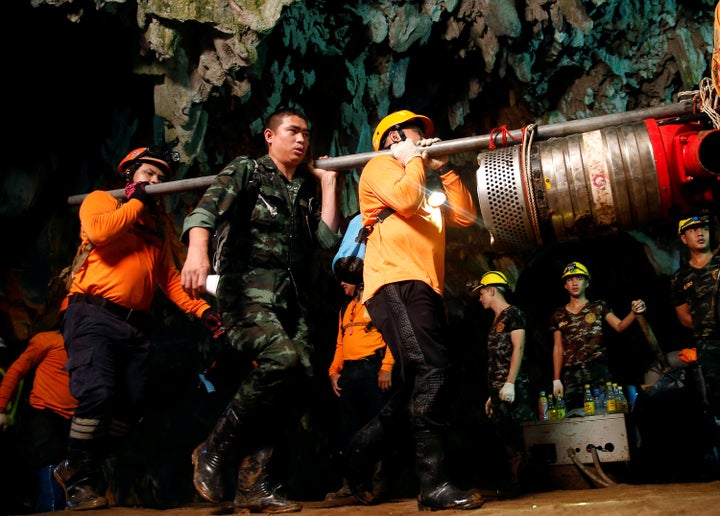 Meanwhile, Thai authorities said on Wednesday that the rescued boys and their coach lost an average of 2kg (4 pounds) during their 17-day ordeal but were generally in good condition.
"From our assessment, they are in good condition and not stressed. The children were well taken care of in the cave. Most of the boys lost an average of 2 kg," Thongchai Lertwilairattanapong, an inspector for Thailand's health department, told reporters.
Parents of the first four boys freed on Sunday have been able to visit them but had to wear protective suits and stand 2 meters (7 feet) away as a precaution.
Thongchai said one from the last group rescued on Tuesday had a lung infection and they were all given vaccinations for rabies and tetanus.
The group ventured into the vast cave complex in northern Thailand after football practice on June 23 and were lost for nine days before they were discovered by British divers.
Getting them out - which involved teaching boys as young as 11 who were not strong swimmers to dive through narrow, submerged passages - proved a monumental challenge.
A former Thai Navy SEAL died during a mission in the cave on Friday.