Tory rebels who joined a cross-party alliance to block a no-deal Brexit have tonight been sacked by Boris Johnson.
The move means the MPs have effectively kicked out of the Conservative Party.
Winston Churchill's grandson, Nicholas Soames, was among the rebels, as were a number of Tory grandees, including Ken Clarke and Oliver Letwin.
Philip Hammond, Greg Clark and Rory Stewart, who just weeks ago were ministers under Theresa May, are also among the group now unable to stand as a Tory candidate at the next election.
A Downing Street spokesman said: "The chief whip is speaking with those Tory MPs who did not vote with the government this evening. They will have the whip removed."
There had initially been a glimmer of hope for the rebels as Business Secretary Andrea Leadsom told the BBC they would "absolutely" have another chance.
Adding to the confusion one rebel MP told HuffPost UK the chief whip suggested it could be restored if the rebels fall in line on votes on the anti-no deal bill on Wednesday.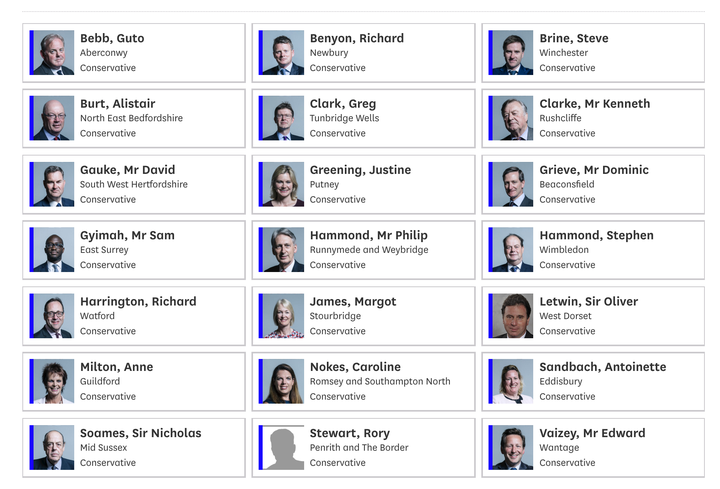 MPs rebelled to take control of the parliamentary timetable but on Wednesday they face voting on legislation aimed at blocking Johnson from opting for no-deal.
A source close to the Tory rebels said: "Tonight's decisive result is the first step in a process to avert an undemocratic and damaging no deal.
"No 10 have responded by removing the whip from two former chancellors, a former lord chancellor and Winston Churchill's grandson. What has happened to the Conservative Party?"
Soames told Newsnight he would not stand in the next general election.
"I actually won't stand," he said. "I'm not going to stand."
Here is the full list of Tory rebels:

Guto Bebb

Richard Benyon

Steve Brine

Alistair Burt

Greg Clark

Ken Clarke

David Gauke

Justine Greening

Dominic Grieve

Sam Gyimah

Philip Hammond

Stephen Hammond.

Richard Harrington

Margot James

Oliver Letwin

Anne Milton

Caroline Noakes

Antoinette Sandbach

Nicholas Soames

Rory Stewart

Ed Vaizey
It comes after Johnson, who has pledged to deliver Brexit on October 31 "do or die", said he would shutdown parliament for five weeks, sparking nationwide protests.
Independent MP Nick Boles, who left the Conservative party in April, during the debate called for rebel Tories to cross the floor and join him on the opposition benches.
He said he was able to "hold his head high" after leaving the party.
"At the moment, I am the only independent progressive Conservative in parliament," he said.
"To those brave souls on the Conservative benches who face expulsion from the party for voting for the motion today, I say this: your country needs you.
"Do what you know to be right.
"Join me on these benches and, together, let us build a new force in British politics and a true home in parliament for those who believe in one nation."
The same MPs look set to give the government another bloody nose tomorrow when MPs try to push through a new law to force Johnson to delay Brexit in the face of no-deal.